Digital Advertising and Marketing for Orthopedic Surgeons $799/mon to $999/mon
To ensure the success of any orthopedic surgeon's business, they need to embrace digital advertising. Connecting with potential patients who need their services is vital to growing a patient count and overall business. PatientGain offers this service for your orthopedic practice for $799/mon. If you are in a competitive area, you will need PLATINUM Service.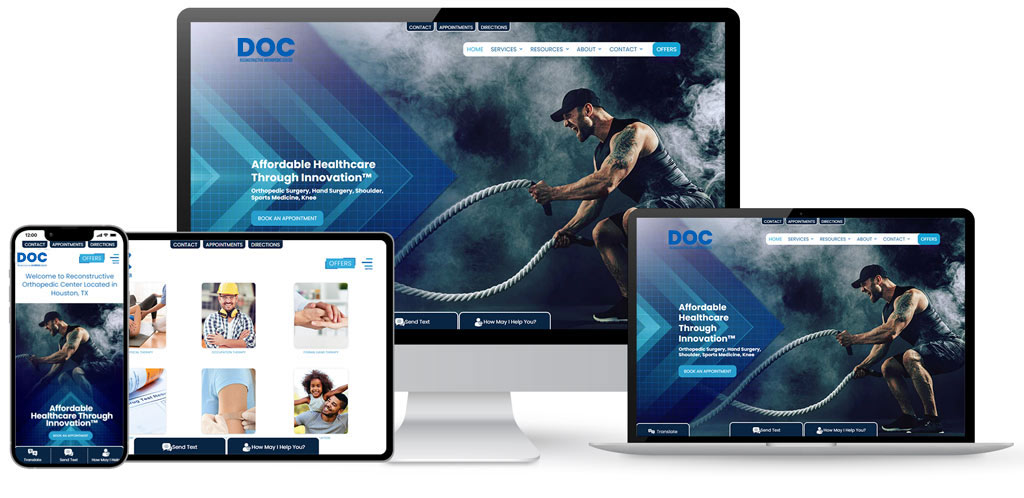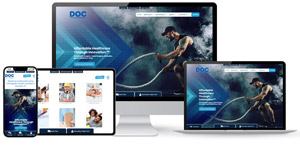 An orthopedic surgeon is an expert in treating patients with disorders in muscles, ligaments, tendons, joints, and bones. However, the general public may not make an immediate connection between their symptoms and needing an orthopedic surgeon. They usually add "doctor" after naming the part of their body that is ailing them. They may say they need a:
Hip Doctor
Knee Doctor
Foot Doctor
Ankle Doctor
Shoulder Doctor
Elbow Doctor
Hand Doctor
Spine Doctor
Example of an orthopedic practice – Using PLATINUM service, month 1 – Baseline data: 464 new patient leads. This is an established practice (22 years) with 11 providers and multiple locations. They switched to PatientGain's PLATINUM service. This is the first month. Baseline data.

Using PLATINUM service, month 14 – Baseline data: 770 new patient leads. This is an increase of 306 new patient leads compared to the first month. For this customer there are no social media or Google ads. This growth is from Organic SEO and other marketing using PLATINUM service.

Using PLATINUM service, month 22 – Baseline data: 1037 new patient leads. This is an increase of 573 new patient leads, which is over 100% from the month 1. For this customer there are no social media or Google ads. This growth is from Organic SEO and other marketing using PLATINUM service.

All of these doctors are also orthopedic surgeons. While someone can specialize in certain parts of the body, many are also generalists who can treat the entire body for orthopedic issues. These doctors treat patients of all ages for various disorders, such as sports injuries, back pain, bone tumors, osteoporosis, and arthritis. An orthopedic surgeon also makes a good living, with average yearly salaries between $300,000 and $440,000, but the top providers are above $500K per year. We can help you get to the top range.
To ensure the success of any orthopedic surgeon's business, they need to embrace digital advertising. Connecting with potential patients who need their services is vital to growing a patient count and overall business. The experts at PatientGain.com can assist you in implementing a medical digital advertising plan for your practice. Below are some areas our team can help manage to ensure the continued success of your business.
1. An Orthopedic Website
A medical website will be one of the first things a patient will encounter when learning about your orthopedic practice. Getting online with a well designed, helpful, and authoritative website is critical. You will not be successful without a medical website advertising the services you offer. Your website needs to be easy to use, load quickly, and informative no matter what device it is used on. A potential patient should have the same experience on a desktop, mobile device, or tablet. The majority of your traffic is likely to come from a mobile device, so mobile optimization is required these days for all practical purposes.
Today, you have only seconds to make an excellent first impression with a website. If your load speed is slow or you do not have something on the home page that catches a user's attention within the first moments, they will click on that back button and look at the next search result. This action, a look at your website, and then back to search results, can hurt your overall organic ranking. This indicates that your website is not the right or relevant result for the keyword the person used to search for a search engine. Your website needs to be fast, and the home page needs to grab their attention to avoid this. PatientGain.com has helped many clients design a quick loading homepage that boosts website conversion by drawing potential patients' attention.
Once someone's attention is captured and is on your website, you need to make it easy for them to find the services that are the subject of their search. Keep in mind that the general public does not know the medical terms associated with ailments and parts of the body. With that in mind, you will want to be sure you use general terms to help guide people to the pages they need to find. While you should, for search purposes, definitely include the medical terms for things on your website, they should be paired with more well-known terms, so people do not get lost and give up. If you offer various services, the most popular ones on the home page and navigation bar create a landing page for the rest. Listing every single service on your home page or a navigation bar can impact the user experience. Instead, pick a top few and keep the rest on the services landing page for exploration.
2. Paid Advertising For Orthopedic Surgeons
Even if you have an excellent website, an orthopedic surgeon should invest in paid search advertising. PPC (also known as Pay Per Click) is vital when a medical practice first opens and does not have much organic ranking. It is the best and most effective way to get your website in front of the eyes of potential patients. When you have high organic rankings, it is also a good investment. It can be compelling to see your website show up in paid ads and organic rankings. The more times your website appears in front of a person's eyes, the more likely you will receive a click. Do not cede this space to your competitors and give them a cheaper, competition free way to be seen first.
The success of paid search advertising depends on many factors. The first and perhaps most important is the budget. If you do not have the budget to support an ad campaign, you should lower your expectations. It will underperform and not give you the results it could. This does not mean you need to break the bank and dump every penny into a campaign, but it should have enough to be competitive with others who are advertising in this space. If you are chronically short on funds or find your PPC campaign expensive, it needs to be retooled. You may need to refocus on another pillar of a good campaign: Keywords.
The keywords you select for PPC your campaign will be the ones you bid on to try to get your ad shown when people search online. They need to be keywords relevant to the services you offer to appear on the page you are linking to your ad, and ideally also appear in the ad copy. For example, if you are bidding the keyword "Knee Injury" but the keyword does not appear in the ad copy, goes to a page talking about elbow injuries, and is a service you do not offer, expect a bad result. It will be costly to bid for an ad slot, or your ad may not show at all. Search engine advertisers' goal is not just to take your money, although they certainly want it. They also want to present search engine users with the most relevant results, paid and organic.
3. Social Media Advertising For Orthopedic Surgeons
Social media has become very important in all medical practices, and many doctors are now embracing these platforms to connect with their current patients. An area of social media that remains unexplored by many medical professionals is advertising on social media channels. While the reach of social media channels is not as great as search engine advertising, orthopedic surgeons have several advantages using social media to advertise. A well crafted social media advertising campaign to provide a high ROI for a medical practice and find valuable conversions.
One of the most significant advantages of advertising on the social media platform is how much you can refine your target audience. Much like search engine advertising, you can select a location to advertise like a zip code or a radius around a spot on a map. However, with social media, you can also narrow that target audience further. You can determine what age, gender, and interest to show a social media ad to. As such, you can create a very defined target audience and select demographic traits that most likely need your services. For example, suppose your practice wanted to promote specialization in treating high school and amateur sports injuries. In that case, you can set a younger age range and list some sports as interests so that your ad only shows to those people. While the number of clicks sent to your website may be less than search engine advertising, those clicks will be much more relevant and should have a higher conversion rate.
Practically all social media channels have an advertising platform that businesses can access and launch ads. You can purchase ads on Facebook, Twitter, TikTok, Instagram, Pinterest, and even Snapchat. With that said, you are likely to find the most success with Facebook, Instagram, and maybe even Twitter. Advertising on other platforms could be fruitful, but you are likely to have better success on Facebook and Instagram. These two social media channels also have advertising dashboards that are very user friendly and reasonably easy to understand.
4. Search Engine Optimization (SEO) For Orthopedic Websites
Having a website is critical, but it is not very helpful if a search engine does not fully understand the services you offer or what your website is about. Search Engine Optimization, or SEO, can help significantly improve your overall organic rankings. It is a crucial part of any medical digital advertising plan for orthopedic surgeons, and if neglected, competitors will take advantage of it. A search engine wants to provide relevant results to its users, and SEO informs a search engine what a website is about to do a much better job at returning results. The more relevant you appear to keywords, the more likely your website will make it onto the first page of results.
First, as an orthopedic surgeon, you need to identify the essential keywords for your webpages. Some make a mistake at only picking out the words that are already written in their content. Good SEO work picks out these words and also adds words that may be missing. Potential patients may be using words or phrases you do not have on your website. For example, you may have a page dedicated to medial epicondylitis that details symptoms, treatments, and what your medical practice can do for it. However, if you are missing the more common term "Golfer's Elbow," you could miss some potential patients. Your website needs a mix of medical terms as well as everyday words used to describe ailments. Many people are more familiar with symptoms, not the actual names, so be sure you list symptoms prominently for SEO purposes and show patients they have reached the correct page.
When putting together an SEO plan for an orthopedic website, a key factor to consider is time. Updating and improving the SEO of a website will not result in overnight changes. Even the best-implemented plans will take four to six months for results to start to appear in search results. Yes, that does take a bit of time, but the long term benefits and return on investment make it well worth the effort. The time to results vary by location, competition, and how SEO savvy your competitors are, but you should see good results.
5. Content Marketing For Orthopedic Surgeons
"Content is King" is not just some clever phrase. Simply put, the more unique, informative, and authoritative content you have on your website, the more important and relevant you look to search engines. In turn, they are more likely to put you at the top of a search result. You want to strike a nice balance of not being too brief and not going on for thousands and thousands of words. Someone did not visit your website to learn about becoming an orthopedic surgeon or detailed information about an injury you treat there. Generally, you should aim for 1,000 to 2,000 words for the content of your service pages. This content should be mixed with pictures and, if possible, videos for website visitors to consume. Present the information in a way that makes sense, is digestible, and links to other pages if other topics are brought up.
If you have not reviewed your content in a few years, now is the time to do it. The best reasons to review your content include:
Updates to treatments you offer
Specific phrases describing injuries that may no longer be popular or used, or you may be missing some critical new terms and phrases.
A typo might have been missed the last time you read the content
Previous links inserted into the content may no longer be valid
Graphics, videos, and pictures may need to be updated
Make your job easier by keeping a record of every webpage you have, and the last time it was physically reviewed by someone. Ideally, it should be read once a year to make sure everything is up to date and still makes sense for your orthopedic medical practice. Do not forget pages that do not directly relate to orthopedic surgeons! Contact pages, direction pages, staff bios, and pages of that nature also need to be reviewed.
Content marketing of websites for orthopedic surgeons should be a continuous effort. Updating all content pages at once on a single day every year will not produce the results you are looking for in terms of organic results. Search engines like to see continuous updates throughout the year. This indicates, to them, that you are staying relevant and up to date. With this in mind, updates should be made throughout the year. You should refine, update, or add new pages to your website to show search engines you are relevant to users. As you make changes or additions, keep your target SEO keywords in mind to maximize your content marketing effect. If you come to the point where every page on your website does not need to be updated, consider starting a blog. Posting regular content-rich, unique, and informative blog posts will help improve your website's organic rankings.
The experts at PatientGain.com can help you with your digital advertising efforts for your orthopedic practice. Our team will work with you to help you design a great website backed by a top-notch search engine advertising campaign. We have helped hundreds of clients achieve their goals and see significant growth in their patient count. Call today and let us show you what we can do for you!
The GOLD service from PatientGain is used by telemedicine physicians, dentists, surgeons, pediatrics, medical spas, pain management, functional medicine, primary & urgent care, cardiologists, podiatrists, addiction medicine, regenerative, wellness, therapy, OBGYN, integrative medicine, dentists, dermatologists, IVF & reproductive, pharma, bio-tech & many other medical practices.