Easy To Implement Cosmetic Dermatology Marketing Plan & Ideas For Skin Care Clinics & Practices
Best performing cosmetic dermatology practices are based proven strategy. Today, there are more than 9,600 dermatologists, but only 4.3 percent are taking advantage of medical marketing automation. Join the 4.3 percentage club.
Best Way To Market Dermatology Practice
The best to gain more patients for your dermatology practice is still by using proven techniques. We have hundreds of successful examples. Here are the key components of the GOLD and PLATINUM service:
Conversion mobile website with intelligence – specifically designed for your dermatology practice – It should load within 3 seconds – If you have a slow website, you will have a high bounce rate and low conversion. Read more here.
Local SEO – implemented so your dermatology practice will up higher in the top 1 , 2 and 3 positions of Google Maps, Google listings
SEO for organic rankings – Based on non-plagiarized, original content, over time, you will see excellent SEO rankings.
Online advertising ( Google, Facebook, Instagram and additional channels ) – We have run thousands of campaigns
Minimize Negative Online Reviews, Maximize Positive Online Reviews – Our apps allow your clinic to have very good reviews on Google and other important review sites
 Social Media Apps – Social media funnel app included to help you create effective presence on social media
Monthly blog posts 2 blogs created for your practice per month
Monthly Email Marketing – We create content based newsletters for your dermatology based services
SMS-Text Based 2 way communication with patients – Allow mobile patients to communicate with you using their preferred method – SMS-Texts
HIPAA compliant CRM – Store all patient marketing data in our HIPAA compliant patient database
Additional apps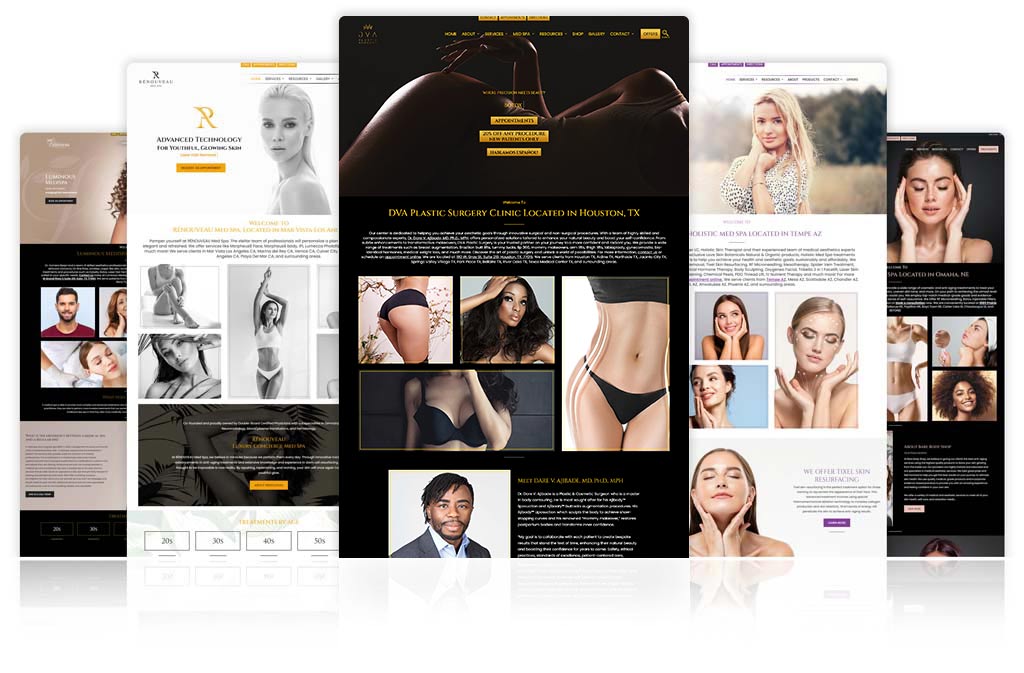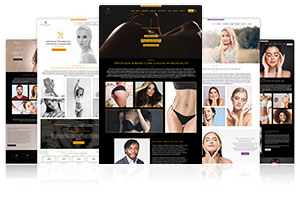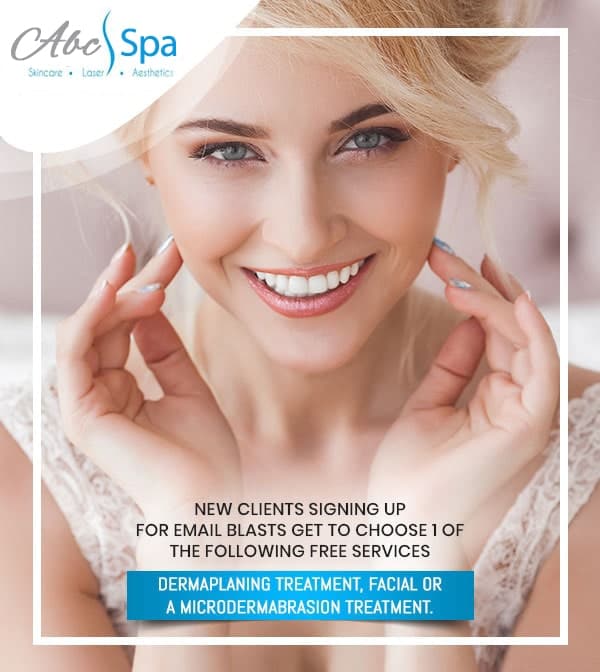 What Is Cosmetic Dermatology?
Cosmetic dermatology is becoming an increasingly popular healthcare area that is growing every year. With more demand comes more doctors and providers opening facilities that specialize in this area. As such, there is more competition today than there was several years ago. For a Cosmetic Dermatology practice to grow and be successful, it needs a well-designed medical marketing plan. The experts at PatientGain.com are standing by and ready to help! We have assisted many Cosmetic Dermatology offices across the country and know what works and what does not to promote these unique businesses.
While medical dermatology treats conditions on the skin that threatens a patient's health, a cosmetic dermatology clinic has providers that treat patients for aesthetic reasons. A cosmetic dermatologist will provide services such as tightening sagging skin, smoothing wrinkles, or correcting skin tone. While these services do not serve a medical purpose, they help a patient look better, which often plays a role in mental health. The overall goal of many treatments at a cosmetic dermatologist's office is to reverse the signs of aging and the effects. Patients often want to look healthier and younger.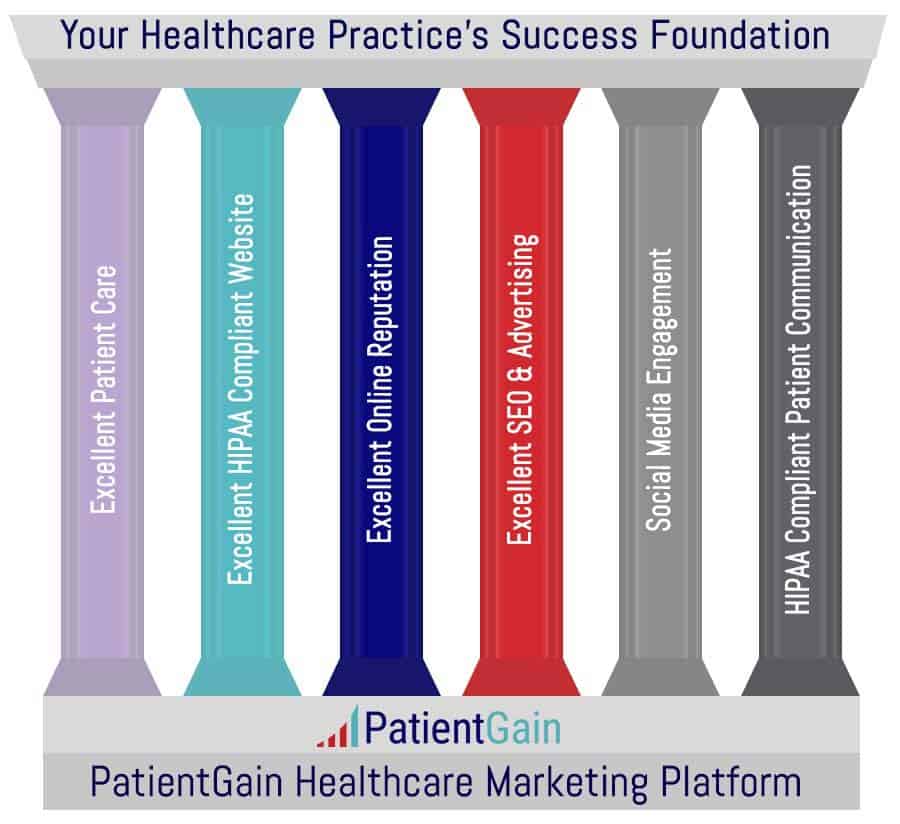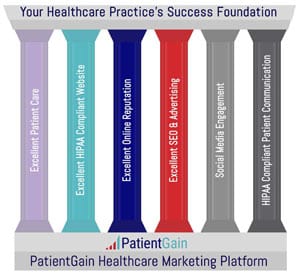 6 Step Plan For Dermatology Marketing
It should be kept in mind that these clinics have services often not covered by health insurance since there is no medical need for it. This requires patients to pay out of pocket for treatments. Many providers find this advantageous as it does not require insurance forms and requires less time to process payments. Instead of spending money on employees to process insurance claims, they can instead promote the practice. Below are some great ways to market a Cosmetic Dermatology practice.
1. Local SEO
Local SEO, or Search Engine Optimization, plays an incredibly large role in getting good organic rankings for a Cosmetic Dermatology practice. Generally, a potential patient in need of services provided a practice like this will not drive hours and hours to find a provider. They are likely going to select a cosmetic dermatology practice near them. In search results, Map Results are often presented as a selection that lists three nearby relevant businesses. These results appear after the paid results but before the organic results. Many potential patients will make their selection from those map results without even looking at the organic results. A Cosmetic Dermatology practice must appear in the map results.
The first step is to claim or create a listing on Google, Yelp, and Bing. These business listings are going to be the only way for a business to appear in map results and other mapping apps. A practice will need to verify their ownership of the listing before it will appear in search results. Verification will usually come in the form of a phone call or mailed postcard. Once verified, a practice will want to ensure all of the contact information matches the information on their website. If information is different, this will lead to a search engine not believing the listing is accurate and therefore is less relevant. Some of the things to check for accuracy on listings include:
Name of the business
Address, including any suite or office numbers
Phone number
Website URL
Hours of operations
Services Offered
Another thing a cosmetic dermatology practice can do to boost its local SEO is create a directions page. This page should have detailed instructions on how to reach the practice from multiple directions. The directions should mention unique landmarks and other businesses someone would see when approaching the location. If applicable, write out directions if people plan to take a bus, subway, or local rail to a nearby station or stop. This unique content will help a search engine determine the area a practice is located in and help it decide when to list it in map results.
2. Online Reviews & Reputation Management
The online reputation and reviews of Cosmetic Dermatology practice can make or break the success of a business. Any potential patient in the practice will look over the reviews to determine the quality of service there. The online reputation needs to be managed so negative reviews are addressed, and positive reviews are encouraged. Fortunately, the first step in managing online reviews is likely already done if a practice concentrates on the local SEO: Claiming a Google, Yelp, and Facebook listing.
Once these listings are claimed, reviews can then be managed. Hopefully, the superior service being offered by a cosmetic dermatology practice will generate many good reviews. When a positive review arrives, thank them for their kind words and mention how the practice looks forward to serving them again in the future. For negative reviews, it is best to engage with the reviewer gently. If possible, call them first and see if their issue can be quickly solved. If contacting them is not possible, ask them to call the practice to figure out their problem. Not all negative reviews will suddenly become positive reviews. However, potential patients will see a practice's commitment to good service and will appreciate the attempt to fix whatever the issue was with the person.
Take good reviews and post them on a Cosmetic Dermatology website. This authentic, authoritative, and unique content will boost a site's organic rankings and highlight the excellent services offered at that location. Good reviews should be swapped out frequently for newer positive reviews to keep the page updated and fresh. To increase the number of good reviews, a practice will receive, use text-based or email-based review requests. Email requests are cheaper but have a lower conversion rate compared to text requests. Provide a patient a link to leave a review. The fewer steps they have to go through to leave a review, the more likely it will be written.
3. Social Media
Social media continues to be great for connecting with current patients and potentially new ones. Social media channels allow a practice to communicate directly with its community. It is often faster to get information out over social media channels than to update a website. Also, things posted on social media have the chance of being shared and sent to friends of those who follow the practice's accounts.
There are many social media channels out there. However, only a few have a broad reach and are worth the time and effort to monitor and maintain. A Cosmetic Dermatology practice should have accounts on Facebook, Twitter, and Instagram. Depending on the amount of time and skill the person in charge of this marketing area has, accounts on Pinterest, Snapchat, TikTok, and YouTube may also be helpful. These social media accounts tend to focus more on visual posts, which could be very useful to the aesthetic focused nature of a Cosmetic Dermatology practice.
As for the types of posts that should be pushed across social media channels, a practice should strive for a nice mix. While it is essential to promote treatments and available services, people will soon start to ignore or unfollow accounts if these are the only posts that people see. They do not always want to be "sold to" by a business. Other types of posts a practice should publish include:
Local community news (School sports or local accomplishments)
Local, regional, and national health stories
Self-care tips
Blog posts from the website
Before and after pictures of treatments
Showcasing various treatment rooms
4. Email Marketing
While email marketing does not play as big of a role in today's Cosmetic Dermatology marketing plans, it remains a cost-effective way to reach current patients. When a new patient registers at a practice, many, if not all, will give an email address and other contact information. A practice, assuming the staff is entering the information correctly, should have a steady supply of email addresses for email marketing. A practice should never "buy" email addresses or "swap" email lists with other medical practices. This method of email marketing is highly ineffective and may violate federal law. It simply is not worth the risk.
When sending out email marketing campaigns to patients, consider sending them out monthly instead of weekly. It is much easier to come up with content that will be useful, unique, informative, and actionable 12 times a year as opposed to 52 times a year. Effective email marketing to current patients is not an emailing the hours of operation and some services. It needs to be enticing for them to read. Otherwise, the email will go to the trash file, and they might unsubscribe. Good email marketing will have a small article for them to read to educate them about a treatment that they may not be familiar with. There will be several other smaller blurbs promoting a special, a promotion, or other services. Finally, the email will have a call to action embedded into it, telling a patient the next steps they need to take, like making an appointment.
5. Intelligent Engagement Chatbot (works 24 hours a day for you)
Chatbots are very popular programs to embed into websites today. Many retail websites use them to help consumers find products, track down packages, or ask questions about services. The healthcare industry has adopted this effective tool to boost website conversions. A medical engagement chatbot should be part of a Cosmetic Dermatology's marketing plan. It can make the staff more efficient and increase the patient count at the clinic.
A chatbot is simply a program with predetermined answers to prewritten questions. It can not formulate its responses and have a conversation with someone online as if someone was calling into the practice. An engagement chatbot aims to help people find answers or accomplish tasks that patients frequently need assistance with when exploring a website. Instead of sending these questions or requests to the front desk, a chatbot helps them. This frees up time that staff can then use to assist others with more complicated problems. Savvy cosmetic dermatology owners will work with the front desk staff to develop the most common question and requests they receive.
The nice thing about chatbots is that they are always available and never take the day off. They can answer questions or assist with tasks over the holidays, in the middle of the night, or just after a clinic closes. For any question they can not answer, they will take a person's contact information and question. From there, they will forward it to a HIPAA-compliant dashboard for a staff member to handle the following day.
6. Traditional and Offline Marketing
While digital and online strategies dominate the world of healthcare marketing, many cosmetic dermatology practices have found traditional or offline marketing methods to be very effective if used correctly. Generally, these campaigns are paired with digital assets so that people can search out more information.
One of the most commonly used traditional marketing methods still used today is direct mail marketing. Unlike other traditional marketing methods, such as advertising on radio, newspaper, or television, direct mail marketing has some targeting. A Cosmetic Dermatology practice can determine who it is sending marketing pieces to in the community. Depending on the volume of mail being sent out, special tools and discounted rates are available to clinics from the United States Post Office. A clinic can view online where they are sending mailing pieces and can target what neighborhoods receive them.
For direct mail marketing to be effective, it needs to catch the attention of the person checking the mailbox. While mail volume is much lower now than in the past, a simple white envelope could still get overlooked in the daily mail. A clinic should experiment with different sizes, colors, and even thicknesses of paper to get someone's attention. Ideally, a clinic will want this mailer to be placed on a fridge or corkboard to advertise to a household every day. Anything mailed to a home should have the following:
Name of the Cosmetic Dermatology practice
Logo
Slogan
Address, including any suite numbers or offices
Phone number
Website URL
Hours of operation
Call to action for what a current or potential patient should do next
The experts at PatientGain.com are ready to help you achieve the goals of your Cosmetic Dermatology practice. Our team has years of experience and can show you what we have done for other clinics in this field of healthcare. We look forward to speaking with you!