Allergy & Asthma Practice Marketing Services
In the United States, 50 million people experience allergies and it is the 6th leading cause of chronic illness. 25 million people have asthma in the United States. While many can manage these symptoms at home, some require continual long-term treatment. Others may need occasional medical attention when their allergies or asthma flair up. Regardless, an Allergy and Asthma practice needs a well-developed medical marketing plan to get the patients they need to succeed and grow. PatientGain.com has a variety of marketing services that have been successful with other clients and can be deployed for the benefit of the practice.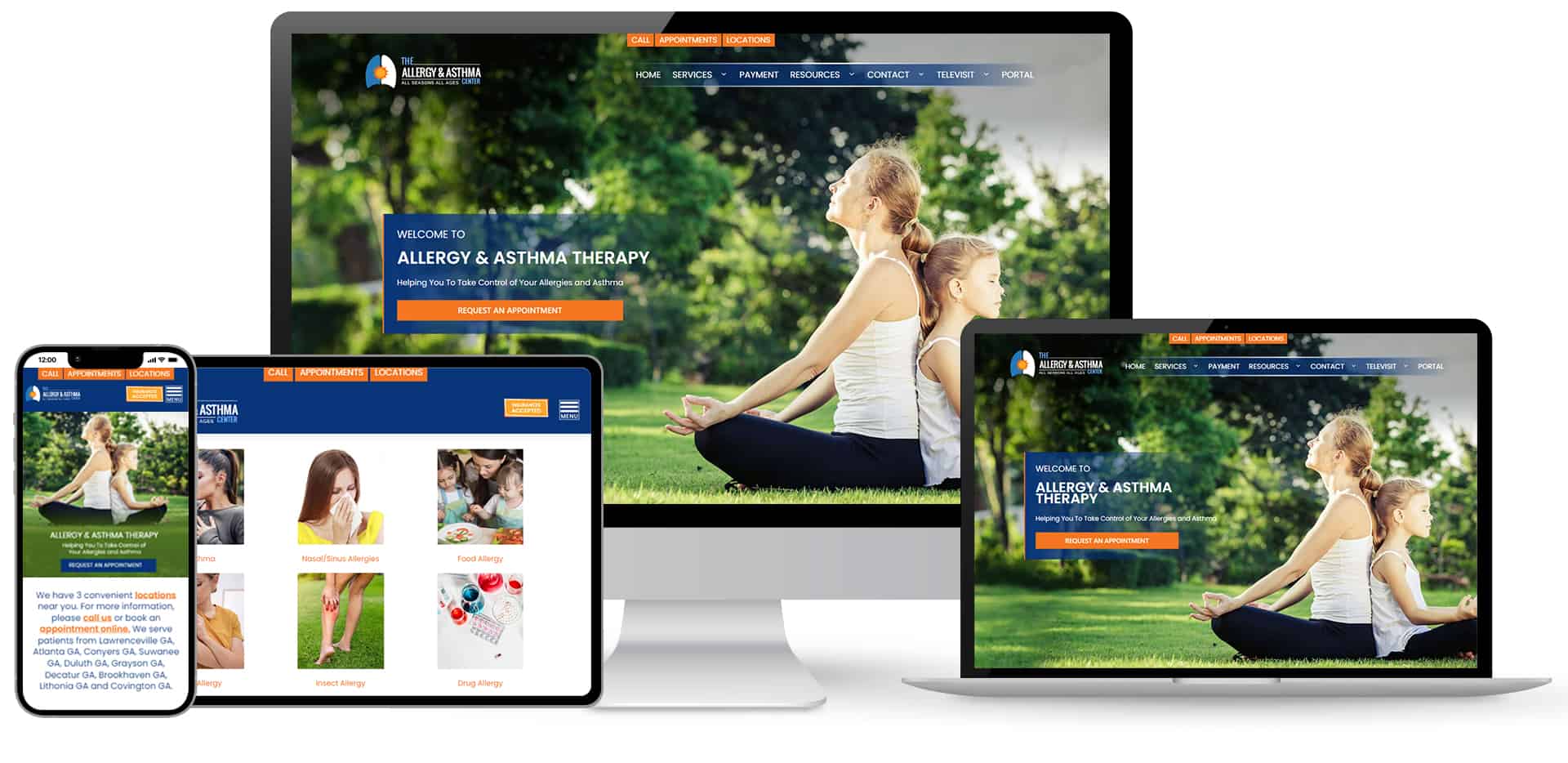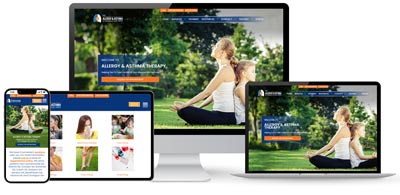 How can search engine optimization (SEO) benefit an Allergy and Asthma Practice?
When someone has an allergy or asthma episode that requires medical assistance, they are likely to start their search with a search engine. Google, as of 2022, has 92% of the search engine market, meaning over 19 out of 20 people worldwide will use Google to search. Optimizing an allergy and asthma practice's website to search well on Google should be a priority. While a google search will return billions of results, virtually no one looks past the first page of results. SEO is one of the most cost-effective ways to market a medical practice, although owners must be patient as results often take months to appear.
A crucial part of SEO work is identifying keywords potential patients will use when searching for services provided at an allergy and asthma practice. A practice should have a healthy mix of technical and medical terms and simple non-medical terms that patients, who may be unfamiliar with their condition, will use to describe their symptoms. This mix will help a practice find patients who do not realize they need an allergy and asthma practice but also increase the authoritativeness and trustworthiness of the website. These keywords need to be placed throughout the website on relevant pages. For example, keywords related to seasonal allergies should not be on a page about pet-related allergies. Also, a practice should not try to stuff as many keywords as possible onto a page. This tactic is generally seen as underhanded and can lead to a negative penalty attached to a site's organic rankings.
Another aspect of keyword selection is picking short-tail and long-tail keywords for SEO. Short-tail keywords are three words or less and cover very broad topics, while long-tail keywords are four words or more and cover unique or specific topics. Short-tail keywords get more traffic but fewer conversions, while the opposite is true for long-tail keywords. Long-tail keywords also play a role in voice search as people tend to ask questions longer than four words when using their smart speaker or personal digital assistant. For example, if an allergy and asthma practice has "Where can I get treatment for seasonal allergies?" in their content and that question is asked via Google or a voice search, there is a good chance for it to appear as a top result.
How can a medical website design help an allergy and asthma practice get more patients?
The first important step in getting a potential patient to become a regular patient is finding the practice's website in a search result. Once they get to that website, a practice must capture their attention immediately, or they will go back and look at other search results. The quick abandonment of a website, also known as a bounce rate, is another factor that impacts organic ranking. Several medical website design strategies will help capture site visitors and convert them.
First and foremost, site speed needs to be a priority. In today's world of high-speed internet, next-day or same-day delivery from Amazon, and drive-thru fast food restaurants, people do not like waiting for things. Ideally, a website must load within a couple of seconds or at least be functional and navigable. For every additional second, it takes for a site to load, more and more people are returning to search results. Site speed not only needs to be fast on a desktop computer but also on mobile devices. A site loading quickly on a desktop does not mean it will load quickly on a mobile device. Just because a site loads quickly (in either setting) one month, mean it will continue performing at optimal speeds. Constant monitoring, testing, and improvements are needed. The most likely things to slow down site speed are:
Pictures not optimized for a website or a mobile website
Movies loading directly to the website and not hosted on a 3rd party site and embedded
Code that is outdated or no longer used breaks down or interferes with other code.
Another aspect of site design is how it is organized. When browsing the internet, all users expect every site to have a menu along the top or in the right corner to aid their navigation. These menus, usually dropdown in design, need to be organized well. If the Allergy and Asthma website does not have too many pages, everything can be quickly listed in the menu. This is impractical if the clinic has dozens and dozens of content pages. A practice should organize its dropdown menu to feature its most popular services and organize the rest of its services onto separate landing pages. It should take as few clicks as needed to boost conversions for someone to find the information they are looking for or accomplish a task. The more hoops they have to jump through to reach that goal, the more likely they will give up on their search and either look at another website or call the clinic for assistance.
How can online reputation management help an Allergy & Asthma practice get more patients?
One of the first things anyone does before visiting a new business, be it an allergy and asthma practice or a new Italian restaurant, is look at the online reviews of that business. If a business has an overall negative online reputation, it will be harder to convince them to take a chance with that business. As such, an allergy and asthma practice must prioritize its online reputation and manage it closely. A positive online reputation will make marketing more effective and stretch the marketing budget further.
The first step in online reputation management is claiming or creating the profiles where those reviews will be posted. This means managing the business listings on Google, Yelp, and Facebook. With Google and Yelp, a business must be verified via email, text, or postcard sent through the mail. Once verified, a business can then begin to manage its reputation. The next step is getting patients to leave reviews on an online listing. Most of the time, all an allergy and asthma practice needs to do is to ask. While not all patients will leave a review, a reliable percentage will. The more patients that get asked, the more likely a review will be left. Asking for reviews is most effective when asked via email or text. Email review requests are cheaper than text requests, but text requests are more likely to be opened. Finally, the review leaving process needs to be as simple as possible. If practical, there should only be one click to leave a review for an allergy and asthma practice. Every additional click in that process will result in a lower conversion rate.
The last part of an online reputation an allergy and asthma practice needs to manage in their online reputation management is the actual reviews. Every review, good or bad, needs to be replied to by the practice. A listing with nothing but unresponded reviews will give the impression that a practice does not care about the opinions of their patients or if they consistently have good service. For positive reviews, simply reply to them with a thank you. If possible, try to customize the response by addressing them by name and thanking them for an aspect of the positive review they mentioned. For example, if they mention a doctor or staff member, tell them they will pass along that compliment. For negative reviews, an allergy and asthma practice must be a bit more careful to avoid exacerbating the situation. First, do not threaten them with legal action for them to remove the post. These sort of lawsuit threats or actual lawsuits that get submitted instantly results in bad publicity for a business. Instead, try to contact them first and see if their issue can be rectified. They may even change their review into a positive one. The interaction can be mentioned in the reply even if they do not update it. If a practice has no idea who they are, ask them to contact the Allergy and Asthma practice and to speak with an administrator.
Reviews left on Google and Yelp can be more valuable than just staying on those sites to be read. Positive 5-star reviews can be highlighted on websites. Just be sure to update the "review page" frequently, so people are not looking at 5-star reviews that are half a decade old. If possible, try to update the page every month with new reviews. Frequently updating a site with fresh, unique content can help boost SEO values. Positive reviews can also be featured in Social Media postings or email marketing campaigns. Be sure to remove the reviewer's last name to comply with HIPAA regulations. If the reviewers have a unique first name, consider changing it to protect their privacy.
How can link building help an Allergy and Asthma Practice?
Links to an allergy and asthma practice from other websites are known as "backlinks." Backlinks play an essential role in the organic ranking of websites in search engines. The more websites that link to an Allergy and Asthma practice, the more important it will look to a search engine. That said, some links will be far more critical than others, and some could hurt a website's organic ranking. A link a practice should avoid is from a website called "link farms." These sites have very little, if any, content, just pages of links to other websites. An allergy and asthma practice should not proceed with any work trying to get their URL on these websites. That said, sometimes their link will show up without their permission. That link can be disputed if a site can not be contacted to take it down.
Getting links from another website can be difficult, but it is worth the effort. The most common link will be from a site ending in .com. A link from a .edu, .org, or .gov site is immensely valuable as these sites are seen as more authoritative and trustworthy than a .com site. A link from these domains is also tough to get. Some medical practices saw their sites listed on .gov and .org during the COVID-19 pandemic, boosting their organic reach. Some medical practices can get listed on a .edu site if they have a relationship with that educational institution.
There are three common places where an Allergy and Asthma practice can get backlinks:
Business Organizations – If a practice joins a local chamber of commerce or business club, they often have sites with directories of their members. These directories have profiles of the member with a brief bio and a link to their business. Some of these clubs end in .org if they are nonprofit and can be very valuable. These organizations often have email marketing newsletters and social media posts which also may be a source of great backlinks.
Healthcare Organization – Regional or statewide medical associations can be another valuable source of backlinks. Like a business organization, these associations will have a directory of members with a bio and link to a practice. Medical associations also engage in email marketing and social media posts providing another source of related backlinks.
Online Media & Blogs – If an Allergy and Asthma Practice gets featured on TV, Radio, or in a newspaper, there is often an online version of that story. In that online version, a practice should try their best to link their website to that article. Links from authoritative news sites can be an excellent source for backlinks. If featured in an online blog, links are also a must-have. These online articles can then be used to be featured content in email or social media campaigns.
The experts at PatientGain.com are available to help you create a high-performance Allergy and Asthma Practice website. Contact us today and let us show you what we have done for other practices across the country!