SEO Tips For Doctors & Dentists – 11 Steps Short Cut SEO
Medical SEO is not a simple task. It is complex and time consuming and it costs quite a bit of money. Here is a short-cut summary. We will outline in detail here, but lets get started with a summary.
Step 1 : Create a mobile friendly website. If you use newer versions of WordPress software, this is included in the template setup. Website should load fast, less than 4 seconds. Avoid using heavy images, it is the number 1 cause for slow loading websites. Your website's top menu should have information for at least 6 key areas. About Us page,  Services page, Resources page, Phone number & directions, Contact Us page, Call-To-Action (CTA Areas), and don't forget Home button. 
Step 2 : Start adding content under each of the areas. For example, for services page list all your services. each service should have a seperate landing page for each service. Use original non-plagiarized content.
Step 3 : Structure of each page. Each page should have a heading 1, possibly heading 2, and then paragraph text. heading 1 should be used for keywords and main subject of the page. heading 2 should support heading 1, paragraph text should provide details of the service. At least one image or a video should be added to each page. Add tags and meta data for each image.
Step 4 : Add professional quality images. So your website looks unique. Generic images purchased from image banks, and added to your website will make your website look generic. Custom images should be used to "brand" your website.
Step 5 : Contact forms should be used, using HIPAA in mind. Avoid mail-to forms.
Step 6 : Display testimonials or reviews from customers on the home page.
Step 7 : Add social media or other widgets to build your social presence also.
Step 8 : Add google analytics code. If you use WordPress (which we recommend) this step is very easy.
Step 9 : Submit the pages to Google search engine. Yahoo and Bing are also helpful.
Step 10 : Start building the content of your website. This is the foundation of your SEO success. Adding your website domain to other websites is called link-building, this is also an important part of your strategy.
Step 11 : Unfortunately it takes time and a lot of effort to start seeing results from SEO. But results and ROI from SEO efforts are worth it.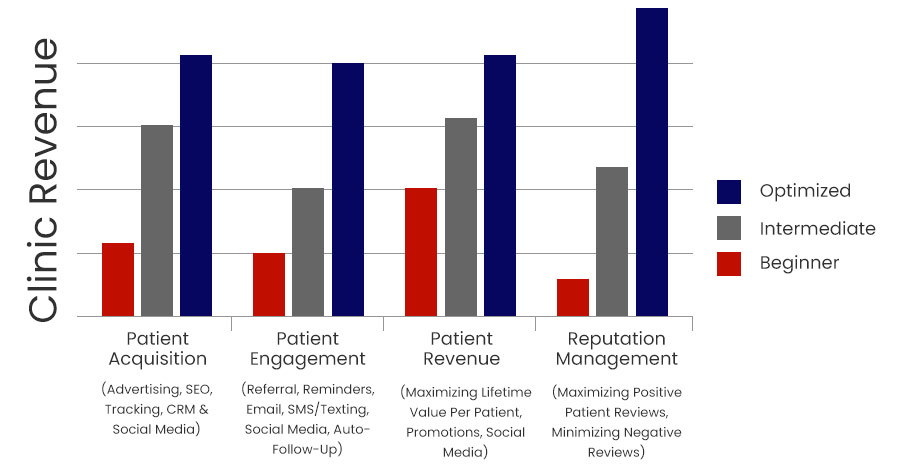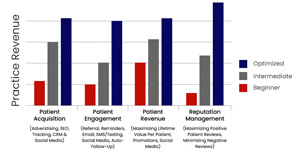 High Quality Content Is a MUST for High SEO Rankings
Unfortunately, increasing SEO rankings for doctors and medical practices is not a simple one-step switch that can just be "turned-on", it is a process that involves time-consuming steps and costs quite a bit of money. It all begins with having original, unique & quality non-plagiarized content on your website and taking advantage of the latest technology and Search Engine Optimization strategies and algorithms. Your content must provide value to a potential or existing patient.
SEO Example of a Primary Care, Walk In Clinic in Texas.
In the example below, after using the GOLD Package for 5 months, you can see that 660 patients visited the site from Organic SEO – On average they viewed 2.53 pages per session. Total pages viewed is 1672. Compare it to 491 patients visiting from Google PPC advertising. On average they viewed 1.71 pages per session. Total pages viewed is 841. While Google PPC is a very powerful tool to build your healthcare practice, you cannot replace it with Organic SEO. In fact you will need both of these strategies ( among others ) to achieve online success for your healthcare practice. You will also notice that bounce rate is less for organic SEO visitors.
Your Content Is the Single Most Important Factor in Your Online Success. 8 Reasons Why Content Is Important.
1. Content defines your brand.
2. Content expresses you who are, how you conduct your business.
3. Content is read by the Search Engines – and this results in GOOD or POOR rankings – You should NEVER copy content from another site. Checking ideas from other websites is OK, but copying content is like shooting yourself in the foot.
4. Content can make your marketing flourish.
5. Content can make your advertising irresistible.
6. Social media loves GOOD content.
7. Email marketing with good quality content will give you higher open-rates.
8. Best of all – Patients LOVE Useful content.