Expert Medical Marketing Agency Staff Available in USA. 10+ Years Experience. $999/mon Top Customer Service.
What makes for a successful medical marketing staff?  
A medical practice, if it wants to grow and compete with local competitors, needs an expert medical marketing staff working for them. While they can undoubtedly assign staff members to take care of some marketing activities, like posting on social media or sending out emails, whoever is assigned to that duty will still be splitting their time between patients and medical marketing. A medical marketing staff will have the expertise and dedication to ensure the medical marketing plan is successfully implemented. Below are some things a medical marketing staff needs understand and be experts in to be successful.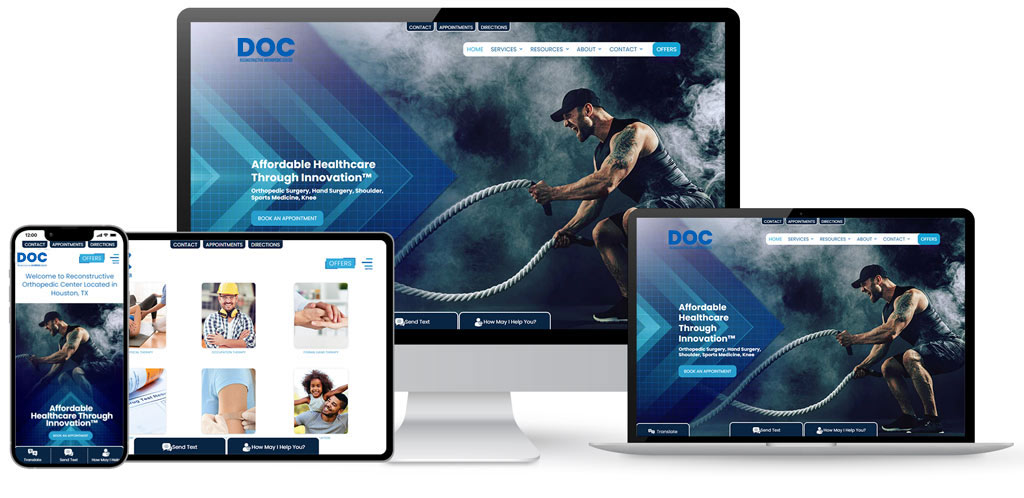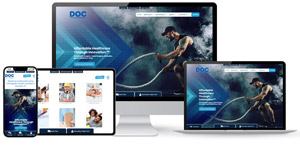 Medical Marketing Agency Should Build Your Brand
A medical marketing staff must build the brand for a medical practice. Building a brand will help it differentiate itself from local competitors and help make marketing efforts more effective. When creating a brand for a medical practice, a medical marketing staff should focus on the following:
Establish A Brand Name, Slogan, and Logo – All three things should stand out among competitors in a community. A successful medical marketing staff will ensure that a brand name, slogan, and logo are not similar to other medical practices in the area. If there is too much similarity, it can lead to confusion and possible legal action if it is egregious. They will ensure that the brand name, slogan, and logo are consistent and used across all marketing campaigns.
Maintain The Voice Of Your Brand – Every medical practice's brand should have a "voice." This tone in published or advertised content should be consistent. Different voices on different marketing materials will seem disjointed and not give a sense to a new patient that a medical practice is as professional as it could be.
Use Branded Pictures – A successful medical marketing team will use branded pictures in all campaigns. A branded image should be any photo, image, or graphic used in advertising that matches the brand of a medical practice. It should be a unique picture and avoid using any stock photos. Authentic, actual images of a medical practice will perform much better than stock photos.
Establish Brand Colors and Fonts – A medical practice needs to have established and consistent brand colors and fonts. A successful medical marketing staff will ensure the colors and font remain the same across the website, graphics, and other marketing materials. Even the colors inside the physical office of a medical practice should match the colors used online. If they differ, a medical practice can look out of date, significantly if the interior colors of a waiting room and examination room have not been refreshed in a decade.
Medical Marketing Agency Should Understand Your Services
A successful medical marketing staff needs to understand the services a medical practice provides. While they do not need to know all of the medical jargon and specific services, they should know enough about the service to determine the demographic and target audience. For example, if a medical practice offers DOT Physicals, a medical marketing staff would understand that parents with children playing middle school sports are not the target audience for this service. Instead, commercial truck drivers living in the area would be the ones that should be targeted by marketing campaigns featuring a DOT Physical.
Medical marketing staff should check in with the owner and providers at a medical practice for occasional refreshers on the services offered and the type of patients they would like to see come in for them. This information will help medical marketing staff fine-tune their marketing messages to drive conversions to a medical practice. They should also check in with the owners and providers moving forward towards offering new services. This information will help create campaigns to raise the community's awareness of these new services.
Medical Marketing Agency Should Understand Your Business Issues
In addition to understanding the services of a medical practice, a successful medical marketing team should also understand the issues facing a medical marketing practice. Meeting with the owner or owners and other stakeholders will help them better understand the challenges the medical practice faces. Some common business issues include:
Certain days of the week are slower than others
Problems getting positive reviews
Competitors are more effective at getting target patients
Wanting to improve organic SEO rankings
Increase patient count year to year
Bring awareness of services to new target audiences
These could be a multitude of minor and significant business issues that a medical marketing team can tackle. The first step in alleviating those issues is understanding them and knowing that they exist. A successful medical marketing staff will have regular meetings, either monthly or quarterly, and have a conversation about the issues that face a medical practice. While they may not be able to offer a solution to every issue, they will be more tuned in to the needs of the business and will try to address as many as possible.
Medical Marketing Agency Should Understand Patient/Client Behavior
One of the most important things for a successful medical marketing staff is understanding the behavior of patients/clients in a medical practice. They need to know how they act and behave when patients find the services they are looking for online. Some of the critical behaviors a medical marketing staff needs to understand are:
What services are they seeking?
Do these services change throughout the year?
What keywords are they using when searching online for these services?
Do these keywords change over time?
Are some keywords becoming more popular?
Are some keywords becoming less popular?
What are repeated or frequent patients/clients returning to the medical practice for?
What are the first-time patients/clients coming to the medical practice for?
What points of a potential patient's journey, from starting their search to booking their appointment, offer more friction and increase the chance that they abandon the process altogether?
What is the preferred way a patient wants to be communicated with?
Are there any offline, traditional marketing methods that can reach patients better than digital marketing methods?
A better understanding of these behaviors and how they change over time or throughout the year is fundamental to a success of a medical marketing staff. Understanding these behaviors can come through many different data points, including website analytics, patient reviews, patient service counts, and feedback from providers and staff. They are analyzing these data points, and regular discussions are crucial to this success.
A Successful Medical Marketing Staff Applies Technology, Advertising, and Marketing Tools and Techniques To Acquire More Patients For Your Practice
A successful marketing team will implement the latest marketing technology, tactics, strategies, and other tools to bring more patients to a medical practice. Some of the most effective methods a medical marketing staff will use include:
SEO Marketing – Good organic rankings can help boost the number of patients entering a medical practice. SEO Marketing focuses on inserting longtail keywords (4 words or more) and shorttail keywords ( 3 words or less) throughout the content. These keywords should be the common keywords target patients use when searching for services a medical practice provides.
Reputation Management – Online reviews are critical to the success of medical practice. With that in mind, having a marketing team engage in active reputation management is very beneficial. The first part of this is asking for feedback and reviews from patients. Email and text requests are two of the most commonly and effectively used methods to get reviews. A marketing team must also monitor listing and respond to both good and negative reviews. The team should claim and watch a medical practice's listing on Google, Yelp, and Facebook.
Local SEO Marketing – In organic search results, map results are often the first thing a potential patient will explore after the paid ads. Generally, a search engine will serve three likely local medical practices relevant to the search term used. Many patients will likely select from there and not explore organic results. A medical practice must appear in the top three selections for as many map results as possible. As Google is the dominant search engine used by most online users, claiming a Google Business profile and verifying it is a must. Confirming the details of this listing will help it appear on Google Maps and then in map results.
Content Marketing – Search engines are constantly looking at websites. They like to see a website that is updated and continues to update itself. A successful medical marketing team will engage in content marketing or updating the website regularly. This can include adding, updating, revising, or editing content pages. It can also, if appropriate, remove service pages if they are no longer available. If a website can not be updated with anything meaningful from time to time, a successful medical marketing staff should consider adding a monthly blog. A good team will also know only to update parts throughout the year and not the entire site all at once, which can hurt SEO rankings.
Email Marketing – While not as effective as it once was, email marketing remains a cost-effective way to reach current patients. A successful medical marketing staff should develop monthly newsletters to reach patients. These newsletters should contain information about the services offered and other information, like staff bios or links to articles that will better educate a patient. Seasonal emails with specials and discounts and emails to patients a medical practice may not have seen in a while can also be quite effective. A team will know that they can only email patients that have explicitly given a medical practice to do so.
Text Message Marketing – Text messages have a far higher open and conversion rate than email messages. However, they also tend to be more expensive, have limitations on the length of messages that can be sent, and should be used less frequently than email marketing messages. Patients want to avoid being bombarded with text messages from businesses, so limiting text messaging campaigns to announcements of new services, discounts, promotions, or other subjects that have an immediate, actionable call to action should be the only campaigns that are considered.
Offline Marketing Methods – While less effective than digital marketing, there can be, in some situations, ways for a medical marketing staff to utilize offline/traditional marketing methods.
TV, Radio, and Newspaper Ads – For independent medical practices, these are generally not cost-effective as they can not be targeted to a specific community. This is especially true in larger metro areas. Local neighborhood or community newspapers, which have a much more focused target audience, may be beneficial.
Guest Column Writing – Approaching a newspaper with an offer for a medical provider to write a guest column about a health topic may be beneficial. While the writing will not directly promote a medical practice, information and a link to a provider's job is often provided.
Direct Mail Marketing – Direct mail marketing is a traditional marketing method that has some ability to target. A medical marketing staff can target neighborhoods and streets with marketing materials. A successful team will ensure whatever is mailed will stand out and engage with the person at that house and promote conversions. The USPS has direct mail marketing tools that, depending on mailing volume, can help a marketing team save money on campaigns.
Medical Chatbot – Chatbots are becoming more and more common across all industries, including healthcare. While AI Chat, like Chat GPT and Google Bard, have gotten a lot of press coverage, they are not quite ready yet to engage patients with reliable medical advice. A successful medical marketing team, will use a medical engagement chatbot by programming it with the most frequent questions a medical practice receives. This chatbot will engage with patients on a website and then help direct them to the right parts of the site. This will cut down on calls or messages to the front desk and help boost conversions. Medical chatbots can also be updated with new questions and updated answers by a medical marketing team.
The experts at PatientGain.com are available to help you create a high-performance healthcare website and serve as your expert medical marketing team for your business. Contact us today, and let us show you what we have done for other practices across the country!