Digital Marketing For Pain Practices, Used By Top Pain Providers in USA and Canada, Typical Cost $699 to $1199 /Mon
Digital marketing is a must for any medical facility specializing in pain management. Effective digital marketing can help you grow your business and reach people struggling with chronic pain, and helps keep them away from possible substance abuse and unbearable pain. An estimated 50 million Americans suffer from pain.
Chronic pain management is a very complex area of medicine that is in demand more and more every year. Given the crisis we have with the abuse of pain medications, a pain clinic needs to market itself effectively to attract the right patients. Digital marketing is a must for a medical facility specializing in pain management. Effective digital marketing can help you grow your business and reach people struggling with chronic pain, and helps keep them away from possible substance abuse. As pain management marketing experts, PatientGain.com has helped many pain management clinics market their services to their community. Below are some great digital marketing strategies for pain clinics. Our services produce ROI and you have complete dashboards so you can see the performance any time you like.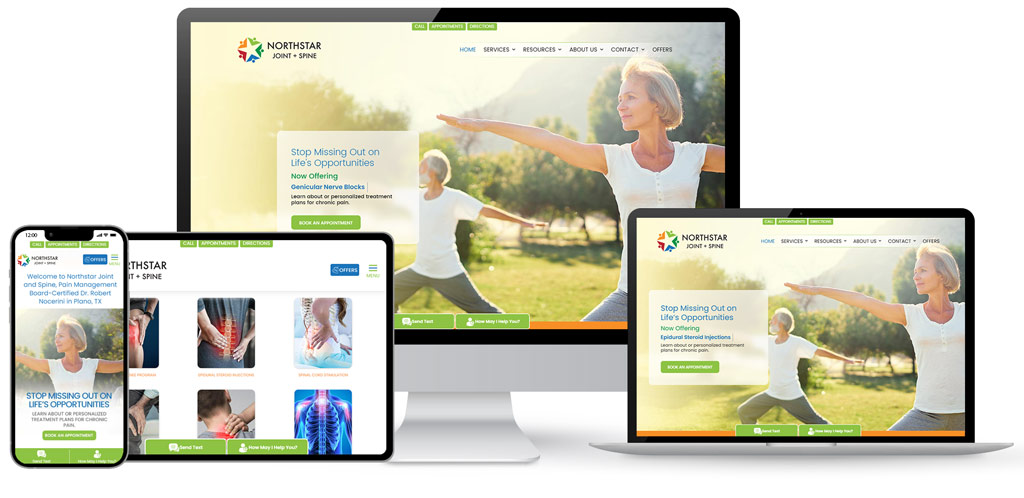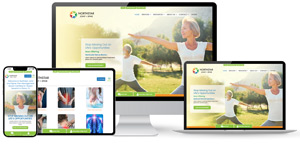 Key steps to improve your patient acquisition
First divide your strategy into 1) Immediate impact 2) Long term impact
1) Immediate impact and strategy
a. Fix your website so it loads fast. Fast loading website has many benefits.
b. Start Google PPC ads. Ads on Google can improve your new patient inquiries right away. However they are expensive and should be set up and managed by someone who is an expert in medical marketing, and have deep understanding of pain conditions, and which services you provide.
c. Evaluate is social media ads will help you. Generally you will receive less actual patients from social media ads, compared to Google PPC ads.
d. Improve the current website. There are 4 key areas that will help you improve the current website.
1. Add separate pages for conditions you treat. Here is a good example.
2. Add separate pages for treatments your practice offers.
3. Create separate page for each of the providers, with details.
4. Hire a professional medical SEO company so they can add non-plagiarized, original content and submit to search engines. Start with Google search engines.
2) Long term impact and strategy
To understand the long term success of your practice, first learn how other successful practices have built their success. Step one is to understand where new patients come from. Most of your patients come from these 9 sources.
1) Google SEO (It takes time and is difficult, but has best ROI)
2) Google local SEO (Can be achieved in few months, but has a limited scope, based on your location, includes building online reviews profiles, start with Google reviews and Google GMB)
3) Google Ads (Quick and effective, but it is expensive and complex)
4) Facebook, Instagram, YouTube, TikTok Ads ( Expensive, quick and effective, but does not work effectively for pain clinics)
5) Digital ads on other secondary websites (Expensive: Insurance websites, healthgrades, vitals, and other medical and dental directories etc)
6) Offline traditional advertising (Expensive: Newspapers, TV, Yellow pages, billboards, leaflets, flyers, USPS mailed attention grabbers)
7) Referrals (Takes time: Referrals from your network of other providers)
8) Word of mouth (Takes time: Existing happy patients tell their family members, friends and neighbors)
9) Ecommerce apps (New emerging area: Like Amazon, etc)
For long term strategy:
Get a website that is built on high SEO, and has excellent content for SEO
Start building your referral network
Focus on acquiring long term success, means focusing on your patient experience. This means improving your communications with potential patients and existing patients. Positive patient experience starts when they see your reviews on Google, then on your website – they see polished and informative website. They can easily text you, call you or request an appointment.
Patient follow up i equally important. Your staff's training and monitoring is essential in this area.
What do I need to do to my pain clinic's website to increase conversions and patient count?
The vast majority, if not all of your patients at one time or another, will visit your website. Your pain clinic's website needs to be a big part of your digital marketing campaign as it will often be the thing that converts a website visitor into a patient. Your website will also be what appears in search results, on maps, and in pay per click ads. It needs to be optimized for conversation and function at its fullest potential.
Medical SEO & Content Marketing
First and foremost, your website needs to be authoritative and have up to date information. The content on your website needs to be accurate and unique. Copy and pasting parts from different websites will not be very helpful, and you will be penalized for plagiarizing someone else's work. To build your site's authority in search engines, content pages need to be flushed out with useful, engaging, unique, and accurate information. Use SEO and content marketing to boost the effectiveness of these pages. With SEO, identify the keywords your most likely patients will use when searching for a healthcare solution and sprinkle them among your content pages. The more keywords and phrases you have on your website that match the keywords and phrases potential patients use, the more like your website will return in organic results. It would be best if you were always refining, updating, and adding new pages to your site throughout the year for your service pages. This shows search engines that you are keeping things up to date, and therefore are more authoritative on pain management. If you can not find anything to update, start a blog!
Website Speed & Mobile Friendliness
Two critical factors to ranking well in search results are how mobile-friendly your site is and the site load speed. Cell phones and other mobile devices are the primary way the majority of your patients and website visitors will view your website. In fact, if you look at your current analytics, you should expect to see over 50% of your web traffic coming from mobile devices. It is not uncommon to see upwards of 75% mobile traffic in your analytics reports. Mobile-friendly websites are so important that Google and other search engines will penalize you if you do not have one. Your website on a mobile device needs to provide as much functionality on that device as it would on a desktop computer. Avoid using a separate "mobile version" of your website. Instead, use a responsive website to meet your mobile needs.
Site speed is the other factor that impacts your organic rankings. Every second someone waits for your pain clinic website to load; more are going back to search results. Your website describing the services you offer at your facility needs to load quickly and immediately get a visitor's attention. You have only seconds to get them to explore your site before they lose interest and move on. Do not let a potential patient explore your competitors as an alternative by making sure your compelling website loads quickly! Often, the biggest culprits that will slow down a pain clinic's website are photos that are not optimized for the web or doctors playing videos that are loading directly from the site and not embedded. Avoid these common issues, so your potential patients get the information they need right away!
Technical SEO
What happens behind the scenes at your pain clinic website is as essential as the content visitors read. The infrastructure of your website needs to be organized and filled out. Unfortunately, this is beyond most pain clinic doctor's realm of knowledge in terms of web design. Fortunately, the experts at PatientGain.com have years of experience applying technical SEO strategies to healthcare websites. Some significant technical SEO areas include making a sitemap, employing an SEO friendly URL structure, internal linking, and ensuring your website is secured with HTTPS pages.
How should I advertise my pain clinic's website using Pay Per Click (PPC) ads?
A pain clinic can not rely solely on organic rankings to ensure its success. Pay per click (PPC) ads are needed to reach a large audience and grow your patient count. PPC ads are helpful when you do not have quite the organic strength to make it on the first page of results. The advantage of having search ads for your pain clinic is that it will be the first thing people see before they explore results. Unfortunately, it can be expensive depending on the number of words you are bidding on and what your competition looks like in the area.
Send people to pages that are relevant to the ad.
Many pain clinics make the mistake of sending every single ad click to their home page. While this may be useful to promote brand awareness, make sure your ads match the content you are sending people to. For example, if you are promoting a pain clinic, that link should send them to the home page. If you are promoting a service at your pain clinic, then that click should send them directly to that service page. The fewer clicks someone has to make to find the information they are looking for, the less likely they will abandon the process and move on to a competitor. In addition to sending them relevant places, make sure that the ad includes the words you are bidding on, and those words also appear on the site page you are sending visitors to.
Bid on keywords even if you are ranking well for them
Some pain clinics make a mistake by stopping ads once they achieve a good organic ranking for a target keyword or phrase. If practical, continue to fund these ads. First, if someone sees your pain clinic in the paid ads, on the maps, and then in organic results, you will be in front of their eyes several times, increasing the chance of a click. The more clicks your website gets, the more patients you will likely convert from visits. As a bonus, if they see your ad, your map listing, and then an organic link, there is a chance they will not click on your ad, saving you money!
You want to continue to maintain an ad budget for your well performing organic keywords because you do not wish to cede space to a competitor. If you are not bidding on a keyword, you are making it more affordable to others. As a result, their pain clinic's site will be seen first before they see yours. A fair amount of search engine users will click on ads, so this is a space you want to maintain a presence in and, at the very least, make it more expensive for your competitor to runs ads there.
How do I make sure my pain clinic has an excellent online reputation?
Besides your website, you can almost be guaranteed that potential patients will look at your online reputation before choosing your pain clinic for their healthcare needs. With that in mind, you need to monitor and manage your reputation closely. Failing to do so may cause your listing to accumulate too many negative reviews, which will kill your ability to attract quality patients to your business. In addition to keeping track of your online reputation, you must be actively seeking out new reviews.
Get Your Pain Clinic Listed In Important Directories
To manage your online reputation, you need to claim or create a listing in significant directories. Spend a little time online, and you realize there are dozens of places to get your pain clinic listed. Do not worry. While you should try to get listed in as many directories as possible, the top sites where you need a business listing are:
Google
Bing
Yelp
Facebook
Foursquare
Apple maps
Depending on how long you have been operating your pain clinic, you may already find that you have a listing. These listings can be created by patients who have been so happy with their experience at your pain clinic that they made a listing for you. Other times these directories get information from other sources, and listings are automatically created. Occasionally, you may find your business is listed several times but with different details. From a local SEO perspective, you must consolidate any random listings on these sites, so there is only one (that you control) listed there. Doing so will ensure potential patients get the right information regarding your pain clinic and allow you to manage reviews.
When you have made your listings, ensure the following information is correct and the same on each listing and matches the information on your website. Any differences can impact your organic rankings and may confuse potential patients.
Name of pain clinic
Address (including any suite numbers, if applicable)
Hours of operation
Phone number
Website URL
Services offered
Managing Reviews of A Pain Clinic
As a pain clinic, you need to stay on top of your reviews. Most of these sites where you can list your pain clinic will alert you when there is a new comment or review. Read and respond to every comment someone leaves at a listing. If it is positive, then thank them for their feedback and for a 5-star rating. If negative, gently engage with them to see if you can solve the issues they had. Their problem could be entirely the fault of your pain clinic, or they might be someone who has completely unreasonable expectations. By engaging them, there is a chance you can solve their issues and have them change their negative rating to a positive one. If not, you are at least showing potential patients that you take all feedback seriously.
What is the best way for a pain clinic to get reviews from patients? The easiest way is to ask. When someone leaves your pain clinic, send them a link to leave a review. Text message review requests have proven to be the most effective way to get reviews from patients. Unlike email, just about everyone reads their text messages. The key to getting reviews from patients is to make it as easy as possible. Every click someone has to make to get to the spot where they can leave a review means fewer people will see it out to the end. Ideally, it should be only one click that sends people to leave a review. Most pain clinics concentrate on building a healthy Google rating by sending people to leave a review on their Google Business Listings.
Should a pain clinic be on social media? What social media channels should a pain clinic create accounts on?
A pain clinic should be on social media. Some social media channels overlap with other areas of digital marketing. Ignoring them gives you fewer arrows in your digital marketing quiver to use against the competition. Many of your patients will have a social media account, and it is a great way to connect with them. You can help keep them up to date with any news and share stories and reviews from patients to market your pain clinic. Social media must also be approached carefully. First, you want to ensure you do not violate any HIPAA laws by revealing too much about a patient. Second, it can be time-consuming if you are going to do an excellent job of running an engaging social media account, so ensure you have enough time to put content on your channels.
Social Media Channels For Pain Clinics
When using social media for digital marketing of a pain clinic, a clinic should be on these channels:
Facebook
Twitter
Instagram
Google Business Profile
As you can see, Facebook and a Google Business Profile are also areas that help you with your listings. Many people also use Twitter and Instagram, so those are also good channels to have a presence on. These channels need to be monitored, and much like reviews, comments need to be replied to. Sometimes they might be words of encouragement, the thanking of staff, a question, or negative feedback. Regardless of the nature of the comment, try to respond to everyone. You will, from time to time, come across someone who is just causing trouble. Do not hesitate to block these people to prevent them from disrupting others. Some pain clinics may find it useful to be on Snapchat, Pinterest, or TikTok, but these have not entered the mainstream in terms of use in the field of healthcare.
Advertising on Social Media
While you will reach fewer people than an ad campaign on a search engine, a social media channel allows you to refine your target demographic more. Much like search ads, you can target a geographic area. However, you can also target by gender, age, and interests. If you develop an accurate profile of the most likely people who need your services at your pain clinic, you can refine your target audience, so it only shows to a target audience that will have a high conversion rate. Many pain clinics will devote a portion of their marketing budget to social media ads. While more money will likely go to search ads, these can be very beneficial ads for your clinic.
The expert team at PatientGain.com is ready to help you promote your pain clinic to your community. Call today and let us show you what we have done for other pain clinics around the country and how we have increased their patient count. We look forward to meeting you and growing your business.