Online Advertising & Marketing For Pediatric Practices
Most of the 62,000+ Pediatric Clinics in the US were started to attain optimal physical, mental, and social health for all infants, children, adolescents and young adults. Running a practice and a profitable business to achieve this goal comes with additional responsibilities and challenges. Let's face it, as a medical practice owner, it becomes difficult to learn technology and run your business at the same time, it is time consuming and takes you away from your core focus of taking care of your patients and running your medical practice. Medical Marketing for your practice does not have to be difficult. Check GOLD Package.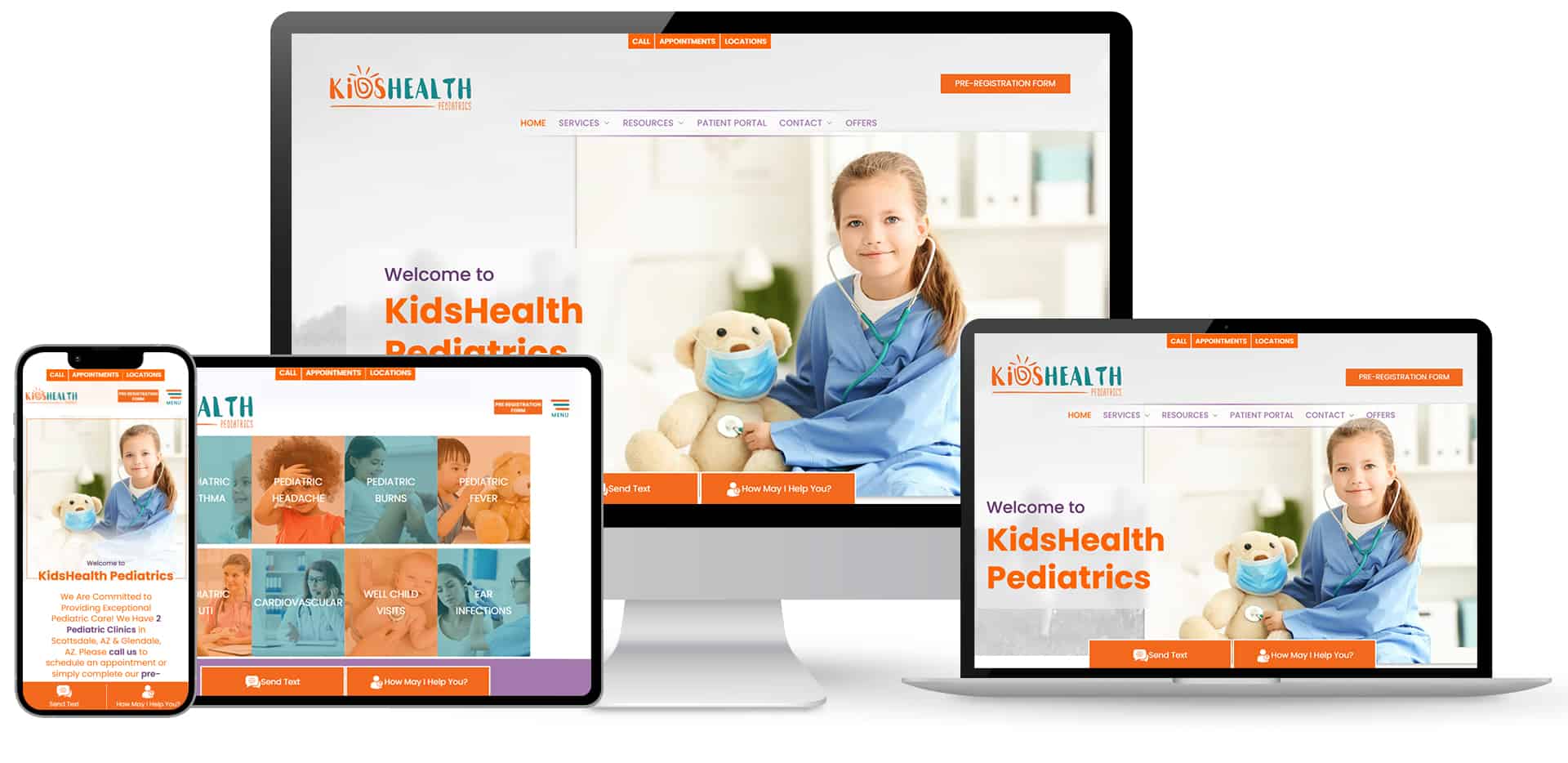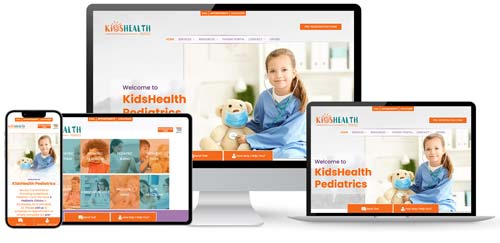 PatientGain.com's Medical Marketing GOLD Package helps your pediatric practice acquire more patients by utilizing intelligent software tools, best medical advertising, HIPAA Compliance, so your clinic's staff can continue to focus on treating children.
As of the latest census conducted by the United States, approximately 73.1 million people are under the age of 18, or about 22.1% of the population. These people need healthcare just as much as the other 77.9% of the population. However, the medical requirements and treatments need a specialized doctor: A pediatrician. Pediatric practices need to have adequate medical marketing plans in place to maintain their patient count. These practices have a unique trait in that, unlike many other medical practices, they are working with a limited demographic. Generally speaking, patients will stop seeing them once they get close to or reach 18. A medical marketing plan is needed to replace those patients who leave because of their age and the other reasons why patients leave, such as a change of insurance or moving away from the office of their doctor. The experts at PatientGain.com can help you implement effective marketing strategies to ensure continued growth and success.
Table of Contents:
1) How can search engine optimization help a pediatric practice?
2) How can content marketing help a pediatric practice get more patients?
3) How can a pediatric practice use a medical engagement Chatbot to improve site conversions?
4) How can online scheduling help a pediatric practice get more patients?
5) How can two-way texting help a pediatric practice get more patients?
How can search engine optimization help a pediatric practice?
Patients of a pediatric practice generally are not the ones researching or selecting their provider. The parents of children 18 and younger are primarily the decision-makers in choosing a pediatrician. They will be the ones searching online to find the right doctor for their children, and most of those searches will start with a search engine. Search engine optimization, also known as SEO, helps a search engine better understand the context of a website and what keywords should be associated with it. When searches are conducted online, a search engine will return billions of results. However, 71% to 91% of search engine users will only look at the first page of the results. Pediatric practices must appear on that first page of results, and SEO can help accomplish that goal.
First, a practice needs to determine a list of target keywords. These keywords are search terms the parents or guardians of the target audience are most likely to use when searching for care. These keywords must then be placed throughout the website on relevant pages. A practice should not put keywords on a page if it has nothing to do with the topic. For example, keywords about sports physicals should not be used on the page talking about recommended vaccinations. Trying to put as many keywords as possible on a site page is known as "keyword stuffing," which is frowned upon. It will only serve to confuse a search engine and may negatively impact organic rankings.
Another critical aspect of search engine optimization is using short-tail and long-tail keywords. Both keywords are needed to have a truly impactful SEO strategy for a pediatric practice. While both kinds of keywords are similar, they have notable differences.  
Short-tail Keywords
Three words or less
Cover broad or general topics
Very competitive among competitors
Generate higher site traffic, but lower conversion rates
Long-Tail Keywords
Four words or longer
Covers unique or specific topics
Not as competitive with other competitors
Generate lower site traffic, but have higher conversion rates
Long-tail keywords are playing an increased role in voice search. When parents are looking for a pediatric practice and use their digital assistant or smart speaker for a search, they often ask a question that is four words or longer. If a pediatric practice can match that question with one of their long-tail keywords, they stand a better chance of being the number one organic result on that voice search.
How can content marketing help a pediatric practice get more patients?
In addition to keywords, another thing a search engine likes to see is unique, relevant, and authoritative content. The more content a pediatric practice has, the more important it will look to a search engine. More content is also likely to increase the amount of time a site visitor spends on it, contributing to a higher organic rank. Content on the page can not just be irrelevant fluff or copied and pasted from another source. These actions will not increase organic ranking and may even result in lower rankings. The more unique it is, the better it will look to a search engine.
Another aspect of content marketing is how often a website is updated. A pediatric practice's website should constantly update, add, or revise its site pages. These changes should happen continually rather than all at once. A search engine likes a site that is updated. If different parts of the site are continuously updated, it will consider a pediatric website much more relevant and authoritative. If a site is updated all at once, it will get stale much faster, and a search engine may think it is an entirely new site altogether, lowering a pediatric practice website's organic rankings. Gradual, continual updates throughout the year is a better approach. Consider creating an excel sheet with the list of every page of a website and the last time that page was reviewed and, if applicable, updated.
One aspect of content marketing that many pediatric practices neglect to include is staff and provider bios. Bios of the people who will be treating children are very important to parents. Parents will undoubtedly want to know about their experience, education, and any certifications they may have while evaluating a pediatric practice. Some owners may fear that by placing bios online, their staff might be stolen by competitors. In today's world of social media, it is not hard to track down people to make them offers, and it is not uncommon for staff members to put out resumes so as not to miss a fantastic opportunity. The bios of staff members are great, unique content that should be published. Be sure to update any bios when staff members make the news, accomplish new goals in their careers, or have updates on significant life events. Also, if a staff member moves on, take down their bio so that everything is up to date.
How can a pediatric practice use a medical engagement Chatbot to improve site conversions?
A medical engagement chatbot is a program that many different healthcare businesses are deploying to improve the conversion rate of their websites. Many other businesses in the retail world have found value in chatbots, and the healthcare industry is starting to use them with more frequency. A chatbot is a program that engages with website visitors and mimics human conversation. It can, however, only answer questions that are pre-programmed into it. A chatbot can not independently come up with, create, or research answers to unique questions posed to it. A medical engagement chatbot can make a pediatric practice much more efficient.
No matter how well-written a pediatric practice's website is, the parents of children looking for a pediatrician will have questions or may need help finding information. They will often call or message a practice for additional assistance. While the front desk staff can undoubtedly handle many of these requests for help, the volume of requests may cause a delay in getting back to parents. The longer they wait to for answers to their questions, the more likely they are to search out service from a competitor. Many of these questions or help requests are similar, where a chatbot can be of use. A medical engagement chatbot can assist site visitors by helping them answer common questions, direct them to commonly requested information, or help them accomplish simple tasks like making an appointment. This should cut down on the number of calls or messages to the front desk, allowing staff to concentrate on more difficult patient problems.
One of the best things about a medical engagement chatbot is always available. It can assist site visitors after hours, over holidays, or when the practice is too busy to answer the phone. For any question a chatbot can not answer, it will simply take that question and the visitor's contact information and store it on a HIPPA compliant server for a staff member to address as soon as possible. A pediatric practice can easily update the questions and answers. If a health issue suddenly becomes a concern in a community, like COVID-19 updates or a meningitis outbreak, a chatbot can be updated with those new questions or concerns.
How can online scheduling help a pediatric practice get more patients?
The lives of parents are busier today than they ever have been before. For the 18 million children with a single parent, it is even harder to keep organized. Pediatric practices will secure more patients if they make it as easy for parents to get appointments for their children. Online scheduling allows parents to make appointments whenever they have a free chance, which could be late at night, allowing them to pick appointment slots that fit their schedule. They no longer need to play phone tag with a pediatric practice's receptionists or struggle to find an appointment time that doesn't derail the rest of their usual schedule. An online appointment scheduler is a win for everyone.
However, not all online scheduling systems will work for a pediatric practice. It needs to be HIPAA compliant, and all information sent to a practice needs to be sent over a secure, encrypted connection. Some online scheduling systems, such as the one available for Facebook Business pages, do not meet the requirements to be considered HIPAA compliant. A pediatric practice is responsible for all data sent to it, so it must abide by HIPAA standards or face a variety of possible fines. Online scheduling systems also need to have a secure connection with a practice's CRM to manage patients properly by staff.
Many online scheduling systems have two crucial features: Digital intake forms and appointment reminders. Intake forms are often the bane of both patients and the staff. No one likes sitting in the waiting room filling out forms before their appointment for their children. Staff can have difficulty typing information into a patient's digital file if parent's handwriting is terrible. A digital intake form allows parents to fill out this information ahead of time, on their computer or their phone. That information can then be digitally transferred into a patient's file without having to read sloppy handwriting. A staff member is still needed to ensure all fields are filled out correctly, but this is a much faster process. Appointment reminders, in the form of both emails and texts, are amazingly effective at reducing missed appointment rates. With their busy schedules, parents may forget to jot down an appointment time. Reminders help them keep their appointment or allows them to reschedule them, freeing up the spot for the last-minute request from a different family.
How can two-way texting help a pediatric practice get more patients?
Parents rely on cell phones to keep their lives organized daily. Naturally, they also depend on the texting features of their phones to communicate with family members, friends, teachers, and even businesses. A pediatric practice can make it easier for parents to communicate their needs and requests by giving them the ability to text them. However, providing this ability to patients needs to be done carefully and with HIPAA security in mind. Texts can not be sent to a cell phone that sits on the desk at the pediatric practice. A cell phone sitting on the desk can not be secured, audited, and be easily limited to select staff members. Texts can be sent, however, to a HIPAA secure dashboard. The texts can be secured from the dashboard and meet all of the requirements set out by law.
From the dashboard, staff members can handle texts and reply to through the dashboard. Staff members should keep HIPAA security concerns in mind when responding to texts. The cell phone of the current or potential patient is not a secured device, so personal health information should not be sent to them unless they have a signed waiver to receive that information. There is no way for a pediatric practice to know who is accessing the cell phone on the other end and if that person has the authorization to view any health information. Otherwise, it may be best to call a patient to discuss private health information.
The experts at PatientGain.com are available to help you create a high-performance healthcare website for your pediatric practice. Contact us today, and let us show you what we have done for other practices across the country!