Neurologist Marketing and Advertising to Attract Patients and Grow Your Practice Costs $699 to $1199/mon
The marketing experts at PatientGain.com can help create, manage, and execute an effective medical marketing plan for your neurology practice
Marketing your neurology practice is not a simple task. There are so many variables and considerable challenges. Most neurologists are have more diverse and complex patients. Patients can range from pain and migraine to ADHD, sleep disorders, motor-skill problems and more. Which to promote? How to promote them? At the same time, neurology practices have diverse capabilities, marketing messages and target audiences. When there are medical issues with the nervous system, the brand of medicine people turn to for treatment is called neurology. The nervous system is a complex system in the body that regulates various things and helps the body stay coordinated during activities. The nervous system can be divided up into two main areas. The first is the central nervous system which consists of the brain and the spinal cord. The other part is called the peripheral nervous system, which are all other neural elements of the nervous system outside of the brain and spinal cord. It also includes the "Sensory Receptors," which consists of the eyes, ears, skin, nose, and tongue.  A provider that specializes in the area of medicine, neurology, is a neurologist. Some of the conditions a neurologist would treat at a neurology medical practice include:
Stroke
Multiple sclerosis
Headache disorders
Infections of the peripheral nervous systems
Infections of the brain
Parkinson's disease
Alzheimer's disease
Amyotrophic Lateral Sclerosis, also known as Lou Gehrig's Disease.
Epilepsy
Seizure disorders
Spinal cord disorders
Speech and language disorders.
While neurology medical practices have neurologists, they do not perform surgeries that are needed sometimes for treatment. A neurosurgeon performs surgery on the nervous system. A neurology practice needs an effective medical marketing plan to compete with others in the community. The marketing experts at PatientGain.com can help create, manage, and execute an effective medical marketing plan for a neurology practice. Below are some areas of medical marketing we can assist with to help grow your business. 
How can search engine optimization help a neurology medical practice get more patients?  
Search engines, such as Google, play an essential role in the healthcare journey of people today. When someone is researching symptoms and looking for healthcare treatment to alleviate them, they will start with a search online. With that in mind, a neurology medical practice needs to appear in search results to be successful. An effective way to do that is to use search engine optimization. Also known as SEO, it is the process of putting target keywords throughout content so that search engines will find that site more relevant when those keywords are used in a search. A neurology practice needs to be careful not to stuff as many keywords as possible into their content as keyword stuffing, as it is known, is frowned upon by search engines in general.  


When selecting the keywords for SEO work, keep in mind that the target audience for a neurology practice may not know that the services they need are available there. The keywords used should include treatments and the common symptoms people experience. Potential patients may not know the condition or treatment they need and therefore will search by symptom. If a practice can appear as a top result for various symptoms, they will see an increase in patient count. SEO keywords should also include short-tail keywords and long-tail keywords. These two types of keywords often effectively work together to promote the organic ranking of a website. Long-tail keywords are usually four words or longer, focus on specific topics, do not drive in a lot of traffic, but have high conversion rates. Short tail keywords are three words or shorter, cover very broad topics, and while they drive in more elevated amounts of traffic, they generally have a lower conversion rate. Long-tail keywords are effective when promoting voice search. Voice search involves people asking their smart speaker or personal digital assistant questions. These questions are often four words or longer, and if they can be matched word for word in content, there is a higher chance of a conversion. Overall, SEO work usually has a good return on investment, or ROI.
How can content marketing help a neurology practice acquire more patients?  
Search engines love content. "Content is King" definitely applies in this situation. The more content a website has, the more important  and authoritative it looks to a search engine. However, this content needs to be unique, engaging, informative, useful, and trustworthy. Copy and pasting content from other sources or adding "fluff" to existing pages to make it longer will not help the organic ranking of a website in the long run. The amount of content also plays a role in how long a person will stay on a website, another factor in overall organic ranking. A page with 1,000 words will keep a site visitor on there longer than a page with 200 words and, therefore, look more authoritative in the eyes of a search engine.  Content marketing is a worthwhile investment.
Search engines also like to see a website updated regularly. The more frequently a website is updated, the more up-to-date a search engine will think a website is. A neurology medical practice should continually update, refine, revise, or add content to its site for effective content marketing. These updates, however, should not take place all at once. If a practice updates its site with new content on every page, a search engine may believe it is an entirely new website, impacting search rankings. Instead, parts of the website should be updated over time. These incremental updates will help show a search engine that a website is staying up to date. A neurology practice would be wise to create a file that lists every page on their website, and then the last time it was reviewed by someone. Every page should be checked once a year to ensure no updates or minor grammatical corrections are needed. If no significant additions or updates are required to a site, consider creating a monthly blog. This unique content will help boost the organic rankings and make good social media posts or email marketing content.
Why should a neurology medical practice manage its online reputation and reviews?
Before a potential patient makes an appointment for the first time at a neurology medical practice, they will read the online reviews of that practice. Reputation management is vital for the success of a neurology practice. A bad online reputation can make marketing efforts more expensive and less effective. It must be managed so a practice can get as many good reviews as possible. A practice with a 5.0 rating, and eight positive reviews will still not look as impressive compared to a practice with a 4.7 rating and 800 reviews. Obtaining positive reviews should be a continual ongoing effort for a neurology practice.  
The first step in getting reviews is to have listings on Google, Yelp, and Facebook. The vast majority of reviews will exist on these three sites, with the lion's share of reviews on Google. Google and Yelp listings must be verified via text, phone call, or a postcard sent through the mail. Once a listing is verified, then online reviews can be managed. The next step in getting reviews is asking for them! A simple review request via email or text message is generally the most effective way to get them. Text message review requests typically have higher open rates and conversions. Email review requests, however, are often cheaper. Some practices will use both to maximize their chances of getting reviews. A patient should make only one click to start to leave a review if possible. The more clicks or steps in a review process, such as adding a survey or asking them where they want to leave their review, the more likely they will abandon the process altogether.
Finally, all reviews should be responded to by the neurology practice. Ignoring reviews altogether may cause patients to think that their feedback does not matter and that a practice does not care what they think. For positive reviews, thank them for their kind words and express hope that they are feeling better. Negative reviews need to be treated carefully so it does not escalate into a war of words, with negative posts appearing on social media or nasty letters being written to local newspapers. First, try to contact the upset reviewer and see if their issue can be resolved. They may not change their feedback to a positive review, but a practice can refer to the phone conversation in their response. If a practice can not contact a negative reviewer or have no idea who they are, ask them to call the practice so an owner or administrator can get more information.
How can a neurology medical practice make referrals easier?  
Referral patients are often a big part of a neurology medical practice's medical marketing plan. Many primary care and family care doctors will recognize issues with the nervous system but do not have the specialized training to treat those medical problems. They will need to refer their patients to a neurology practice for treatment or even additional diagnosis. A neurology practice needs to snatch up as many of these referrals as possible, as they often have a very high return on investment or ROI. 92% of patients will trust a referral from someone they know, like their primary care provider.   
After a referral relationship is established with another provider, a neurology practice needs to make it as easy as possible for those future patients to be referred to it. One of the most annoying things about going to a different doctor is filling out intake paperwork and bringing medical records to hand over to the new doctor. A neurology practice can make this easier by providing a secure, digital portal where other practices can send over medical records. This removes the step of the patient having to arrange for copies of medical records to be sent over. Another thing a neurology practice can do is use digital intake forms if it needs any additional information. These secure, HIPAA-compliant forms are online, allowing patients to fill them out at home on their own time or through their phone when they get there. These forms can then be uploaded into a patient's file by the staff. The staff does not have to go through the slow process of trying to identify handwriting, saving them time and reducing possible mistakes. 
Referral patients must be treated extra special. If a referral patient has a bad experience, they may not only not come back but might impact the relationship with the referring provider. They will stop sending patients to a neurology practice if their patients are not happy with their treatment. Their reputation is in line with their practice recommendation, so these patients need the best treatment. A neurology medical practice should assign a staff member to be the referral coordinator. They will be intimately knowledgeable about what the practice needs and be the same person other practices talk to, making the process much easier.
Are there any traditional or offline marketing methods that might be effective?
In recent decades, traditional or offline marketing has taken a backseat to digital marketing. Digital marketing is the more effective of the two, but some traditional marketing methods can be effective if deployed correctly. Direct mail marketing can be an effective traditional marketing method because it has something that TV, radio, or newspaper advertising does not: targeting. A neurology practice can select where mailers go with direct mail marketing, targeting households, communities, neighborhoods, and even mailing routes. It also can have an open rate of nearly 90%. A practice can decide precisely where it goes, whereas other offline marketing methods often advertise to everyone and hope it reaches enough of the right people.
Direct mail marketing will still compete with other things in the mailbox. Even though mail volume has fallen over the years, there will still be other things in the mailbox it will have to compete with to get the attention of the person checking the mail. A neurology practice should experiment with brand colors, size, shape, call-to-action messages, and even the texture of the paper. Ideally, they want this marketing piece to be saved from the recycling pin and instead pinned to a fridge or corkboard to advertise every day to a household.
Anything sent to a household should have the following:
Name of the practice
Hours of operation
Phone numbers
Call to action
Website URL
The physical address, including any suite or office numbers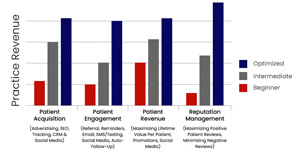 The experts at PatientGain.com are available to help you create a high-performance healthcare website for your neurology medical practice. Contact us today, and let us show you what we have done for other practices across the country!