Why Invest in Medical SEO Marketing?
Investing time and money into Medical SEO can help your medical practice grow! GOLD Solution Includes Medical SEO and costs $799/mon
The key to stable and growing patient count is making sure your website shows up as one of the top results in Google Searches. The vast majority of patients use search engines to look for new health care providers and to answer their health-related questions. Over 50% of people doing these searches will not look past the first three entries and click on one of those results. If your medical practice isn't in those top three results, and if you aren't trying to improve your results, you are missing out on patients. These patients are being scooped up by your competitors. Investing time and money into Medical SEO can help your medical practice grow!
What is Medical SEO?
SEO is short for search engine optimization. This term is related to the process of making sure your website can be easily found by the people who are looking for your services. Medical SEO focuses on increasing the search rankings of your website and the services you offer to potential patients who may use them.
An example of a medical SEO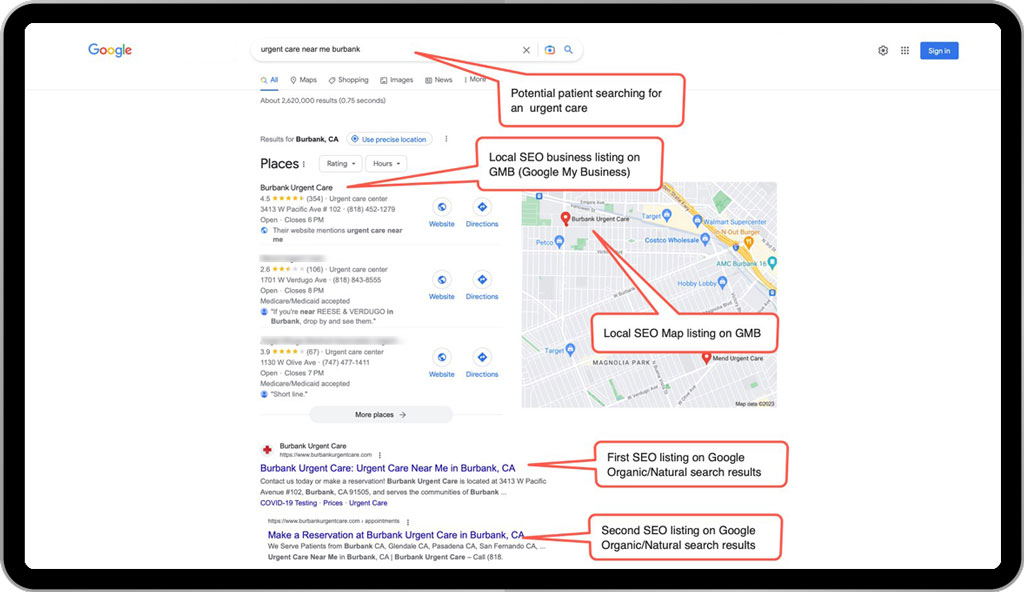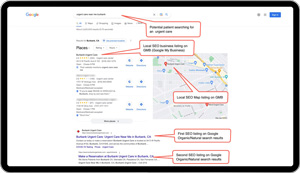 Why should I spend time and money on medical search engine optimization? Is investment into Medical SEO worth it?
In the past, you could rely on word of mouth and your patients talking to friends and family about your medical practice. These traditional marketing practices, while still useful today, will not get the job done alone. Digital marketing is vital in this highly competitive healthcare industry. With the vast majority of current and potential patients getting their healthcare information online, you cannot ignore digital marketing efforts. If you do, you are losing likely patients to your competitors.
Some consultants may tell you that pay per click ads, also known as PPC ads, will help you get in front of patients. True, these ads will help when you are starting your medical practice and don't have pages full of rich content available. However, this is only a short-term solution and will be expensive in the long term. You will get higher long-term value with the money spent on Medical SEO compared to what you would spend on PPC ads.
What affects my ranking in search results? What can I do from a Medical SEO perspective to help improve my search results?
Google uses an ever-changing algorithm to provide the most relevant results to people searching for things online. There are over 200 factors that contribute to search results, and Google does not publicly release all of those factors, leaving doctors and marketing specialists to try to figure out what works best for their medical sites.
However, several factors have proven to be very effective at improving your overall medical SEO. First and foremost, your Google My Business page needs to be claimed and filled out with accurate information. You should ensure that the keywords you've picked to include in your content match up with your services and are keywords potential patients will use. From a technical perspective, your web pages should have optimized meta descriptions and title tags. Images and videos should be appropriately formatted for the web, so it does not cause your website to load up slowly. Your medical website must have a quick load time, be secure, and mobile-friendly on any device. Finally, although this part can be difficult, it benefits your website if you have a variety of other quality websites link to your site.
These concepts are expanded upon further below.
Google Business Profile
A Google business profile is vital to any medical practice. You have a chance of being brought up in a search box along with the search results and having it being displayed as a Google Map result, also known as the "local pack" result. Also, many people using the search will use the term "near me." By providing your information with Google Business Profiles, it makes you much more findable with that term. Often, results on Google Maps are the only thing people look at when on mobile devices. It is critical to have your company's phone number, address, hours of operation, and description to be accurate. A Google Business profile is also where you will collect your Google Reviews, which will also improve your rankings
Pick the right keywords for your medical practice.
Every medical practice is a different, and therefore there is a different list of keywords you should use. However, you should try to work in the names of the areas where your medical practice is located and the areas it serves. Match up those areas with the services you offer, and you have a good starting point to build a list of keywords to use. Google also provides an excellent tool known as the Google Keyword Planner. It will give you information on keywords letting you know which ones are more popular than others. Avoid stuffing keywords into your content. This is against the rules, and if Google catches you, you will be penalized.
Website Optimization of Meta Tags and Titles
The title tag of a web page is a significant ranking factor. While meta descriptions don't weigh as much now, both of these areas must be filled out. Include proper keywords into your title page and meta description. Your website manager should also ensure the website schema is optimized for your medical practice. These factors don't automatically mean your website will shoot to the top of search results, but it will help search engines read and understand what your medical practice has to offer.
Optimized images and videos
Medical videos are very popular with patients to deliver content. Websites featuring videos often experience an increase in organic traffic. Videos also have a higher chance of showing up in search results compared to other websites. Imagines should be optimized.
A fast, secure, and mobile-friendly website
Your website must be able to load quickly regardless of the device it loads on. If it takes more than three seconds to load, may potential patients will click on "back" and return to their search results. Your website also must be mobile-friendly, as a significant number; if not, a majority of your website visitors will use a mobile device. The majority of people searching for healthcare-related topics will have used their phone in a search.
Website speed and mobile friendliness are factors affecting your search rank. Another ranking factor and something your patients will want to see is that you have a secure website, indicated by HTTPS in the website address. These three factors must be addressed, or it will be increasingly challenging to be a top result in search queries.
Healthcare content must be optimized.
The content of your website must be of high quality and be useful for your target audience. They should match the wants and needs of your patients and reflect on the things they are searching for in their search for healthcare information. A basic rule of thumb is to write content with your patients in mind first, not written for search engines. Your website should be engaging, unique, and valuable for your patients.
Avoid any "tricks" to add to your content to help boost ranking results. These things can include content taken from other websites, hidden text or links, packing your content with keywords, or creating pages that have little or no medical content.
Build Authority By Having Other Sites Link To Your Website
This is perhaps the most challenging thing for medical practices to build. One of the easiest ways to start is to have social media profiles and local directories link back to your website. If local news organizations do stories about your medical practice, try to get them to link to your website directly. If you forge partnerships with other medical clinics in the area, be sure you link to each other. Avoid paying for these backlinks or joining linking schemes that artificially boost rankings. If Google discovers you, you will be penalized.
If you follow these steps and keep these factors in mind, it will go a long way to build your medical practice's SEO value. This is an ever-changing subject, so constant maintenance should be part of your overall marketing strategy.