How to Increase Patient Count
Every day, PatientGain receives inquiries from doctors, dentists, dentists, medspas, surgeons & all healthcare related practices. Many of them ask this question, "How can I increase the total number of new patients?". Most of the providers (doctors, dentists, surgeons, psychologists) provide very good healthcare services, have qualified staff, proper degrees, and many years of experience in their respective field. The answer lies in these important strategy areas. Each marketing area is complex and requires much more than a simple, "tweaks to website".
Table of Contents
1. Improving website SEO (Search Engine Optimization)
2. Aggressive digital advertising
3. Enhancing social media advertising
4. Technology and ability to use apps to your benefit
1. Improving website SEO (Search Engine Optimization)
This also means that your website, as a whole should be improved also. Just focusing on SEO of your healthcare website will not be enough. Some areas to consider for improvement : 1) It must be mobile optimized – Beyond mobile friendly. 2) It must be optimized for conversion. 3) Content must be fresh, relevant, non-plagiarized. 4) SEO Optimized for Google search engine. 5) Based on WordPress (or other proven platforms). 6) Secure and HIPAA Compliant. 7) Should promote and build your brand. 8) Must be pretty, attractive and branded with your own brand. Overall successful SEO will produce very good ROI (return on investment), however it takes time and money, and ofcourse it is complex and cannot be done quickly.
2. Aggressive digital advertising
As a practice manager, you have to focus on 1. Offline traditional advertising and 2. Internet online advertising. As majority of the patients search for medical services online, healthcare advertising for doctors using the internet is on the rise. We highly recommend online advertising for 99 percent of healthcare medical practices. Our data shows consistent increase in patient count and overall business improvement. In some cases we have to stop online advertising for our customers (physicians & medical practice) reason : they could not handle the volume of new patients. Some physicians consider SEO (Search Engine Optimization) a part of Online Advertising. However, advertising on digital mediums is different from medical or dental SEO.
Online Advertising can be further divided into sub areas: 1) Search or PPC ( Pay-Per-Click ) Advertising – Google, Yahoo and Bing are very common examples for this type of advertising. Some physicians equate this to Search Advertising. 2) Display Advertising – Interest Based Advertising. 3) Social Media Advertising – Interest Based & Demographic Advertising. Can be visual, textual, video based. 4) Geo-Targeted / Geo-Fenced Advertising – Used by Apps, Search, Social Media and Location Aware apps, among others. 5) Re-Marketing – Based on a User's Past History, Past Interests and Predicted Behavior 6) Similar Competitive Interest Based Advertising
3. Enhancing social media advertising
As social media and specifically Facebook becomes more important for users all over the world, healthcare providers need to do more on Facebook. How do you stand out from thousands of other providers who are advertising and working to get the attention and "Likes" of targeted users? The first step in answering this question is to look at the leaders in your space and your industry to see what they are doing on Social Media, and more specifically, on Facebook. PatientGain.com's Facebook apps platform provides you with a competitive advantage. Here are 4 major ways to get more "eyes" on the social media. More people should "follow", "friend" & "like" you on different social media platforms. Starting with Facebook is recommended, as majority of of your patients are on Facebook, compared to other platforms. Also note that most people who spend a good amount of time on Social Media have more time than money, so generally leads generated from social media have less quality. It does not mean that you should avoid social media advertising. Your medical marketing company should guide you on the ROI from social media vs search advertising.
4. Technology and ability to use apps to your benefit
Patient acquisition apps for medical and dental practices can provide competitive advantage for most providers. Our data shows that by just adding 2 of these conversion apps, the conversion rate went up by 5% to 8% of our customers. Key feature of the GOLD service from PatientGain is that it is "not just a website". PatientGain GOLD service is an inbound advertising, SEO, sales, marketing and engagement platform that helps healthcare companies attract patients, convert leads and close sales of medical and dental procedures. It does this by bringing together a variety of apps and functionalities and allowing your staff to manage all their activities in one place. It includes communication, automation apps, website, SEO and coaching and project manager.
We can work on any of these options for your practice. Contact PatientGain and book a time so we can see how we can help you.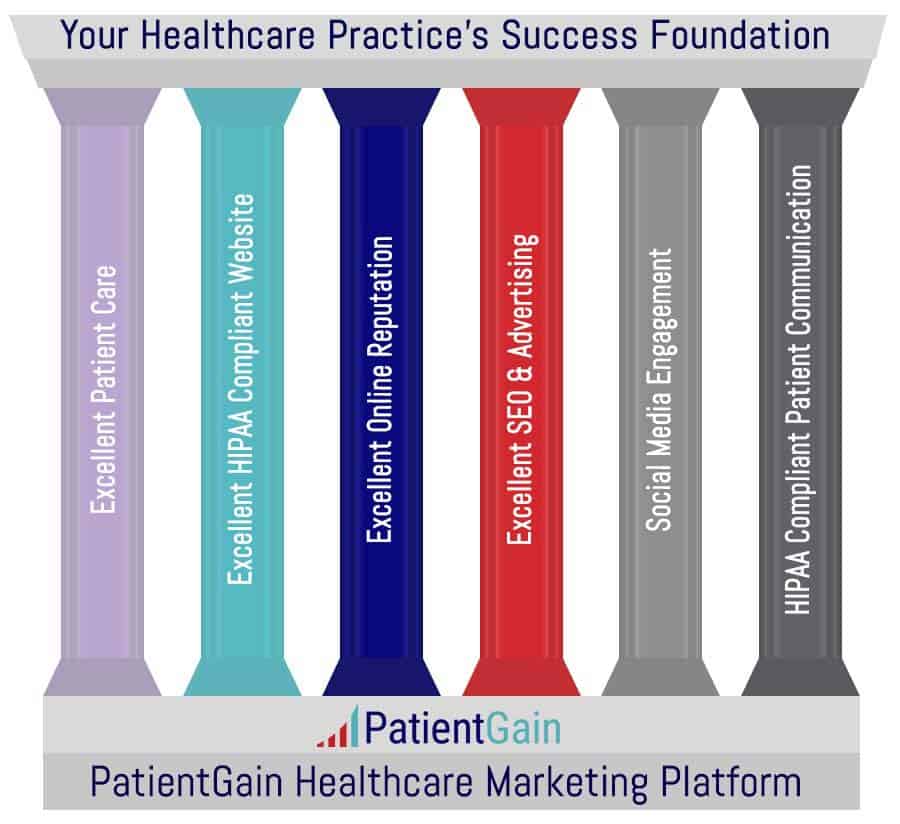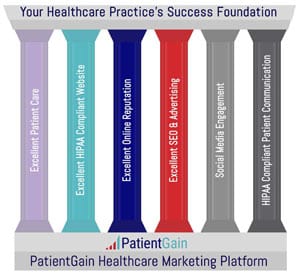 How to Increase Patient Count