How To Market Functional Medicine Practice
Running any healthcare practice takes long hours and a multi-disciplinary approach. Running a buoyant and profitable Functional & Integrative Medical Wellness Practice adds a whole new promotional dynamic to the mix.  Competing for patients is an everyday reality in healthcare and accessing a solution that not only works but also has key facility integration assets not only makes sense, it's essential given all the other priorities that are consuming your valuable time. 

GOLD Package costs $799/mon

and is used by the top clinics in USA & Canada.
Functional medicine is a model that is becoming very popular in the healthcare industry. It focuses on a science-based approach that empowers providers and patients with individualized and patient-focused treatment plans. It tries to find the underlying causes of medical issues to promote a person's overall wellness. Instead of finding a one size fits all solution to treatments, it looks at a patient's lifestyle, genetic, and biochemical elements when developing a treatment plan. This approach leads to better patient outcomes and helps them maintain long-term health.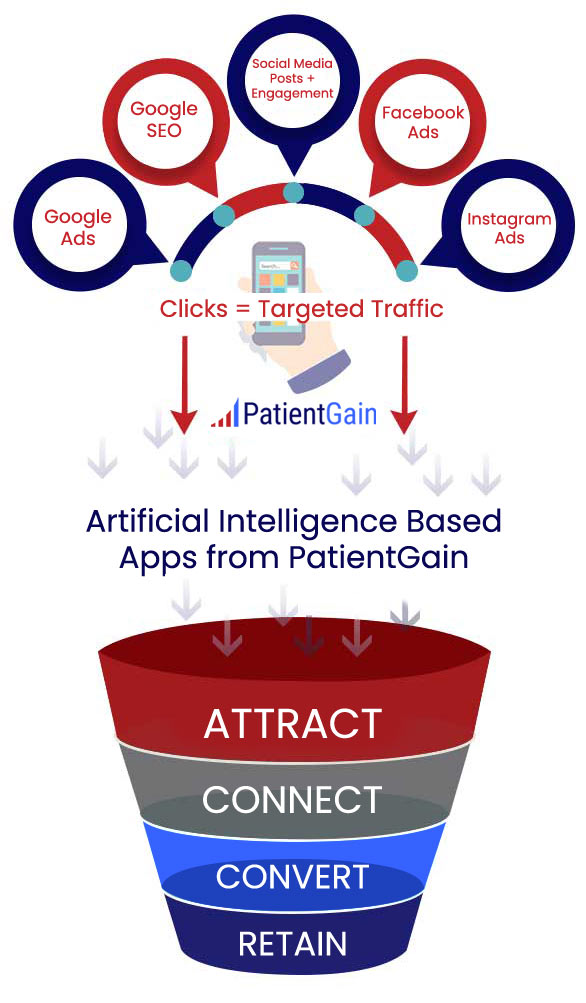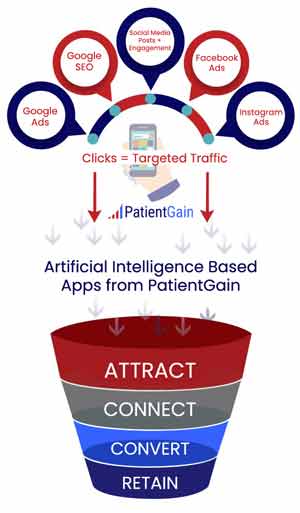 Functional medicine focuses on treating the cause, not the symptom of a medical issue. Providers know that many different things may cause a symptom, and a single thing can cause various symptoms. Functional medicine helps patients by finding and treating the root cause. While this is becoming a more popular treatment method, competition is increasing. Another wrinkle in functional medicine is that not everyone is aware of or fully understands its value. A well-developed medical marketing plan for a functional medicine practice can effectively promote it and help grow the business. The experts at PatientGain.com are ready to help!
How can search engine optimization help a functional medicine practice?  
Also known as SEO, search engine optimization is critical for a functional medicine practice to succeed and get new patients. Not all potential patients realize they could benefit from a functional medicine practice. However, they are likely to search online for solutions to their medical problems. In these online searches, a functional medicine practice needs to appear in organic results. 90% of searchers prefer organic results. To improve a site's SEO, the keywords that patients would use to look up their symptoms or treatments need to be placed throughout the site on relevant pages.  
The target keywords selected by a functional medicine practice need to be short-tail and long-tail keywords. These two types of keywords work together in a robust SEO plan. Short-tail keywords bring in more website traffic but have lower conversion rates as they focus on more broad and general topics. Short-tail keywords are three words or less, while long-tail keywords are four words or more. Long-tail keywords have higher conversion rates but bring in lower amounts of traffic and focus on more narrow and specific topics. Long-tail keywords also play a more prominent role in voice searches.
How can content marketing help a functional medicine practice get more patients?
Search engines love content. Content on sites helps search engines determine which sites are relevant to display in search results. The more content a functional medicine practice has, the more authoritative and relevant it will look in the eyes of a search engine. The content on a site must be useful, unique, engaging, and relevant to the topic on the page. Copying and pasting content from another source or just adding fluff to a site to make it longer will likely hurt organic rankings in the long run, not improve them. Longer content, however, should be the goal of a functional medicine practice. The more content there is, the longer someone will stay on a site, which helps organic rankings. A search engine will think 1,000-word of content on a treatment page will be a more relevant and authoritative choice than a page with only 250 words.
Another critical aspect of content marketing is constantly updating a site. Content should continually be revised and updated, or additional content should be added to a website. These updates should happen throughout the year and not all at once. If the content on a functional medicine practice is updated all at once, a search engine may believe that it is an entirely new website, which will hurt organic rankings. Instead, update a few pages every month throughout the year. Keep a list of every site page and note the last time it was read or updated to ensure every page is looked at least once a year.
How can online quizzes or surveys help a functional medicine practice get more patients? 
A challenge with functional medicine practices is that many would-be patients are not aware that they could benefit from treatments at a location. A simple online quiz or survey can effectively screen potential patients who could benefit from a functional medicine practice and those who may not. A quiz or survey will ask a series of questions to a likely patient and provide results showing whether or not this type of medical treatment is right for them.
Effective online quizzes or surveys will have a compelling call to action afterward. This call to action could explain the type of results others have had with treatment and instructions on how to make an appointment. Usually, this will include a link to an online scheduling system allowing someone to make an appointment right away or submit information to be contacted. The quiz and any form to submit information must be hosted on a secure, HIPAA compliant page. Any information sent to a medical practice must also be stored on a HIPAA secured server over an encrypted connection.
How can local SEO help a functional medicine practice get more patients? 
When a potential patient searches using Google, a search engine will often provide "local results" above the organic results. These local results are usually three businesses, with their rankings, that are physically close to search engine users. These businesses are what the search engine believes are relevant to their search and worth considering. Many search engine users will look at these results first before examining the organic results, with some skipping organic results altogether. It is critical for a functional medicine practice to have their listing appear in map results and appear when people are searching near their location.
For a functional medicine practice to be listed in map results, it must appear on a map. To appear on Google Maps, Apple Maps, or Bing Maps, it needs to have a verified listing. Once a listing has been created by a practice and confirmed via text, phone call, or postcard, it will appear in map results. Be sure the name of the practice, address, phone number, and URL match the information on its website. A functional medicine practice can boost their Local SEO by including a directions page on their website. This page should have directions, with landmarks are written out and include any public transportation options. Finally, include an embedded Google Map to help increase the chances of the listing appearing in map results.
How can online reviews and reputation help a functional medicine practice?
The online reputation of a functional medicine practice is crucial to its success. The vast majority, if not all, new patients will review a practice's online reviews and reputation before making an appointment. With that in mind, a practice needs to manage its online reputation and reviews. These reviews will be handled on Google, Yelp, and Facebook, with most reviews appearing on Google. A practice must reply to all reviews. Positive reviews need a simple thank you. There should be an attempt to contact a negative reviewer first to see if anything can be done to fix the issue they had. There may be a chance they will change the 1-star review to a 5-star review. If not, a practice can at least thank them for speaking with them on the phone. If a functional medicine practice can not reach a negative reviewer or have no idea who they are, then request that the reviewer call and speak with an administrator.  
A practice should constantly be trying to get more and more reviews. A functional medicine practice with 700 positive reviews will look better in the eyes of a potential patient than a practice with only 7. It should be as easy as possible to leave a review with that in mind. Many healthcare practices send an email or a text message review request to their patients after their appointment. Some businesses even send both to their patients. Email review requests are less expensive, but text message requests have a higher open and conversion rate. While not every patient will leave a review, a consistent percentage will. There should be as few clicks as possible for a patient to start to leave a review. If possible, there should only be one. Every additional click to leave a review will result in more patients abandoning the review process altogether.
How can social media help a functional medicine practice communicate with patients?  
The vast majority of patients will have a social media profile to keep in touch with friends and family. Functional medicine practices should also have a social media presence and post regularly. 70% of healthcare businesses have social media profiles. They should not post every day about the services they offer or their hours of operation. While promoting themselves should be part of their posting schedule, they should also share local news, health news, and other content that their target audience will find useful and interesting. They should avoid continually trying to "sell" something to their followers or they will find more followers ignoring their content or unfollowing altogether.
Many functional medicine practices find it valuable to have profiles on:
Facebook
Twitter
Instagram
LinkedIn
How can two-way texting help a functional medicine practice?
Text messages are an incredibly popular way for people to communicate. Many people prefer text messages from friends, family, and even businesses. A functional medicine practice can take advantage of this trend by letting current and potential patients message a location. However, this text messaging must be HIPAA compliant, so do not buy a "business cell phone" that is passed around staff and doctors to answer questions. There is no way to limit access to that phone, track who accesses data, if data is sent elsewhere, or secure it from being stolen. However, a functional medicine practice can use texting if texts are sent to a HIPAA secure dashboard.
Instead of being sent to a phone, texts sent to a HIPAA secure dashboard can then be addressed by designated staff members. Many patients find it easier to use text for quick questions throughout the day, such as if a service is available or if there is an appointment slot open. Texting is much faster than sending an email or making a phone call. Text replies to patients also benefit from having a very high open rate so that they do not miss the reply. With that in mind, a functional medicine practice needs to be careful and keep HIPAA regulations in mind when replying to patients. While texts sent to a practice are secure, the texts sent back to patients do not meet HIPAA security guidelines. There is no way to know who accesses a patient's phone and if that data is being used properly. Unless a patient signs an explicit waiver, a practice should not send any sensitive personal health information to a patient via text message, like tests results.
How can referral marketing help a functional medicine practice?  
Referral patients are a great way to add another stream of patients and revenue to a functional medicine practice. There is likely a decent part of a target audience that may not realize they would benefit from a provider practicing functional medicine. However, that patient's primary care doctor can be approached to set up a referral relationship between the two practices. If a functional medicine practice can show the benefits of their services to a primary care provider, referral patients may start to arrive. Verbal referrals have over a 30% conversion rate.  
Referral patients need to be taken care of exceptionally carefully. If a referral patients have a terrible experience, they are unlikely to return. In addition, the doctor who referred them may stop sending referral patients to protect their reputation. With that in mind, a functional medicine practice can be well served by designating a "referral coordinator" whose job is to ensure a referral patient gets everything they need in a practice. Assigning someone makes it easier for other practices to send people over since they are constantly dealing with the same staff member familiar with the procedures. Finally, a practice should also create an online, secure portal to send medical information over. The easier it is for the staff at other practices to safely send information over, the better!
The experts at PatientGain.com are available to help you create a high-performance healthcare website for your functional medical practice. Contact us today, and let us show you what we have done for other practices across the country!