Social Media Tips for Physicians
As social media and specifically Facebook becomes more important for users all over the world, businesses, specifically medical practices in US and Canada, need to do more on Facebook. How do you stand out from thousands of other businesses who are advertising and working to get the attention and "Likes" of targeted users?
For better or worse, social media is a large part of many people's lives. The usage and adoption of Social Media is no longer contained to a younger demographic. More people in different and older demographics are all using social media, and this number is growing every year. Hundreds of millions of people use social media at any one time, and you can connect with almost anyone around the world today. Social media has impacted many industries, most notably retail and travel. However, the healthcare industry has not seen much in the way of use or adoption over the years, although some doctors are taking advantage of it. Those who do implement a social media strategy stand to gain an edge over their competitors.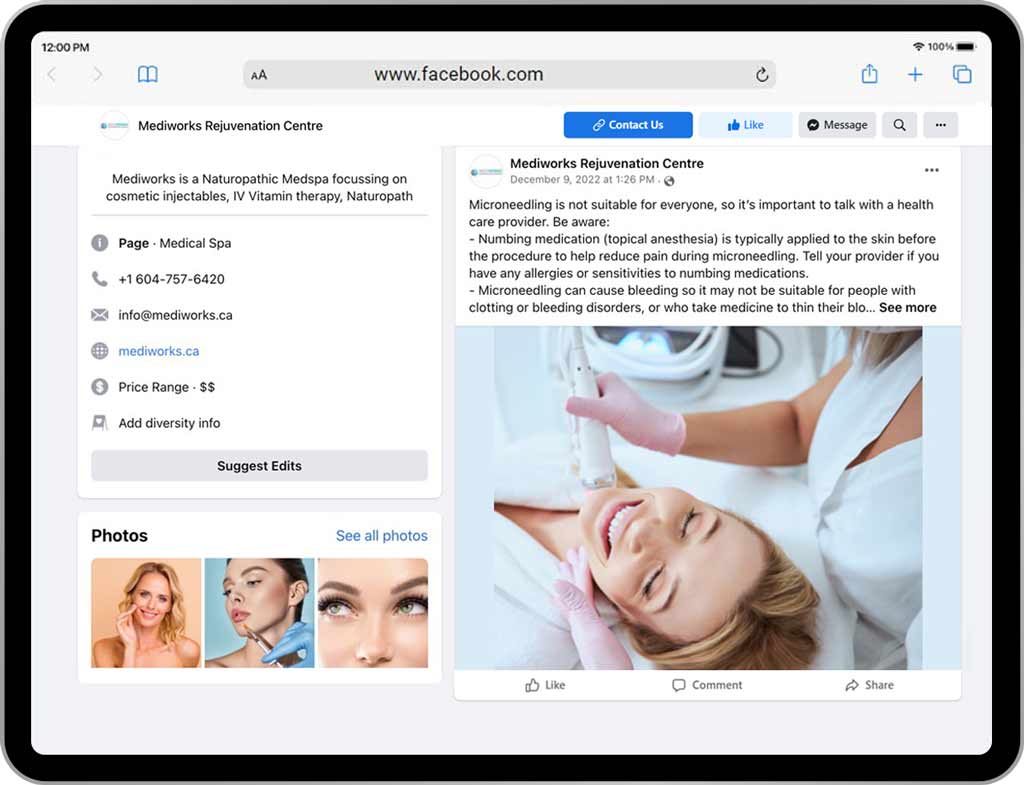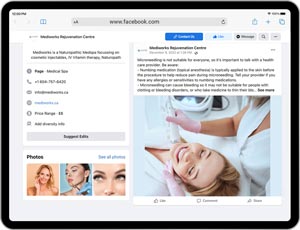 Below are some significant reasons why medical clinics should have a social media component of their overall medical marketing strategy. It is just another pillar in what will support the marketing that will help grow your patient count and business. Chances are there are doctors in the area already using social media correctly in their medical marketing plan. After reading below, look at your top competitors' social media channels and compare them to yours to see if there is anything you could be doing better at your business.
Using Social Media To Update Patients About Your Availability
You should already have your regular hours of operations posted on your website and in your business listings. These hours should also be displayed in your social media profiles in the "Bio" or "About" section. With that said, unexpected things can happen that can affect the hours in which you are open. It may cause you to open late, close early, or not open for that day. Some of the most common causes for a medical practice to quickly change its hours include:
• Inclement weather
• Power outages
• Staff shortages
• Unexpected road construction
• Police or fire department activity
• Local declarations of emergency forcing all businesses to close
• Equipment Failure
These changes sometimes come very quickly. It may not be possible to update your website or your business listings in a timely manner. Social media allows you to communicate hour updates speedily and connect with as many people as possible while you update your listings or website. As long as it is safe to do so, many medical practices will post a picture along with these updates. For example, if your clinic loses power, a picture of staff using flashlights to finish paperwork will show your dedication. If a water main broke outside and the street's department is tearing up the road, a picture will certainly have patients understand why they can not be seen today. Social media can also be a great way to inform people of providers' availability and specific services. At some medical clinics, individual doctors and services are only available somedays of the week. These schedules are generally posted on websites, but much like regular business hours, exceptions can occur. If a provider or a service has a different schedule for a week, social media is usually the best place to post it. Occasionally, a service may have an extra upcoming day of availability. To advertise this, make a post on social media!
Patient Education
You may not realize it, but you can get a lot of good information from social media. Unfortunately, there is a lot of misinformation on social media as well. Just about anyone can photoshop a fancy graphic to prove a ridiculous point. As a healthcare provider, you can help educate your current and potential patients about a variety of healthcare issues. Connecting with people online and giving them information is a great way to convert visitors into long-term patients. There are a few methods you can employ to use social media to educate patients.
Q & A Sessions
Is there a list of common questions you receive? Create a Q & A graphic and share it across your social media channel. Monitor the post for any follow-up questions and go into detail if requested. Why a graphic and not a text post? On Facebook, a graphic often gets better reach, and on Instagram, you have to have a picture with your post. On Twitter, you are limited by the number of characters you can post. A graphic allows you to post more on twitter. Also, graphics are much easier to share on other people's profiles, making it reach even further.
If a doctor feels comfortable, Facebook, Twitter, and Instagram, all have a live broadcasting feature. A doctor could schedule a Livestream and connect with people who may have questions for them. If a doctor isn't familiar with these social media features, they may need help setting it up and managing the chat to answer questions. However, this video can lead to high engagement with people and make a personal connection with your medical clinic. If your page is new with only a few followers, don't expect a lot of engagement in the first few times you go live. Ask your employees to share a link of the live feed on their profiles. It is best to come with a prepared list of questions so your doctor can answer some questions live.
Share Health Articles From Reliable Sources
There is a lot of bogus health information out there on many questionable websites. Your social media channels can help fight this misinformation by sharing real health stories. Your patients, who may be battling with friends and family members over a health concern, will undoubtedly appreciate any articles you may share. Be careful not to contribute to the wrong information on social media by sharing articles that are not true. If you come across an article from a new news source, review a few more articles to make sure they are accurate in the information they are conveying.
Provide Anonymity To Those Seeking Out Treatment For The First Time
Some health issues are deeply personal, and people may be a little hesitant to seek out information about treatment formally. Social media allows people to get information about treatments, diagnoses, and other medical information without revealing their identity. Through social media, they can begin to engage with medical practices to ask questions and learn more. Social media is also connected to our smartphones with apps; it is easier than ever to reach out and engage with someone to get more information.
Doctors can take advantage of this by engaging with everyone who contacts them through social media. You can only give so much medical advice without having to seeing someone in person, but avoid asking everyone to make an appointment and be seen. Your first thought should not be, "how can I get an appointment out of this person right now?" Engagement and some sharing of information will make this person comfortable with you and eventually lead them to make an appointment. It is impractical to monitor social media channels 24 hours a day, seven days a week. You are not an international conglomerate. It may even be challenging to keep tabs on it throughout the working day. However, you should check several times a day to see if anyone has left a message or engaged with one of your posts.
Take advantage of smartphone apps; many social media channels make them available for practically every phone. You or a staff member can download the app and be alerted if something occurs on your profile. Depending on how busy you are, you may not be able to respond to it immediately, but it is better than waiting for 24 hours before you realize someone said something.
Promoting New Health Information or Share Breaking Health News
When there is a new health concern in a community, many people will first learn about it on social media from friends and family. You can use this as an opportunity to get the correct information to people before they start endangering their health by reading the wrong information. Even if they go to a reliable source, they may not understand it and misinterpret it. As a trusted source, you can explain things to your patients in a language they will understand.
There also may be times when you need to bring a health concern to the attention of your patient base. The most recent example of this would be warning your patients about the danger of COVID-19. While global pandemics will (hopefully) not be a yearly occurrence, there will be other emerging health concerns your community will need to know about. Besides the annual flu and allergy outbreaks, some areas see random outbreaks of dangerous diseases like measles or meningitis. Address these concerns with thoughtful social media posts along with some trusted resources.
Assign Someone To Managed Social Media To Improve Service
As a business owner of a healthcare facility or a doctor, you probably do not have time to check, post, or respond to things on social media. There are dozens of other things that need your attention, and social media is a time-consuming aspect of marketing. With that in mind, do yourself a favor and assign a trusted staff member to manage your social media properties. It should be someone who is tech-savvy and understands the brand of your medical clinic. In many respects, they will be the "face" of your medical clinic, so you want to make sure they completely understand the "voice" of your business. Does that mean it should be handed entirely off when it comes to social media? Absolutely not. You should check in from time to time with your assigned person to see how posts are performing or to review some topic you would like to be pushed online. If you do not assign someone to handle your social media properties, you might end up with sparse activity on your profiles. How many social media pages of businesses have you gone to, seen the last updated four months ago, and wondering if they were still in business.
To make your social media person's job easier, use services that allow you to post and monitor multiple social media channels at once. It is very time-consuming to write a post, post it, log off, and repeat it for 2 or more social media profiles. A service that allows your designated social media person to connect multiple services and post simultaneously is a huge time saver.
Social Media Channels A Medical Practice Should Consider
There are many social media communities out there, and by this time next year, there will be some new ones, and some will have shut down. While it may be fun to explore some smaller networks, it is best to concentrate and start with the big ones. First, you are much more likely to connect with your target audience. Second, these networks generally have connections with the services that allow you to post all profiles at once.
Definitely Need Profiles On These Social Media Channels
• Google Business
• Facebook
• Twitter
• Instagram
Should Consider Having Profiles On These Social Media Channels
• Foursquare
• Snapchat
• TikTok
• Linked In
The list above should not be considered an exhausting list of "must-haves," as the social media environment changes every year. A few years ago, Tik Tok wasn't something that was widely adopted. A few years from now, there could be a half dozen other networks on there that are valuable to medical clinics.
Social media is growing every day, and more doctors are embracing this powerful marketing tool. You should not be the last one to this party! If you have not made your social media profiles yet, make them. If you have social media profiles but have barely used them, now is the time to start social media marketing plan for posts. PatientGain.com can help you optimize your Facebook Business profiles to make sure everything is correctly filled out. We also offer the ability to post to some social media channels directly from our dashboard. Call our experts today and let us show you all of the social media apps we can install on your profile and available to you through the Gold service. We've helped many other health care professionals around the country with their social media marketing. We can most definitely help you! Call us today, and let's schedule a demo!