Medical Marketing For Cardiology Practices, Cost $799/mon
There are over 245,000 cardiologists in the United States. These highly skilled medical professionals complete three years of medical school, three years of internal medicine training, and then three years specializing in cardiology. Millions of lives have been saved by cardiologists. However when it comes to digital marketing, PatientGain's medical marketing services meet the needs of hundreds of heart and cardiologist practices.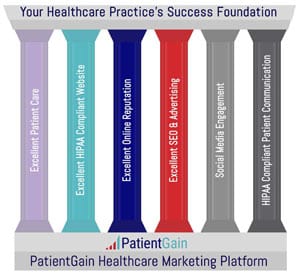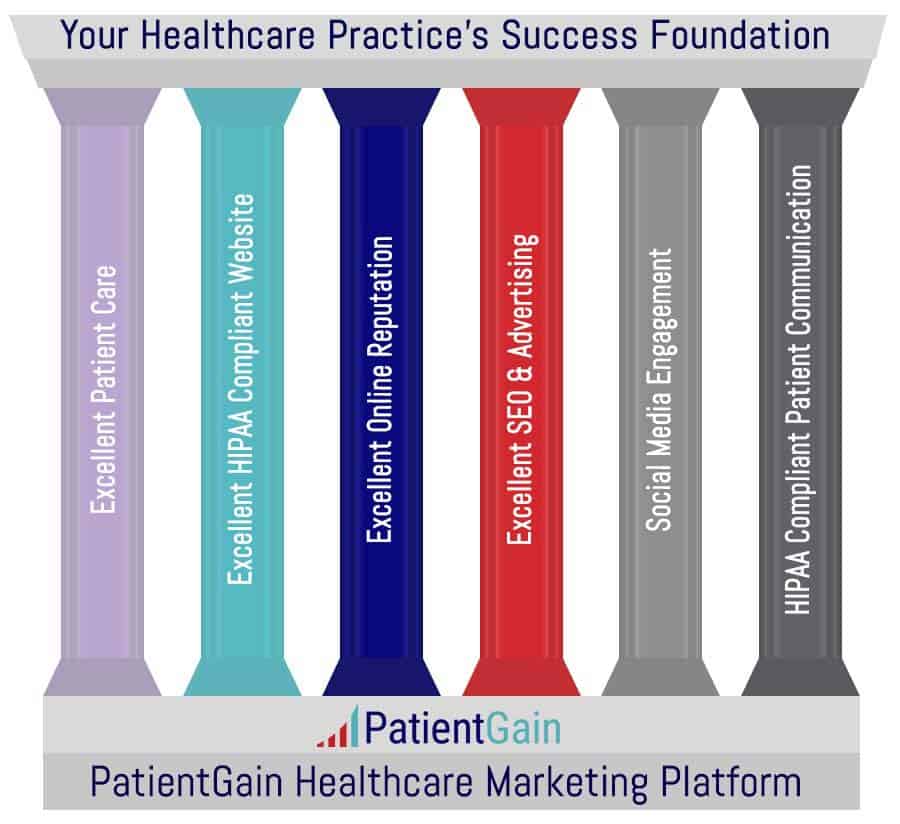 A cardiology medical practice is where patients go when they need to see a cardiologist. These doctors treat medical issues with the heart and blood vessels. This branch of internal medicine helps patients suffering from several different cardiovascular diseases. However, they are different from a cardiac surgeon who performs heart surgery, whereas a cardiologist treats diseases of the cardiovascular system. While most of their work involves tests, screenings, and treatments, they will perform some procedures such as angioplasty, heart catheterization, or pacemaker placement. 
These providers specialize in heart health and help patients with heart conditions. A primary care doctor will often refer a patient to a cardiologist if they see specific symptoms, including chest pains, high blood pressure, dizziness, changes in heart rate, or shortness of breath. They can also look for an abnormal heart rate or a heart murmur.
Patients will also see a cardiologist when they have severe heart problems, like a heart attack or heart failure. A cardiologist will help patients decide what can be done to improve heart health, including heart surgery, stenting, angioplasty, or heart catheterization. Some diseases a cardiologist can help with include:
atrial fibrillation
coronary heart disease
high blood pressure, or hypertension
congenital heart disease
congestive heart disease
high blood cholesterol
high triglycerides
arrhythmias
atherosclerosis
hypertension
pericarditis
ventricular tachycardia
Finally, a cardiologist is also someone a patient can see to learn more about how to prevent heart disease. If a patient has a family history of heart disease, has been or is a smoker, has diabetes, or is starting a new exercise program, they may see a cardiologist for advice on how to protect the health of their heart.
How can reputation management help a cardiology medical practice get more patients?
It does not matter if a potential patient is referred to a cardiologist or doing research on their own, one of the first things they will look at is the online reviews. In fact, 72% of people use reviews to find businesses online. The online reputation of a cardiology practice can make or break the success of a business. A bad online reputation will make marketing more expensive and challenging to reach patient count goals. A good online reputation will help overall organic rankings and help get new patients through the front door. The online reputation of a cardiology medical practice needs to be constantly monitored.
The first step in maintaining an excellent online reputation is creating and claiming the business listings where reviews are posted. The vast majority, if not all reviews, will be hosted on Google, Yelp, and Facebook. Even then, over 90% of reviews, in most cases, will be posted on Google. Google and Yelp require a business (not just a healthcare business) to verify the ownership of their listing. Verification comes in the form of a phone call, text, or (in most cases) a postcard that is mailed to the business's physical address. Once verified, a cardiology practice can start managing their reviews on their profiles.
All reviews a practice receives must be addressed and responded to by staff. Ignoring all reviews will show current and potential patients that a practice does not care what their patients think about the quality of care. Ignoring negative reviews and responding to positive reviews sends much of the same message. For positive reviews, a practice needs to acknowledge the feedback and thank them for it. If possible, try to customize the response by thanking them by name and referencing their positive review in the response. For negative reviews, a practice must be a little more careful in their response. First, they should try to contact the patient to see if their negative experience can be rectified. There is a chance that once the issue has been corrected, they may go back and update their review. If not, the response should thank them for speaking with staff about the problem. Finally, if a practice has no idea who has left the review or can not get in touch with them, ask them to call to discuss their experience.
Finally, a cardiology practice needs to seek out reviews actively. While Yelp's current rules prohibit actively sending review requests to patients, Google allows this and reviews should be pursued. Accumulating as many reviews as possible is beneficial in a couple of ways. First, the one-off negative review will be quickly buried by positive reviews. Second, a cardiology medical practice with a 4.6 rating and 800 reviews will look more authoritative than a competitor with a 4.8 rating but only 12 reviews. For a practice to receive reviews, all it needs to do is ask. While not every patient will leave a review, a consistent percentage will leave reviews helping a practice build a complement of positive reviews. Review requests are often made via email or text. Emails are less expensive than text messages, but text messages usually have a higher conversion rate. If a marketing budget allows, try doing both to achieve the best results.
How can local SEO help a cardiology medical practice?
Another positive aspect about claiming business listings for reviews is that they can also be used to improve a cardiology practice's local SEO. In search results, when looking for local businesses, such as a healthcare facility, Google will often display "map results" between the paid and organic results. Generally, these are three listings with their review ratings within reasonable driving distance of where Google thinks the person is searching. Map results have a high conversion rate and are often explored by search engine users. If they find what they are looking for in the map results, they often do not even look at the organic results. Therefore, a cardiologist's practice must appear in those map results.
If a practice manages its online reviews, the first step in this process is already completed: claiming and creating a listing. Next, the information in that listing must be accurate and match the listing information in their other listings. The following information must match the information on the website with Google, Bing, Yelp, and Facebook listings:
Name of the practice
The physical address, including any office or suite numbers
Hours of operation
Site URL
Phone number
Services (if applicable to that listing)
Finally, many practices will boost their local SEO by adding a directions page to their website. This page will have street directions to the practice's physical location from different approaches. If available, include any public transportation options like bus, subway, or rail stops near a practice for those who do not have a car to utilize. Finally, embed a Google Map onto the page so people can explore an area. All of this content and embedded map are signals to search engines to help them determine where a practice is located and helps make them more relevant and authoritative to be included in map results.
How can a medical engagement chatbot help a cardiology medical practice? 
When a current or potential patient has a question about a service, treatment, or disease, they will likely call the front desk of a cardiology medical practice for answers, information, or clarifications. However, the highly skilled staff at the front desk may not be available. It may be after hours, they could be helping other patients, or the practice may be short-staffed that day, and no one is available to answer the phone. The longer it takes for patients to get the answers they are looking for, the more likely they will look at other search results for assistance. A medical engagement chatbot can help some patients get the answers they are looking for and convert them into appointments.
A medical engagement chatbot is a program embedded into a website that engages with site visitors and mimics human conversation. However, it can not create unique answers on its own and can only answer questions programmed into it. With that said, the front desk of a practice will often get many similar questions asked by patients. Using those questions the staff regularly gets, a good list of questions and answers can be programmed into a chatbot. If a patient asks a question or needs help with something that is not programmed into it, then the chatbot can take that request and the patient's contact information. From there, it will be stored on a HIPAA-compliant server, and a staff member can address it. 
Chatbots are advantageous because they are always available. They do not take vacations and help site visitors 24 hours a day, 365 days a year. They can also be updated quickly with new questions or information as needed. For example, if a new treatment spurs some frequent questions, those questions and answers can be added to a chatbot. Many medical practices updated chatbots with changing COVID-19 protocols during the first months of the pandemic. This versatile tool can be beneficial to a cardiology practice.
How can online appointments increase the number of patients in a cardiology medical practice? 
Today's patients want much more of a say and control over their healthcare than in the past. If a practice can give them more of that, they will look more appealing to a potential patient than a practice that does not. A cardiology practice can help promote itself by requesting online appointments available to its patients. However online appointment requests should not be confused with patient registration using your patient portal. Patient portal registration is not designed as a marketing tool, it is designed to collect all pertinent data related to the EMR records. If your website sends all "new" patients to the patient portal to register, you will have a very low conversion rate.
Online appointments requests allow patients to create and manage appointments with their providers without calling into a practice or playing phone tag with the front desk. They can make changes or add new dates to see their doctor anytime during the day, even during the overnight hours. In fact, 40% of online appointments are made after hours. When securely connected to a patient management system, it also helps prevent double-booking appointment slots, leading to bad patient experiences.  
A cardiology practice must ensure its online appointment system is HIPAA compliant. They are responsible for all data sent to them, even if they did not specifically ask for personal health information. Any data submitted to them must be sent over an encrypted connection and stored on a HIPPA-compliant server that limits access to data to only those who need to look at it. Access is tracked, and any data movement, viewing, or deletion is tracked and can be audited. Not all appointment systems do this. For example, the appointment system on a Facebook Business Page is not HIPAA compliant. It may work well for a plumber or massage therapist, but it meet does not the standards needed for a cardiologist.
Another aspect many online appointment systems have integrated into it is digital intake forms. Instead of patients having to show up 15 minutes early to fill out a bunch of forms, they can do it at home on their computer or phone at their convenience. For staff members, this helps save time by cutting out the need to read intake forms and enter information into a database. It also reduces time mistakes due to poor penmanship or typos from front desk staff. It makes the entire process much more efficient by saving time for everyone involved and saving a little money on forms that need to be printed out and then shredded after being entered into a database.  
Are there any traditional marketing practices that a cardiology practice can benefit from to increase patient count?  
Direct mail marketing is an effective traditional marketing method that can help increase brand awareness for a cardiology medical practice. Unlike other traditional marketing tactics, like advertising on TV, radio, or billboards, direct mail marketing allows a practice to target households, neighborhoods, and communities. When combined with a digital aspect, such as a QR code or a unique URL, they also can be tracked for their effectiveness. Finally, the United States Postal Service offers tools to help calculate costs and discounts for businesses if they meet a certain volume and presorting prerequisites. Direct mail marketing is also helpful to connect with current patients with annual check-up reminders or birthday greetings being sent out every month.   
The experts at PatientGain.com are available to help you create a high-performance healthcare website for a cardiology medical practice. Contact us today, and let us show you what we have done for other practices across the country!