Common question asked by doctors and medical practice managers: Why digital marketing is important in healthcare?
When someone says to you, "Do you know what digital medical marketing is?" do you reply, "Oh yea, it's like analog medical marketing but with electricity!" If that is the case, then you may not be as knowledgeable in digital medical marketing as you may think. There is no need to panic! Below is a quick primer into digital medical marketing with areas you should look at to promote your medical practice and increase your patient count.
Patient Trust is the Foundation of Medical Marketing Success for Your Practice.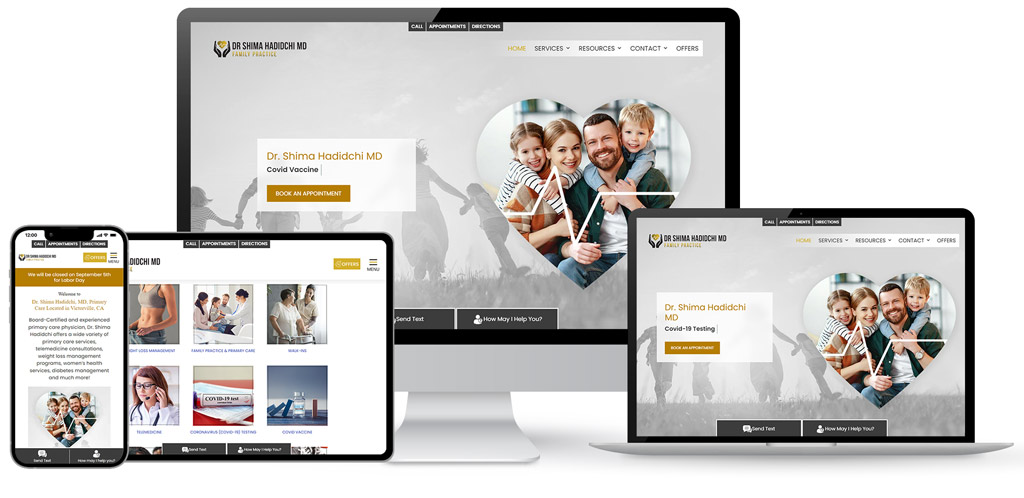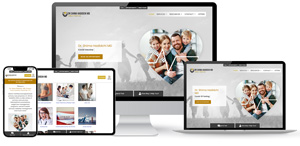 Provide excellent patient care and medical services to your target patients. Treat every patient like they are your first patient. Healthcare practices who focus on high customer/patient service have a solid foundation. From medical marketing perspective, Patient Trust starts from the moment they land on your website or read your online reviews. Your medical website is the number one factor in having a thriving and successful business. Here are some important aspects of your medical website.
Medical marketing is the process that creates and delivers healthcare information to a target patient audience for a medical practice. Medical marketing uses proven strategies to communicate this information to a target audience to convince that potential patient to make an appointment at a medical practice. Every doctor, provider, an owner of a medical practice and others involved in the healthcare industry can benefit from effective medical marketing. The healthcare industry is very competitive, and medical marketing is a way to stand out among competitors so a medical practice can grow and succeed.
Generally, there are 6 pillars for the success of your medical marketing.
Excellent patient focus by your practice, meaning patient centric approach.
HIPAA compliance within your practice and it extends to your website.
Reputation management strategy for your practice.
Consistent investment in SEO and advertising.
Social media presence.
Simple and easy way for patients to communicate with your practice.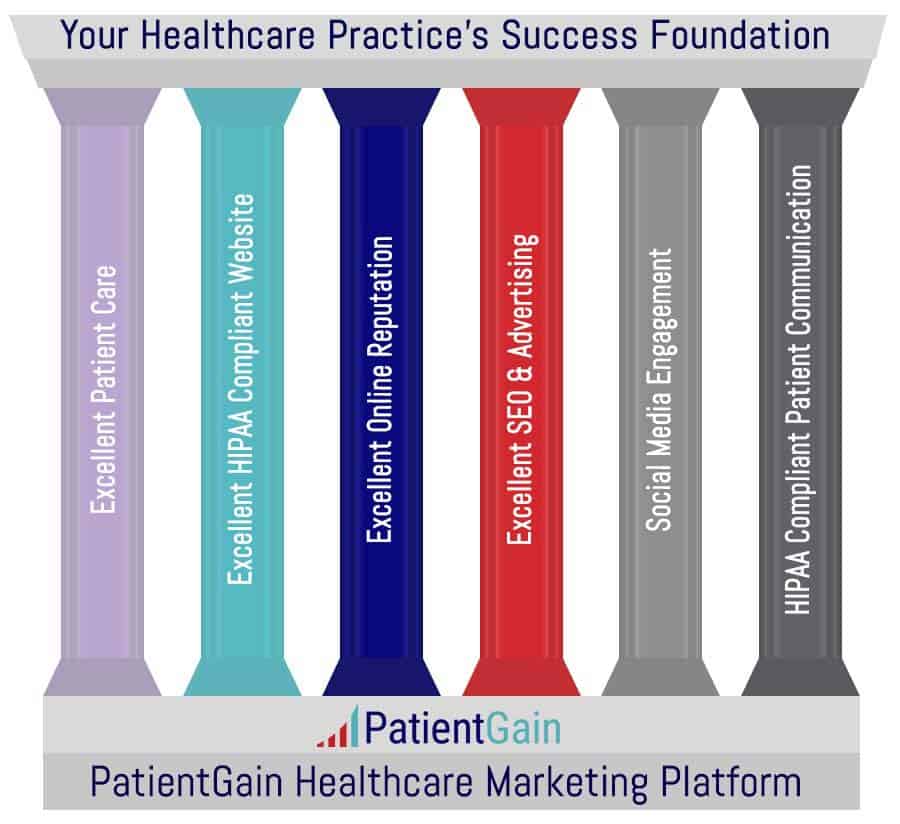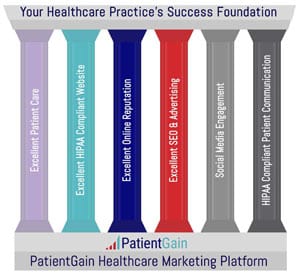 Table of Content:
Step 1 – Get a secure SEO optimized conversion website
Step 2 – Directory Listings
Step 3 – Content Marketing and SEO of Website
Step 4 – Online Ads – Pay Per Click Search Ads & Social Media Ads
Step 5 – Social Media Marketing
Step 6 – Email Marketing
Step 1 – Get a secure SEO optimized conversion website
There is no advertising and engagement medium, past or present, that compares to an excellent SEO optimized conversion website.
8 Important elements of your medical website:
1) It must be mobile optimized – Beyond mobile friendly.
2) It must be optimized for conversion and A/B tested.
3) Content must be fresh, relevant, on-topic, non-plagiarized.
4) SEO Optimized for Google search engine, with proper technical structure of the website and each page.
5) Based on WordPress (or other proven platforms).
6) Secure and HIPAA Compliant and ADA adherent
7) Should promote and build your brand.
8) Must be pretty, attractive and branded with your own brand.
Step 2 – Directory Listings
Once you have a website established, you need to get your business listed online. While there are dozens and dozens of directories out there to be listed in, the two biggest where you will receive over 90% of your traffic is Google and Facebook. Creating or claiming your Google Business Listing and Facebook Listing is crucial for people to find you online and to find directions to your medical practice. Google feeds its directory information into Google Maps, and Yelp feeds its information into Apple Maps. The vast majority of mobile users use these two mapping apps, so it is essential to be listed on them.  Facebook business page can also be considered a directory listing.  Also these directory listings should have a link to your Website's URL – As this will help with "back-links" for SEO purposes for your website.
These directories are where you will receive, reply, and manage your online reviews. Reviews of your medical practice can make or break your business. Not only should upi be responding to negative reviews, to mitigate a patient's complaint or concern, but you should also be soliciting reviews from your happy patients. Building up an extensive reservoir of positive reviews will help offset the occasional negative review.
So most important directories are  1)  GMB Google My Business page  2) Facebook business page 3) Yelp business page 4) Apple maps See this page with details on how to optimize GMB.
Step 3 – Content Marketing and SEO of Website
The phrase "Content is King" is often thrown around in this area of digital medical marketing. The idea behind content marketing is to become an authoritative expert in a subject area. How do you do that? By writing content. For example, if you offer flu testing at your medical practice, you shouldn't just have a page with the sentence, "We can test you for flu at our facility. Please call for details." Instead, try to write 500 to 1,000 words about the flu. Include the likely symptoms, treatments, and when someone should seek medical treatment. By providing more information, you show search engines that you are an authoritative source about a subject. Any service you offer should have a content page dedicated to it. When someone in your area is searching for your service, this will show search engines that you are a relevant result to present to someone.
Step 4 – Online Ads – Pay Per Click Search Ads & Social Media Ads
Pay per click ads are exactly what they sound like; you only pay for the ad if someone clicks on them. You bid on specific keywords, and if you have the highest bid, your ad will be triggered when people are searching for something online in a search engine. Google Adwords and Bing Ads are the two major players in this market. How much it costs to display an ad for a keyword depends on a variety of things, including but not limited to keyword popularity, local competition, and relevance to your website. Pay Per Click ads can be simple to set up, but the more work you put into dividing your efforts into campaigns, ad groups, and local targeting, the more efficient your marketing money will be for you.
Display ads are ads that display on websites. Facebook and Instagram ads are a very good example of display ads. You often see these ads displayed on social media, news, shopping, or blog websites. For these ads, you pay each time they are displayed, regardless if they are clicked on or not. Think of it as a billboard on the side of the highway; it is being displayed at all times. Generally, you pay per impression, or how many times it is viewed. You can also pay by how many "clicks" you receive – sometimes this is also called "Action" so pay by per "action" or click.
Step 5 – Social Media Marketing
Using social media to reach your current and potential patients can be a potent tool in your marketing toolkit. While a potential smaller audience than what you would reach with search ads, you can target your ads to a much more specific audience. Not only can you target a the location, but you can target by age, gender, interests, and income in some cases. In most cases, these ads work like display ads. You pay for them to be displayed, not for clicks. You usually get an estimate of how many clicks and impressions you will get for the budget you set.
Many medical practices will use ads on Facebook, Instagram or Twitter to promote new services or changes in hours for patients who follow their accounts and others in the area.
Step 6 – Email Marketing
When you take in new patients, you collect a variety of relevant information. One thing you should try to collect from every patient that visits your medical practice is their email address. It is needed to not only communicate with them about their visit to your facility, but it can also be used for email marketing. The key to email marketing is quality over quantity. Emailing your patients every day with sale pitches or mundane announcements like your hours for that day is going to be too much. Not only will they unsubscribe to your mailing list, but you might be labeled a spammer, and your emails will automatically be pushed to a spam folder for future patients. Instead, try to email your patients no more than once a week but ensure that email is worth reading. It should be informative, content rich, and engaging. You not only want this email to be read, but also forwarded to a patient's friend and family members.
Email marketing can also be set up to send reminders to patients for future appointments, follow up visits, birthday greetings, and "we haven't seen you in a while, come get a checked up." While email marketing isn't as effective as it used to be, it can still be a powerful tool if used properly. You may need to provide additional instructions to your patients on where they can find your emails as many email providers automatically reroute emails to "business" or "promotional" folders and, therefore, can be missed.
Additional Steps For Digital Medical Marketing Success
Medical marketing actively tries to connect patients with the services they need to stay healthy. Not all patients may be aware they could benefit from the services at a medical practice. Hence, strategies often focus not only on treatment and services but on educating the public about how symptoms could be the sign of something else. While marketing in any form has a variety of rules and ethics it must follow, an extra layer of guidelines and regulations exists for medical marketing. All medical practices, regardless if they are using digital or traditional marketing methods, must remain compliant with HIPAA regulations and guidelines. Violating HIPAA in marketing efforts can significantly hurt a medical practice's online reputation and its trust in the community.
Why is medical marketing important to a doctor and their medical practice?
For a doctor and a medical practice to succeed, they need a steady stream of patients to fill their appointment slots. Hoping people wander off the street is not a successful business model in the 21st Century. A medical practice must market its brand, services, and (if applicable) products to its target audience and potential patients. A doctor or owner of medical practice must show potential and current patients that they can provide solutions to their healthcare needs. Even more so, they must prove that they are a better choice than a competitor offering similar services.
The healthcare industry in the United States is constantly evolving and changing. There will always be treatments, services, and products for current medical issues, and new healthcare concerns will continue to evolve and appear. These changes and new challenges may be things that doctors and other health professionals stay on top of and educate themselves on these topics. Still, the general population is likely to lag behind. Medical marketing helps communicate these new aspects of healthcare to a target audience so they are better informed to make choices for their health. In addition to new challenges in healthcare, there are new ways to market and communicate with patients. The ways doctors and medical practices connect with their patients today are vastly different than it was ten years ago and will likely be different ten years from now. The evolution in medical marketing and its connection to patients only helps a doctor reach more of their target audience.
Example of dashboard – Performance view:
Data : ( from a real customer ) You can see there are 4 active medical practice locations.
Total number of new patient inquires = 1700
Total number of new patient inquires – effective leads = 1326

Data : ( from the same customer 19 months later – Using PLATINUM service ) – You can see the same medical practice has grown to 8 active locations.
Total number of new patient inquires = 4314
Total number of new patient inquires – effective leads = 3365

Another crucial part of a functioning medical practice, besides the patients, are the employees and other support staff. Effective medical marketing for a medical practice will help their brand get noticed by other healthcare professionals and organizations. This will make it easier for them to hire new employees for expansion or at least quickly replace anyone who moves on with their career. Again, HIPAA regulations must be kept in mind to protect patients' rights, even when marketing to potential employees or referring doctors. It will be challenging to look trustworthy and legitimate to potential employees, organizations, and referral doctors if there is an apparent disregard for HIPAA protections.
What ethics in medical marketing should a doctor be aware of?
While medical marketing shares a lot of traits with marketing in other industries, there are some notable differences, especially regarding the ethics of marketing. A business not in the health care industry will use data and information collected from their customers to create a marketing campaign designed to target them. For example, a home improvement store may mine customer data and send a special discount to those who have recently replaced their windows. A medical practice must be very careful with their data and its use per HIPAA guidelines. It is likely a HIPAA violation if a medical practice did a similar campaign where they sent information about STD Testing and STD Treatment to only the patients who have had an STD Test in the last three months.
HIPAA is designed to protect all patients' personal health information, PHI for short. Medical practices that violate HIPAA face various penalties that increase in severity if violations are severe or if there are repeated issues with patient privacy. Patients must give explicit permission to use their data for marketing. While this permission is generally granted when they submit intake paperwork, it must be asked, documented, and subject to change if they decide they no longer want to receive that communication. A medical practice is responsible for the vendors they use and must obtain a Business Associate Agreement, or BAA, with that vendor.
A BAA is a legal contract that ensures that if a medical practice works with another company or individual, they handle PHI carefully during their services. If either party violates HIPAA regulations, the other can hold it liable for any damages. If there is no BAA agreement, both sides could be in legal danger if HIPAA compliance violations occur later in their business relationship. So, if a medical practice uses a third-party vendor for their marketing needs or a marketing campaign, they need a BAA in place. If a company or individual refuses to sign one, a medical practice should not work with them or, at the very least, give them no access to any patient data for marketing purposes.
A medical practice is not only responsible for the vendors they work with but also the staff that they hire. Any new staff members must be provided with training courses to certify that they understand HIPAA rules. Current staff should also be given refresher courses to ensure they are updated with all regulations and guidelines. Failing to do so will only increase the chance of a violation which, besides incurring hefty fines, could ruin the online reputation and image of a medical practice. It can also shatter the trust in current patients and make it challenging to convert potential patients into regular patients.
What essential medical marketing strategies can doctors and medical practices use to grow and meet their goals?
Many healthcare providers are not experts in marketing, and those in the marketing field may not be well versed in HIPAA regulations. Many medical practices use a marketing company to handle their advertising needs. A medical practice can not just hire any marketing company but one that specializes in medical marketing, like PatientGain.com; otherwise, they are risking a HIPAA violation. The strategies used by medical marketing companies are similar to many other techniques used in different industries. However, medical marketing companies protect patients' health information to ensure compliance. Below are some medical marketing strategies that doctors and medical practices have found successful.
Creating a consistent brand
For medical marketing to be effective, a medical practice must establish a brand. This brand needs to be unique, so it is not confused with competitors and allows it to stand out. Some things a medical practice needs to consider for its brand include:
Logo
Voice
Font
Colors
Promises made
Ideal patient
Example of an allergy practice brand – all locations have consistent branding: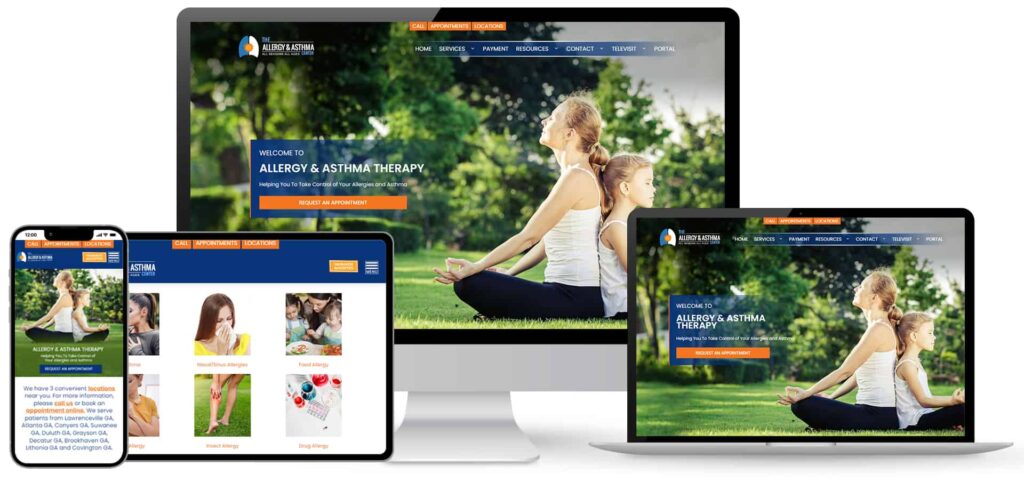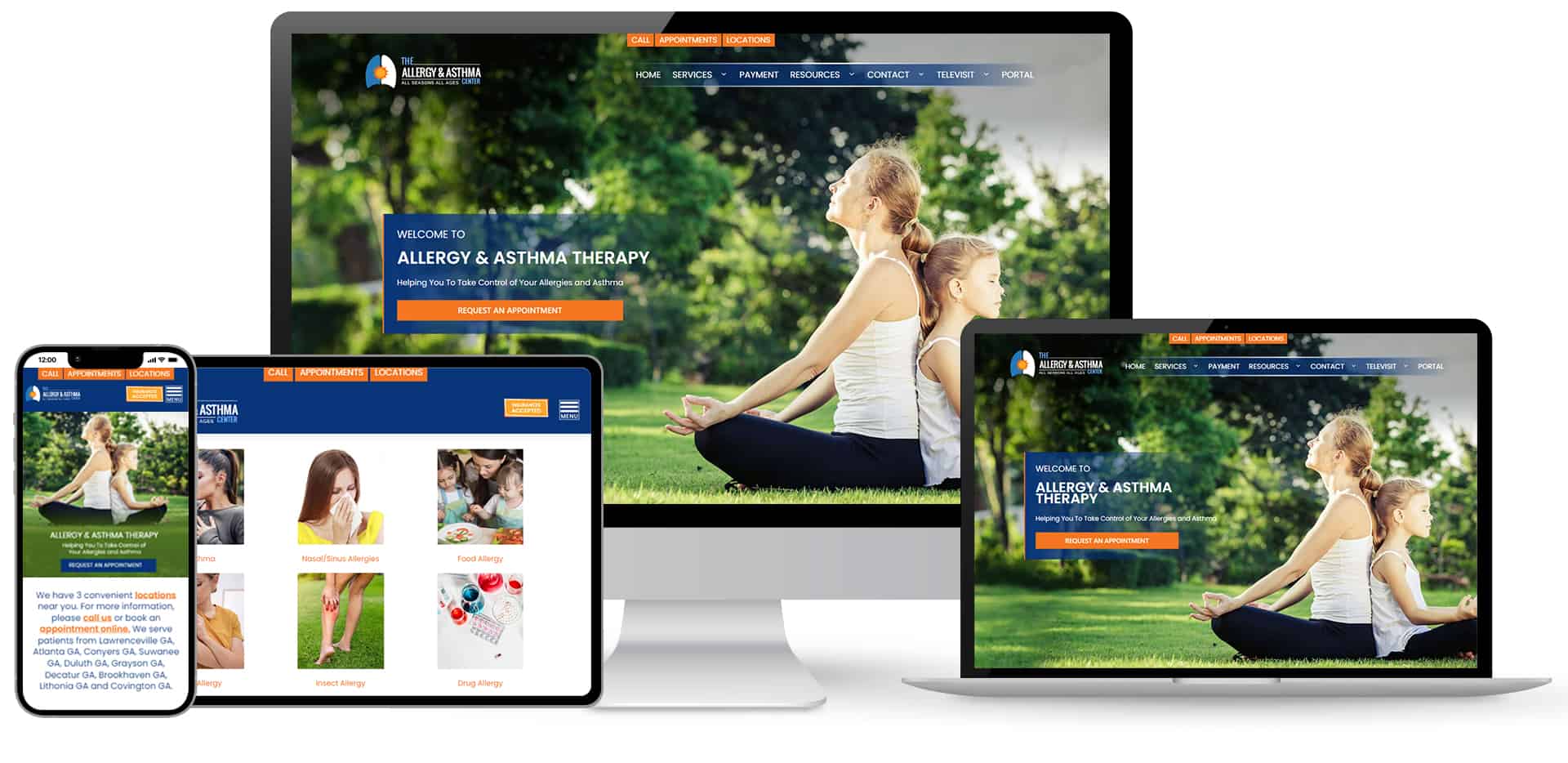 Once these things are selected, they must be the same across all marketing properties. The colors, font, and voice used on the website should be used in social media posts, direct mail marketing, content writing, and any other marketing campaigns associated with the medical practice. If a medical practice has different colors, fonts, or logos for its social media channels, website, and other marketing campaigns, it will appear unprofessional and less legitimate.
Establish an online presence for current and potential patients
A medical practice must have an online presence in today's digital age. Having a website and social media profiles are as important today as having a phone number and a mailing address. These properties allow current and potential patients to learn more about a medical practice, interact with it, and keep up to date with the services and treatments offered. For example, suppose a medical practice has added a provider that can provide DOT Physicals for Commercial Driver's Licenses. In that case, a website and social media channels will be the best way to communicate that information to a target audience. The most common social media channels a medical practice will create profiles on include Facebook, Twitter, and Instagram. These profiles need to be filled out using branded logos, voice, and content that connect people with the medical practice. For a website, a medical practice needs relevant, informative, and helpful content pages that allow its target audience to learn more about the available services. These two vital marketing properties must work together to reach as many patients as possible.
Example of a Medical Spa GMB – Google My Business, presence

Connect with current patients and check in with former patients
A medical practice is consistently building its database of patients. Some patients will slowly but surely develop into regular patients, and others will be one-time visits. Also, some regular patients may, over time, come less and less for services. Regardless of their current status, a medical practice will have their contact information and should use it. Remember, you need a patient's permission to contact them with marketing messages and make it easy for them to unsubscribe from them together.
For current patients, ask them for their feedback! Feedback can come in the form of online reviews, testimonials, are having them fill out a patient satisfaction survey. All this information and data can be used by a medical practice to help them improve their service. Patient testimonials can also be shared on social media profiles and on a medical practice's website, but only with the patient's permission. Online reviews can be shared, but a medical practice needs to obscure the name and any other personal health information unless they get consent from the patient. Practices do not need to worry, from a HIPAA perspective, about what patients write on third-party review sites like Yelp or Google. Those reviews are the responsibility of the patients and the Terms of Services of those websites. However, a doctor can not violate HIPAA rules when responding to those reviews, or that could lead to some hefty fines.
Example of medical virtual assistant Chat*Bot – This app answers most common questions and is connected to the practice staff, texting, Emails and voice commands: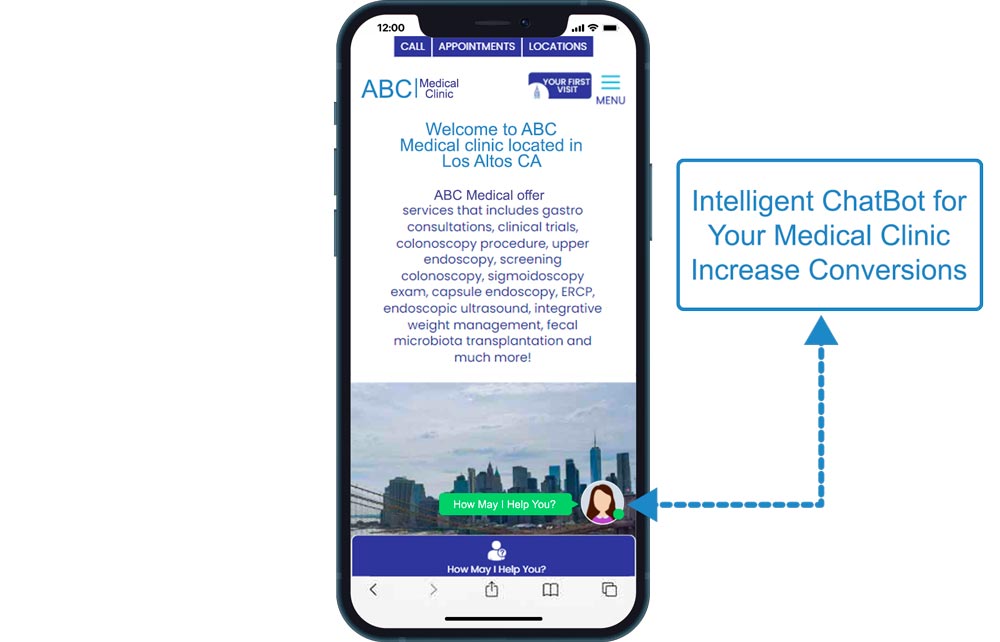 For patients who have not visited a medical practice in a while, try to reconnect with them. Sending email marketing birthday greetings, seasonal greetings, and medical check-up reminders may prompt them to call and make an appointment. A medical practice should track how many times they attempt to contact a former patient. After a certain amount of times, that profile should be archived if there has been no response. It will make marketing efforts more cost-effective.
Build a referral network for a medical practice
Referrals are often an essential stream of patients and revenue to a medical practice. A practice that focuses on more specialized fields (like a cardiologist or a sports injury specialist) will likely depend more on referrals than a general practice clinic (like a primary care doctor or urgent care center.) Regardless, a referral network for any party can only benefit those involved. A referral network is when a group of medical practices will send patients to each other when applicable. Using the examples above, a primary care doctor may send a patient to a cardiologist for heart care. A sports injury specialist may send an athlete to an urgent care center if they have just suffered an on-field collision to get an immediate x-ray.
There are two crucial elements to a building a referral network. First, it must be easy for a doctor or provider to refer a patient to another medical practice. A dedicated phone number, web portal, and staff member to handle referrals will make the process as easy as possible. If medical records can quickly be sent over, all the better as well. The easier it is for the staff at these locations to process a referral, the more eager they will be to send them over. The second thing is that a referred patient must get the best treatment possible. Suppose a referred patient has a bad experience that reflects poorly on the doctors referred to and the doctor who made the referral. If patients frequently do not get the best treatment, that doctor will likely find someone else to send referral patients to so they can protect their online reputation.
Traditional Marketing Still Has A Place In Medical Marketing
Digital marketing has taken a dominant position in marketing in healthcare and other industries. Marketers across the board have long valued its ability to target and reach large audiences with incredible flexibility. However, traditional or offline marketing strategies should not be ignored entirely. When used correctly, often with digital components, traditional marketing campaigns can do a fantastic job at reaching potential patients that may have been missed in digital campaigns. Some traditional marketing strategies that many medical practices still find effective include:
In practice brochures
Health forums or events
Health tradeshows
Writing health-related columns in local or neighborhood publications
Other traditional marketing methods may be less effective for medical practices and depend on where they are located and how much marketing budget they have to spend.
Billboards
Radio Ads
Television Ads
Ads in regional or national newspapers
Digital medical marketing is something your competitors are using, so it should be a top priority for your medical clinic. Not everything has to be taken head-on at the same time. Take steps to purse a marketing strategy on these areas step by step. As you continue your efforts, you'll grow more comfortable and be able to expand your digital medical marketing to reach new patients.
Digital Medical Marketing Introduction For Doctors
Common question asked by doctors and medical practice managers: Why digital marketing is important in healthcare?