Digital Medical Marketing Introduction For Doctors
Common question asked by doctors and medical practice managers: Why digital marketing is important in healthcare?
When someone says to you, "Do you know what digital medical marketing is?" do you reply, "Oh yea, it's like analog medical marketing but with electricity!" If that is the case, then you may not be as knowledgeable in digital medical marketing as you may think. There is no need to panic! Below is a quick primer into digital medical marketing with areas you should look at to promote your medical practice and increase your patient count.
Patient Trust is the Foundation of Medical Marketing Success for Your Practice.

Provide excellent patient care and medical services to your target patients. Treat every patient like they are your first patient. Healthcare practices who focus on high customer/patient service have a solid foundation. From medical marketing perspective, Patient Trust starts from the moment they land on your website or read your online reviews. Your medical website is the number one factor in having a thriving and successful business. Here are some important aspects of your medical website.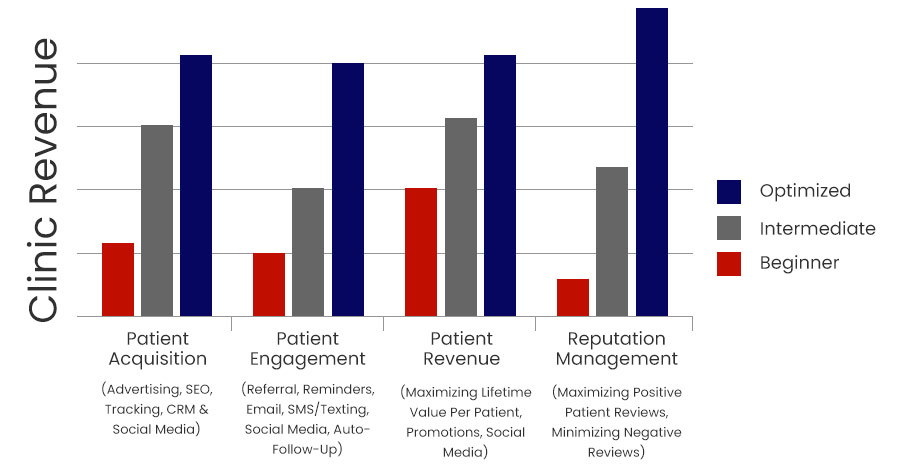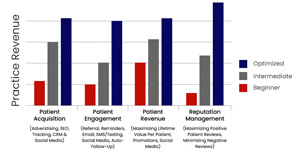 Table of Content:
Step 1 – Get a secure SEO optimized conversion website
Step 2 – Directory Listings
Step 3 – Content Marketing and SEO of Website
Step 4 – Online Ads – Pay Per Click Search Ads & Social Media Ads
Step 5 – Social Media Marketing
Step 6 – Email Marketing
Step 1 – Get a secure SEO optimized conversion website
There is no advertising and engagement medium, past or present, that compares to an excellent SEO optimized conversion website.
8 Important elements of your medical website:
1) It must be mobile optimized – Beyond mobile friendly.
2) It must be optimized for conversion and A/B tested.
3) Content must be fresh, relevant, on-topic, non-plagiarized.
4) SEO Optimized for Google search engine, with proper technical structure of the website and each page.
5) Based on WordPress (or other proven platforms).
6) Secure and HIPAA Compliant and ADA adherent
7) Should promote and build your brand.
8) Must be pretty, attractive and branded with your own brand.
Step 2 – Directory Listings
Once you have a website established, you need to get your business listed online. While there are dozens and dozens of directories out there to be listed in, the two biggest where you will receive over 90% of your traffic is Google and Yelp. Creating or claiming your Google Business Listing and Yelp Listing is crucial for people to find you online and to find directions to your medical practice. Google feeds its directory information into Google Maps, and Yelp feeds its information into Apple Maps. The vast majority of mobile users use these two mapping apps, so it is essential to be listed on them. Facebook business page can also be considered a directory listing. Also these directory listings should have a link to your Website's URL – As this will help with "back-links" for SEO purposes for your website.
These directories are where you will receive, reply, and manage your online reviews. Reviews of your medical practice can make or break your business. Not only should upi be responding to negative reviews, to mitigate a patient's complaint or concern, but you should also be soliciting reviews from your happy patients. Building up an extensive reservoir of positive reviews will help offset the occasional negative review.
So most important directories are 1) Google My Business page 2) Yelp business page 2) Facebook business page.
Step 3 – Content Marketing and SEO of Website
The phrase "Content is King" is often thrown around in this area of digital medical marketing. The idea behind content marketing is to become an authoritative expert in a subject area. How do you do that? By writing content. For example, if you offer flu testing at your medical practice, you shouldn't just have a page with the sentence, "We can test you for flu at our facility. Please call for details." Instead, try to write 500 to 1,000 words about the flu. Include the likely symptoms, treatments, and when someone should seek medical treatment. By providing more information, you show search engines that you are an authoritative source about a subject. Any service you offer should have a content page dedicated to it. When someone in your area is searching for your service, this will show search engines that you are a relevant result to present to someone.
Step 4 – Online Ads – Pay Per Click Search Ads & Social Media Ads
Pay per click ads are exactly what they sound like; you only pay for the ad if someone clicks on them. You bid on specific keywords, and if you have the highest bid, your ad will be triggered when people are searching for something online in a search engine. Google Adwords and Bing Ads are the two major players in this market. How much it costs to display an ad for a keyword depends on a variety of things, including but not limited to keyword popularity, local competition, and relevance to your website. Pay Per Click ads can be simple to set up, but the more work you put into dividing your efforts into campaigns, ad groups, and local targeting, the more efficient your marketing money will be for you.
Display ads are ads that display on websites. Facebook and Instagram ads are a very good example of display ads. You often see these ads displayed on social media, news, shopping, or blog websites. For these ads, you pay each time they are displayed, regardless if they are clicked on or not. Think of it as a billboard on the side of the highway; it is being displayed at all times. Generally, you pay per impression, or how many times it is viewed. You can also pay by how many "clicks" you receive – sometimes this is also called "Action" so pay by per "action" or click.
Step 5 – Social Media Marketing
Using social media to reach your current and potential patients can be a potent tool in your marketing toolkit. While a potential smaller audience than what you would reach with search ads, you can target your ads to a much more specific audience. Not only can you target a the location, but you can target by age, gender, interests, and income in some cases. In most cases, these ads work like display ads. You pay for them to be displayed, not for clicks. You usually get an estimate of how many clicks and impressions you will get for the budget you set.
Many medical practices will use ads on Facebook, Instagram or Twitter to promote new services or changes in hours for patients who follow their accounts and others in the area.
Step 6 – Email Marketing
When you take in new patients, you collect a variety of relevant information. One thing you should try to collect from every patient that visits your medical practice is their email address. It is needed to not only communicate with them about their visit to your facility, but it can also be used for email marketing. The key to email marketing is quality over quantity. Emailing your patients every day with sale pitches or mundane announcements like your hours for that day is going to be too much. Not only will they unsubscribe to your mailing list, but you might be labeled a spammer, and your emails will automatically be pushed to a spam folder for future patients. Instead, try to email your patients no more than once a week but ensure that email is worth reading. It should be informative, content rich, and engaging. You not only want this email to be read, but also forwarded to a patient's friend and family members.
Email marketing can also be set up to send reminders to patients for future appointments, follow up visits, birthday greetings, and "we haven't seen you in a while, come get a checked up." While email marketing isn't as effective as it used to be, it can still be a powerful tool if used properly. You may need to provide additional instructions to your patients on where they can find your emails as many email providers automatically reroute emails to "business" or "promotional" folders and, therefore, can be missed.
Digital medical marketing is something your competitors are using, so it should be a top priority for your medical clinic. Not everything has to be taken head-on at the same time. Take steps to purse a marketing strategy on these areas step by step. As you continue your efforts, you'll grow more comfortable and be able to expand your digital medical marketing to reach new patients.
Digital Medical Marketing Introduction For Doctors
Common question asked by doctors and medical practice managers: Why digital marketing is important in healthcare?