A urologist needs an effective medical marketing plan, much like all healthcare professionals. The competition combined with a target audience that may not be well versed in what a urologist does or why they would need one only heightens a need for a good marketing plan. The experts at PatientGain.com have worked with many urologists to help create and implement an effective strategy to help their business grow. Below are some effective medical marketing tactics for urologists.
What is a urologist?
When someone needs a doctor to diagnose and treat diseases or conditions affecting the urinary system, they need to see a urologist. This system helps the body keep clean by removing wastes and toxins from the body. A urologist can provide treatment for areas along the urinary tract, including the kidneys, bladder, ureters, and urethra. A urologist can also be involved with conditions involving reproductive organs and adrenal glands near the kidneys and other parts of the urinary tract. Some conditions impact not only the urinary system but also the reproductive system.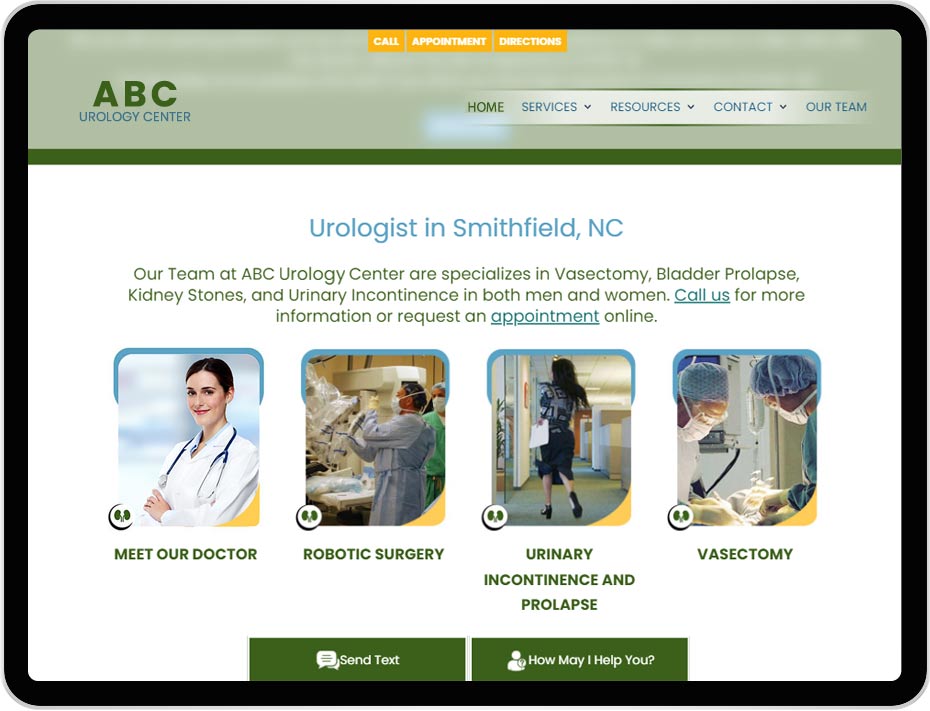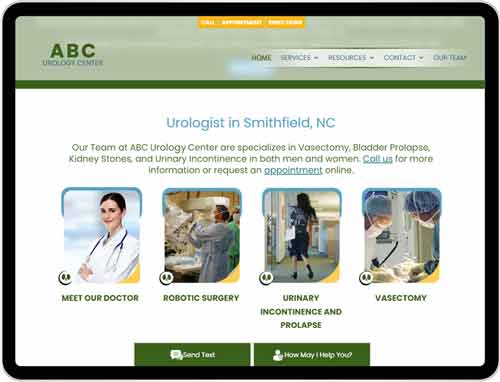 How can content marketing help a urologist get more patients?
When people look for a urologist online or search for symptoms that a urologist treats, they will begin their search using a search engine. The goal of that search engine is to provide the user with the best results that are relevant, useful, informative, authoritative, and engaging. The content on a website plays a role in the organic ranking of that site in search results. Content marketing is the process of improving that content, so it looks more relevant and authoritative to the search terms being used to find it. An excellent medical marketing plan will make content marketing one of its top priorities.
A urologist's website needs to be unique, informative, and engaging. The length of this content also plays an important role. The longer content is, the more likely someone will spend time reading it. The amount of time someone spends on a website is an indicator to Google that the site was relevant to their search results. A site visitor will spend more time reading 800 words about urinary tract infections than a site that has only 100 words. With that said, those words need to be useful content, not just fluff. Content also needs to be reviewed regularly to see if any additions, improvements, revisions, or cuts need to be made. Content marketing is a continual process, and a site should be updated throughout the year. Updating all at once can confuse search engine algorithms, making it think it is a brand new site. An owner should keep a list of their content pages and review a few every month throughout the year. For sites that do not have much in the way of new content or revisions, consider adding a monthly blog to provide new fresh content for search engines to look at.
How can SEO (Search Engine Optimization) help attract more patients for Urologists?
Often working hand in hand with content marketing, effective SEO is the process of helping search engines associate target keywords with a website. Ideally, the keywords that a target audience uses when looking for services or treatments provided by a urologist should be placed throughout a website. These keywords should be relevant to the content on the page and not stuffed into every paragraph possible, known as keyword stuffing. For example, keywords related to treatments or conditions involving the bladder should not be on the page covering treatments or conditions for kidneys.  
The keywords used to improve SEO should be a mix of technical medical terms and common terms for conditions, symptoms, and treatments. This mix will give a website some authority and catch potential patients unfamiliar with the more formal language that urologists use. SEO keywords should also use both short-tail keywords and long-tail keywords. A short-tail keyword is an SEO Keyword that has three words or less. These keywords tend to cover broad subjects, get higher web traffic, are competitive among other practices, but get low conversion rates. Long-tail keywords are four words or more. These keywords focus on unique or specific subjects, are not as competitive with other practices, drive lower web traffic numbers, and have higher conversion rates. Long-tail keywords are often used in voice search, as people often speak in longer questions using voice search. As voice search becomes more important for search engines, long-tail keywords will become essential for websites.
How does online reputation impact a urologist when trying to get new patients?
For any patient visiting a urologist for the first time, among the first things they will do before making an appointment or stepping through the front door is check the online reputation of that practice. They will read through online reviews and assess if this is the right provider for them. A good online reputation will make online marketing more effective, while practices with a lousy reputation will struggle to get new patients and find their marketing be less effective. Reputation management is critical for any urologist to see their practice grow and be successful.
The first step in reputation management is creating or claiming listings on Google, Yelp, and Facebook. The vast majority of reviews will live on these sites, most of them on Google. Google and Yelp require further verification from business owners to claim their listings to ensure no unauthorized access. Once claimed, a urologist can manage their reviews and reputation. To get reviews, a practice only needs to ask. Sending patients a review request via email or a text message is often all it takes to get a reliable percentage to leave comments. Ideally, it should take as few clicks as possible to leave a review. If possible, it should only be one click. Every additional click added to the process will result in more patients abandoning the process altogether.
Reputation management also includes responding to reviews. For positive feedback, thank the patient and express hope that they are feeling better or can serve them again in the future. Negative reviews need to be handled more carefully. First, contact should be attempted with the upset patient to see if their issue is a misunderstanding and can be resolved. Even if they do not change their review, the practice's response can include mention of contact. This will show patients that their feedback is read and taken seriously. For those who can not be identified or do not call back after leaving a message, ask them to call the clinic to talk about their experience. Unfortunately, most negative reviews will not be deleted by Google, Yelp, or Facebook. The best way to deal with them is to respond to them and outnumber them with positive feedback.
How can online appointments help a urologist get more patients?
Online appointments are becoming much more common in the world of healthcare. Patients today are taking a much deeper interest in their health and want more control in the decision-making process. Allowing them to schedule and manage their appointments is a great way to give them that control and make it easier for the staff at a practice to manage appointments. One of the most significant advantages of online appointments is that patients can make or manage their appointments at any time. They can make appointments after business hours, overnight, during holidays, or when no one at a practice is available to pick up the phone.
Online appointment systems must be HIPAA compliant, so keep that in mind when putting one in place. Not all appointment systems are HIPAA compliant and can not be used in a healthcare setting. For example, the appointment system that Facebook Business Pages make available to businesses would not work for a urologist. The data is not protected in a way that meets HIPAA standards. Any data needs to be submitted over a secure connection and stored on secure servers that limit and track access to data. A urologist practice is responsible for all data that is sent to it, regardless of whether it asks for protected health data or not.
Finally, good online appointment systems will have a reminder alerts built into them. Text and email reminders the week of and the day before appointments will help cut down missed appointment rates. This will make the health outcome for the patient better and make the urologist's office run more effectively. Online appointments systems also should have a secure connection with a patient management system. This will help keep staff and doctors in the loop with their schedules and prevent double scheduling mishaps. If possible, offer patients the ability to fill out their paperwork in advance online and upload it directly to their patient file. This will save time for the patient and he staff plus lead to fewer errors being entered into a patient's record.
How does a medical engagement chatbot help urologists get more patients?
Some patients need more help finding information or accomplishing tasks than others. When they need assistance, they will often call or message the front desk and get support from staff. However, the staff may not always be available to answer their questions or help with something immediately. A current or potential patient may contact a practice after hours, during the holidays, or when patient volume is high. The longer it takes for a practice to get back to someone, the higher the chance for a competitor to steal that patient. A medical engagement chatbot can significantly help a urologist convert website visitors into patients.
The staff at the front desk of a urologist will know the most common questions and help requests they receive from current and potential patients. Many of these questions can be answered by a chatbot instead of staff. Chatbots mimic human conversation but are programmed with questions and answers from people. These programs are work best if programmed with the most common things the front desk staff handles every day. Ideally, a chatbot will take these questions and help requests, freeing up the staff to tackle more complex patient issues. For any question that a medical engagement chatbot can not help with, it will take that question or task, the person's contact information, and then store it on a secure dashboard for an assigned staff member to respond to later. Chatbots are also highly customizable, so if a new question or health concern appears suddenly (like COVID-19), these programs can be quickly updated with new content.
Is there an offline or traditional marketing method still effective today in a word of digital marketing?
While traditional or offline marketing has taken a backseat to digital or online marketing, it should not be ruled out completely. Direct mail marketing can be very effective if properly used and tied in with other online marketing campaigns. Unlike other forms of traditional marketing, a mail campaign can target specific households or neighborhoods with marketing materials. Direct mail marketing is beneficial to reach an audience that may not be as savvy with technology or not spend a lot of time online, like senior citizens. Combined with digital marketing, it is also another touchpoint with a current or potential patient that helps urologist establish their brand. Also, the US Post Office offers special discounts for urologist practices depending on the volume of mail they send out and if they are prepared ahead of time to enter their distribution centers.
Any direct mail marketing campaign aims to be viewed by a household and not end up in a recycling bin. While mail volume has been down over the last decade, a marketing piece still needs to compete with other mail in a mailbox. A urologist's office should experiment with different sizes, colors, and even the texture of the paper being sent out. All mail marketing pieces should have the name of the urologist's practice, address, hours of operation, phone number, site URL, and call to action. The effectiveness of direct mail marketing can usually be tracked by an increase in phone calls, certain online keywords, or direct URL traffic.
The experts at PatientGain.com are available to help you create a high-performance healthcare website. Contact us today, and show us what we have done for other practices across the country!