Marketing Strategies for Med Spas. Key Apps to Beat Your Med Spa Competition
Strategies to Beat Your Med Spa Competition, Start With Improving Your Website and Apps for Websites. Specifically Focus on Your Mobile Website. 82 Percentage of Your Clients Visit Your Site From a Mobile Device. These Strategies Used by Top Medical Spas in the USA and Canada, Costs $799 Per Mon.
You have the top-notch facility and great employees, and you just need to let the rest of the world know about your med spa. Wisely spending your marketing dollars on some of the strategies below can help boost your patient count and revenue.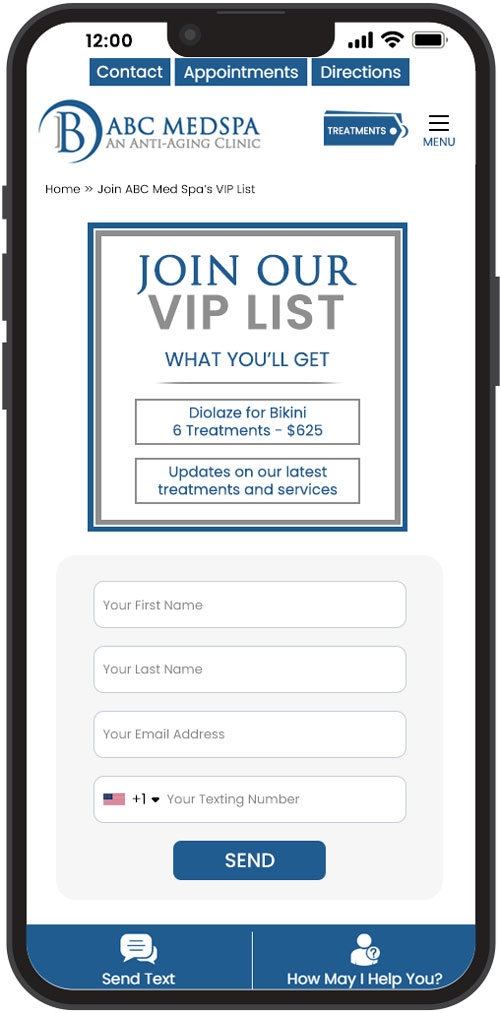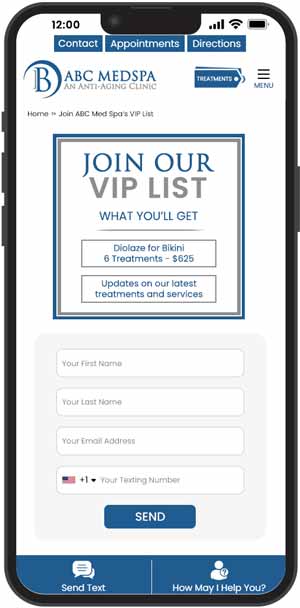 1. Sweepstakes Apps Embedded in Your Mobile Website
Who doesn't like to win something? Sweepstakes are a great way to boost customer engagement and interest in your med spa. The bigger the prize, the more engagement there will be. Prizes could be something simple like a gift card or a sample pack of products. You could be more creative in you offering, such as "one massage a month for a year" or something of that nature. Regardless of the prize, make sure it fits your target audience and encourage as many people as possible to participate.
The mechanics of the sweepstake can be as simple as you like it to be. You could do a random drawing broadcasted live on Facebook or another social media channel. While this might decrease overall engagement, having entrants submit a video, photo, or something else as their entry can provide for some great content for you to share across your social media channels. Be mindful of any sweepstake that has someone "vote" for their favorite to win. These can be hijacked by less scrupulous people where they cheat to win. If it is obvious, it can leave a bad taste in everyone's mouth.
For prizes of significant value, be sure to write up simple rules and regulations page to let people know the nature of the contest.
2. Promotional Offers Apps Embedded in Your Mobile Website
Promo offers are a great way to drum up interest in a service for a period of time. Frequent promotions include a certain percentage of a service or services when combined. If you are looking to clear out old inventory, a clearance sale is also very popular. These promotional offers can be open to everyone or limited with the use of a promotional code that only specific customers can use to save. You can share these promo codes on social media channels or through email marketing. Avoid making a discount deep or valid for too long where it begins to cut into your overall profit margin. At the end of the day, you do not want to lose money when someone uses a promotional code unless your goal is just brand awareness.
3. Search Ads on Google Search
Search Ads are incredibly useful in targeting audiences near your med spa. Choose keywords that match up with your services and begin to bid on them. The cost of those keywords to display an ad depends on several factors, including how popular they are and if competitors are bidding on them. To get the most bang for your buck, ensure that the keywords you pick are relevant to your website and appear on your website.
For additional search ad opportunities, claim your Google Business profile so you can display your med spa ads on Google Maps.
4. Social Media Ads on Facebook and Instagram
Although advertising on a social media channel provides you with a smaller audience compared to search ads, you can target more specific demographics. You can target not only geographic areas to advertise, but also gender, age, income, and even interests. Use social media advertising to target current and potential customers with your services. Engaging photos or videos make great content to boost with marketing dollar.
Don't rely on a single ad, photo, or content to promote social media ads. Test out different messaging, content, and pictures to see what works best with your target audience. Keep refining your message; you will get the most out of the promotion. You also may want to consider advertising sweepstakes or promotions you are running to increase its reach and participation. (Just remember to end the advertising campaign when the promotion or sweepstakes end)
5. Med Spa Promotion
You may spend a lot of time in your facility and know it from top to bottom. But your current customers may not, and those who have never visited before certainly don't. Share pictures of your facility, rooms where patients receive care and services, and even images when you decorate for the different seasons. A video tour of what a potential patient can expect when coming to your med spa for a service can also be a powerful marketing tool.
6. Influencer Marketing
Influence marketing can be tricky and challenging to pull off. Influence marketing refers to people who have large social media followings to post and talk about your med spa. These "influencers" harness the power of their followers to promote your business. Some influencers are actively looking for content to share across their social media channels and may be willing to plug your med spa in exchange for some free services. Some influencers, however, require more compensation for their time and efforts to plug your med spa online.
Be smart and do your research first before you decide to hand over any free services or monetary compensation. Follow the influencer for a while to see what sort of things they post and make sure they do not post content that may be controversial. Search back into their timeline and contact a business they promoted months ago and contact them. Ask that business what the experience was like and if it provided good ROI (Return on Investment.)
7. TV Commercials and Infomercials
TV commercials work for med spas if they are not cost-prohibitive. It can be expensive to not only create a high-quality video for television but also purchasing ad time to broadcast that video. If possible, try to film something you can reuse more than once. A TV advertisement promoting a special sale, clearly showing a time of year, or focusing on an employee will have limited usage. Create an informative, but a generic video showing off your facility, highlighting some services, and giving some basic information such as a phone number or website is the way to go. Bonus: This video can also be used for online marketing purposes, as well, for example YourTube Ads.