Easy SMS Marketing For Doctors & Medical Practices $199/mon
Patient engagement and patient acquisition is moving to mobile. Review of 162 online campaigns reveals that 72 percent of the patients are searching for medical services on a mobile device. Exactly the same test revealed that this number was 54 percent 12 months ago. Our data predicts that this number will be close to 90 percent in the next few years. 97 percent of patients read text messages.
Mobile Devices And Patient Engagement Is On The Rise
It is no secret that more and more users ( patients and clients ) of your medical clinic are using the mobile devices to find your clinic and once they are your customer, they use the same device to interact and engage with you. In fact somewhere between 68% to 75% of your potential and existing patients/clients are doing so.
Patient engagement and patient acquisition is moving to mobile. PatientGain.com's platform is designed so that you can easily take advantage of this trend.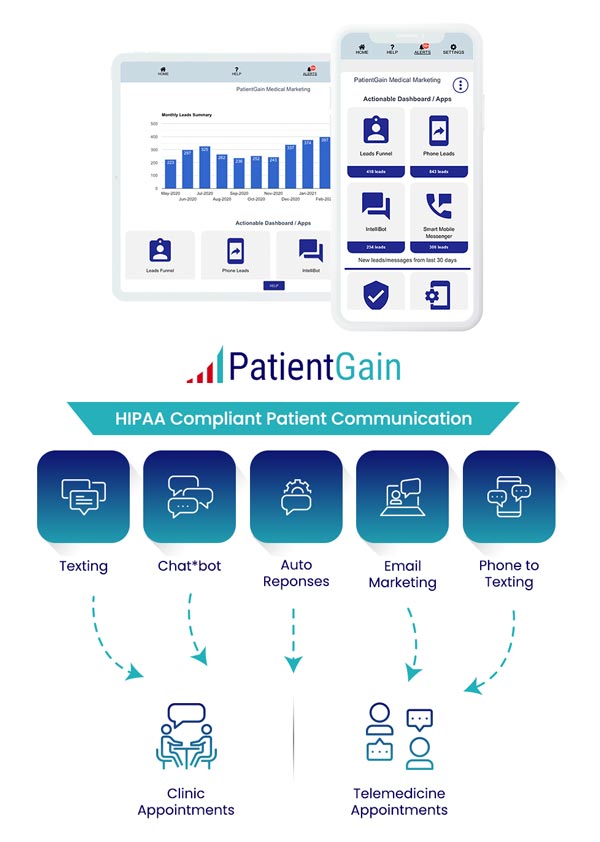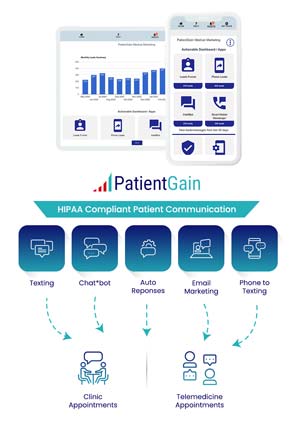 Patient's Mobile Experience
Mobile user experience starts when a user searches for your service or medical clinic. A typical potential patient would do a Google search. Our data shows 81 percent of the patient searches initiate on Google search engine, Yahoo + Bing are approximately 8 percent and rest are all others. In the example below, user searches for a clinic type followed by a city name.
Patient Engagement Starts Before A Patient Becomes A Patient
Data collected from hundreds of medical websites and thousands of online campaigns suggests that patient engagement starts before a patient becomes a patient. Before a patient walks into a clinic, medical practice, or a healthcare facility, prospect patients are often engaging with healthcare businesses on the web before they call or walk-in. Around 78 Percent of prospect patients search for medical services online before selecting a provider. They may be searching on Google for "urgent care in el cajon ca", looking at a clinic's online ratings and reviews, their website, or their social media page. PatientGain.com provides your medical clinic with cloud-based secure HIPAA compliant apps that help you execute a outcome-driven patient engagement strategy. Top medical clinics use these apps every day to acquire new patients and keep them engaged with their practice. Healthcare business owners have a wide range of engagement strategies implementation, but most owners go through four stages of maturity.
Your Clinic's Mobile Strategy Starts When a Patient Lands on Your Website
9 Proven Steps for Mobile Patient Engagement
1) Your mobile site should be responsive to the patient's devices.
2) It must be INTELLIGENT & if you are a medical clinic, then it should be running on secure HIPAA compliant servers. Malware can be easily added to any non-secure website – and this malware gets downloaded on the user's device as they view a site.
3) It should also be an A/B Tested website.
4) It should not have links that can distract the patient – Use your BRANDING on the top area
5) Only most important information should be on the top area – All information should be force-ranked
6) Limit scrolling by providing most important information first
7) Use the technology to gather user's behavior
8) Use the gathered data to improve the layout and conversion of the patients – PatientGain.com compares your data against the BEST CLINICS and improves your performance
9) Embedded apps on your mobile site will increase your conversion rates dramatically
PatientGain.com is a proven medical marketing solution, includes apps, websites, SEO, HIPAA compliance and account management.