Six Pillars of Healthcare Digital Marketing
6 Pillars of Healthcare Marketing for Dentists and Physicians. Used by the Top Practices in USA and Canada.
Your patients start their journey to find your medical services in many ways. They may have immediate need for specific service, like a parent looking for a "pediatric urgent care near me" and over 78 percentage of the time they will go to Google and search. And majority of the time, this is done on a mobile cell phone device. You may have a client looking for specific MedSpa service like "Coolsculpting clinic near me" for non-invasive weight loss. There are millions of ways patients search and look for your services, every day, however, majority of the patients use online mediums like, Google, Facebook, Instagram, Yahoo, Bing etc to find a medical service provider.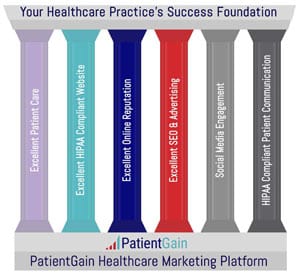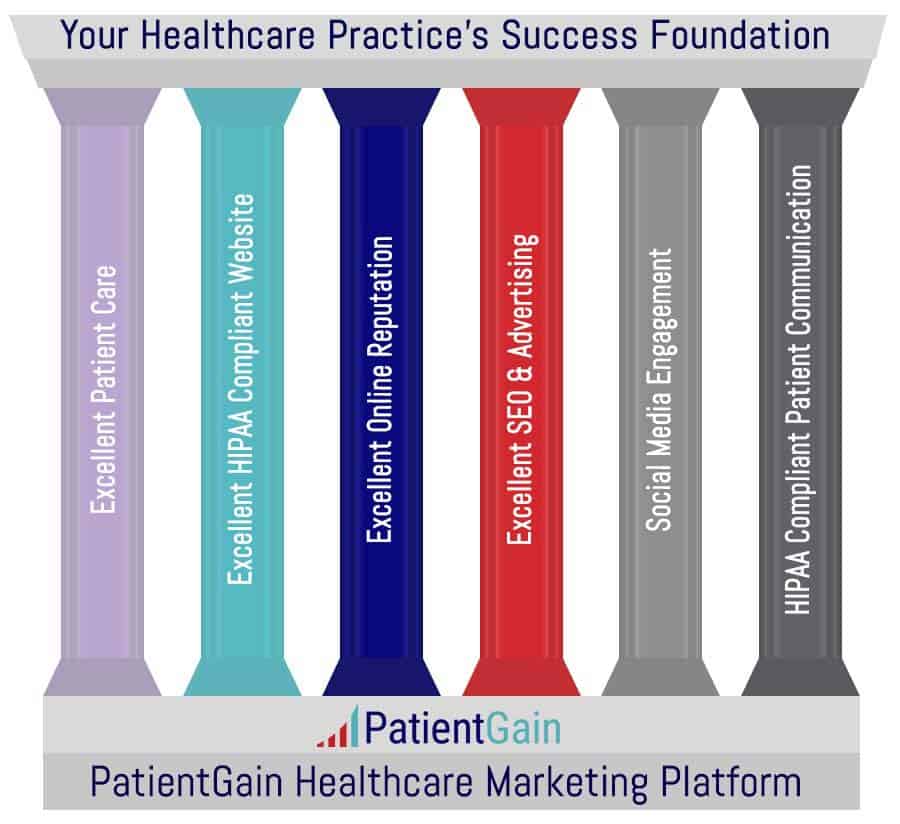 Pillar No 1 – Medical Practice's Foundation
Provide excellent patient care and medical services to your target patients. Treat every patient like they are your first patient. Healthcare practices who focus on high customer/patient service have a solid foundation.
Pillar No 2 – Medical Practice's Website
Your website is the face of your practice. Your website can be an asset or a liability. Your website should look and perform better than your clinic's practice. Moreover your website should always build your brand.
Pillar No 3 – Medical Practice's Online Reputation
Your online reputation – Number of 5 star reviews on Google is the most impactful strategy you can employ. Facebook, HealthGrades, Yelp and other sites are also important however Google Reviews ranking of 4.3 or higher with 100 or more reviews will make a huge impact on your business. We have seen the data and we are excited to help you achieve this.
Pillar No 4 – Medical Practice's Online SEO and Advertising
SEO and Advertising. Having a nice website is a Step 1 – But if you are not improving the SEO on a monthly basis, you will be left behind. Advertising on Google and Facebook will further improve your patient acquisition.
Pillar No 5 – Medical Practice's Social Media Strategy
Social media strategy to engage with existing and potential patients. Key strategies include
1) Installing intelligent apps on your Facebook business page
2) Posting weekly on Facebook business page
3) Posting daily on your Google Posts.
4) Advertising on Social Media – Start with Facebook
Pillar No 6 – Medical Practice's Patient Communication Strategy
Effective patient communication strategy. Here is a great starting list
1) HIPAA compliant communication from your website
2) HIPAA compliant communication from Facebook.
3) SMS-Texting from your website
4) EMR integration
5) Monthly Email marketing
6) Daily Posts on Google Business Page
7) Weekly Posts on Facebook
8) Monthly Promotions offered
9) Conversion Technology and Techniques