Patient Marketing For Doctors & Medical Clinics
Effective Patient Marketing For Doctors & Medical Clinics is Included in the GOLD Service. Costs $799/month. Used By Top Practices in USA and Canada.
When a new patient comes to your medical practice, they aren't just magically wandering off the street and just so happen to find your location. Patients will go through a series of stages before they even walk through that front door to use your services. Once they visit your medical practice, this process doesn't end. Several more steps are needed to secure the loyalty of that new patient, so they are regular visitors to your medical practice.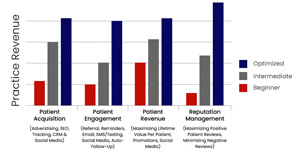 Patient Marketing Starts With Understanding Patient Journey and Engagement, Eventually Patient Advocacy.
Stage 1: The patient finds you online
Google Organic Search
This medium includes your website appearing on the organic results for specific keywords. Your ranking in these results depends on many things. Some of the most important factors are location, the keyword being searched, site content, and the relevance of your site to the search.
Google Local Search
A local search on Google employs Google Maps to find a business. It would be best if you had a claimed Google Business Listing to be placed accurately on the map. This listing is where you will also receive your Google Reviews.
Google Search Ads
Search ads or Pay Per Click Ads (PPC) will display your website above the organic results. Your ad appearing will depend on your current ad budget, competition, and where you have targeted your ad campaign.
Facebook Business Page
Your Facebook Business page will appear when people are searching for health care options on Facebook. While the search percentage is smaller than Google, this is becoming more and more common. Having a fleshed-out business page helps you present yourself as a great choice to a potential patient.
Facebook Posts
When you post on your Facebook Page, there is a chance that one of your fans may share it on their Facebook Profile. This, in turn, exposes your medical clinic to others! Make your posts engaging, informative, and rich with content to encourage sharing.
Facebook Ads
Much like Google search ads, you are targeting specific areas with ads on Facebook to promote your medical practice. You can target by location, but also by gender, age, income, and interests.
Email Marketing
While not as effective as it has been in the past, this is a low-cost way to reaching your current and potential patients. The key is not to spam them with emails every day and to only send high quality, content-rich, and informative emails.
Online Advertising Using Multi-Channel Approach
With phone apps being more and more popular, there could be an opportunity to advertise your medical practice in apps. These are generally display ads, and you pay for your advertisement to be seen a certain amount of times.
Stage 2: Patient researching your medical practice
Once potential patients narrow down their healthcare choices to your facility, they will investigate further. They will see what services you offer and if they match their needs. They may map out their drive to your location to see if they can quickly get to it via car or public transportation. Patients will also take a look at your recent reviews to see what patients have to say about your facility, and they will also find the last negative review to see what problems others have had. They will also explore your website, so you need to present them with quick loading and user-friendly experience.
Stage 3: Conversion
Once a patient decides you are a good fit for their health care need, they will book an appointment. They will do this via phone, text, online appointment system, or live chat. The more readily accessible you are to make an appointment, the higher this conversion rate will be for you. You will get more appointments if someone can make an appointment 24 hours a day compared to only when you are open, and someone is at the front desk to answer the phone.
Stage 4: Post Conversion
If the process of making an appointment is complicated or if a potential patient encounters an unprofessional staff member, it could derail the patient acquisition process. Strive to make it easy for a prospective patient to pre-register, confirm an appointment time, and find location your medical practice.
Stage 5: Appointment
When a patient visits your medical practice, facilitate their entire visit to your clinic. Try to keep paperwork at a minimum, see the patient at the appointment time, and make sure they are visiting a clean, well-maintained facility. Friendly faces at the front desk and a doctor who will take their time answering every question will go a long way to securing their future business.
Stage 6: Post Appointment
Follow up with your patients and see how they are doing after their appointment. If they came in ill or injured, a follow-up call a few days later to check in on them will be much appreciated. If they have not started to recover, a follow-up appointment may be needed. If it was a routine visit, call to see if they had any additional questions they forgot to ask. This is a great time to send a review link or survey to measure their satisfaction with your services.
Stage 7: Advocacy
For this stage, aim to build a long-term relationship with your patient to make them a "loyal patient." Generally, this is done through email marketing and social media. Try to encourage them to sign up for your mailing list and follow you online for updates, news, and event specials. While constant, daily contact is not needed, regularly checking in with them will keep them engaged with your medical practice. Take this opportunity to check in with them to remind them of routine checks ups or to let them know you are available for any of their needs.
Stage 8: Refinement
Now is the time for self-assessment.
What went right?
What went wrong? How could you make any part of this patient acquisition process easier for your staff and the patient?
Is there a way to make a process quicker and cheaper to complete?
Do any of your staff need retraining on an aspect of this process?
How has recent patient acquisition affected your reputation?
This self-assessment doesn't need to be done after every new patient to your clinic, but it should be completed periodically. Constant refinement of your patient acquisition and advocacy process will not only make it better, but it will help you secure loyal patients.