PatientGain Medical Spa Marketing Company Offers Marketing Services and Plans $999 to $1999/mon.
Services include social media, SEO website management and email marketing. Used by top medical spas and aesthetics practices in US and Canada. We offer plans with and without upfront costs.
PLATINUM monthly service costs $999/mon.  
PLATINUM+ monthly service costs $1999/mon.  
As the owner of a medical spa, you always want to expand your patient count and bring in new people to take advantage of the variety of services you offer. This means you need to capture every possible lead from your website so you can try to convert them into regular patients to your medical spa. Some medical spas take a very passive approach to converting website visits into patients. You can take advantage of their laissez-faire approach by deploying a variety of apps from PatientGain.com to capture those leads.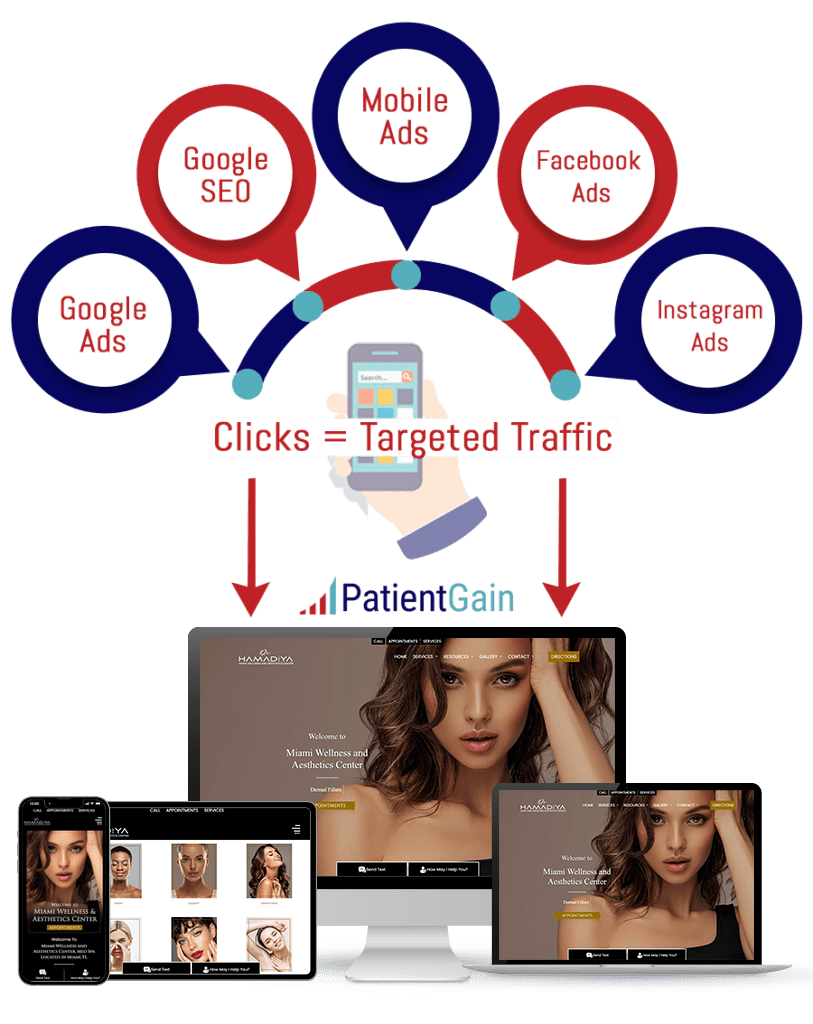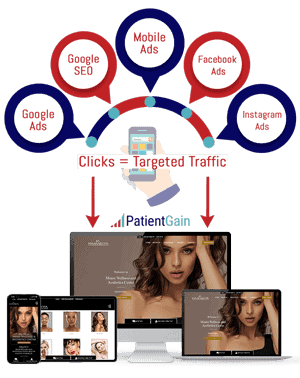 These tools are available to you from our experts at PatientGain.com.
1. IntelliBot from PatientGain
How many times do you answer the same question day in and day out from patients? We have an IntelliBot available that can easily engage with your website visitors and answer their common questions. This gives patients the answer they want right away, making it more likely they will use your medical spa services. If our bot encounters a more difficult question, it will securely capture patient information and forwarded it to your staff to follow up.
2. Promotions App
Running special promotions on your website is a great way to boost your sales and patient count. Current and potential patients who were on the fence about using any of your services may jump at the chance to save some money. Our promotions app will capture the information from your patients so you can follow up with them later. All of your promotions are controlled from your dashboard. Anytime you update your promotion, it is updated on your website and any other location we embed this app.
3. Sweepstakes App
Sweepstakes can generate a lot of interest with current patients and your community who may not yet have used your services. However, sweepstakes often present challenges. Sweepstakes must be offered as fair, transparent, and easy to enter. Our sweepstakes app makes it easy for people to join, capturing their information to pursue for future leads. We can help you run a fair, exciting sweepstake to help generate business, awareness, and capture leads for you to follow after it has ended.
4. Call Tracking App
When patients call your medical spa, this is your opportunity for the staff at your front desk to connect with them. Here, they can make appointments, answer questions, or even "upsell" them on other services you may have available. It's critical to see how much time your staff is spending on the phone with potential patients. If phone calls are quick and short, that is usually a red flag that something is out of sorts.
If you are using separate phone numbers for different marketing campaigns or services, we can track and report to you what phone numbers are being called. Instead of checking multiple phone bills to see how many times you are being called, all of this information is available on your dashboard.
5. The Deal App
Are you offering specials or deals for your medical spa services? You can manage all of your deals on your dashboard. Anytime you make an update, it will be published to your website, and we have the ability to embed these deals and specials onto your Facebook Business Page. Instead of having to update multiple pages at once, you can make one update that is pushed out to various locations.
6. Texting/SMS App
You are busy. Your staff is working. Neither one of you may be able to sit in a chair and monitor the dashboard for incoming inquiries from potential patients. Every moment you wait to respond back to these potential patients is another moment they have to explore a competitors' website. We can set up text alerts to alert key people at your medical spa for alerts from your dashboard. It can be set up so that certain people only get specific alerts that apply to them. This will increase the turn around time to respond to patient requests, making it easier to capture a lead and convert it.
7. Online Appointments App
One of the easiest ways to lose a potential customer is not being able to give them exactly what they want when they want it. When someone visits your medical spa's website, explores services, and find something they like, they are going to want to make an appointment. If your business is currently closed or if your front desk is occupied helping someone or is swamped with phone calls, this potential lead may not be able to make an appointment. Sure, they may call back later, or they might explore the website of your competitor.
Our online appointment app allows them to make an appointment right then and there. We can ensure your services are not double booked and keep all of your appointments organized online in our dashboard. It is like having a receptionist available 24 hours a day, every day of the year who can help multiple leads simultaneously!
8. Survey App
It is great when someone visits your med spa for service. However, you want to convert that person into a regular client. Our survey app creates another touchpoint with your lead so they can provide feedback on the services they receive. First, it will help you maintain the high quality of your services by being alerted if any of your patients has had a negative experience. Second, this is your opportunity to connect with a patient and encourage them to leave a positive review of your services. PatientGain.com has a survey app that allows you to easily and securely connect with your patients.