Healthcare Practice Marketing Secret Sauce
A medical practice in today's highly competitive health care industry needs a medical plan to compete. While many services offer boilerplate marketing plans that just cut and paste tactics used elsewhere, PatientGain.com helps medical practices develop strategies that fit their needs and reach their goals. A medical practice's marketing plan should perform well and get their business to be in the top 5% of local performers in an area. The area that this goal should be applied to depends on several factors, like population density and competition. For example, if a medical practice was operating in a rural or medium populated area, their target area may be a radius of 20 to 30 miles. However, if that same medical practice was in Downtown Los Angeles, their target area may shrink to a circle of 3 to 5 miles.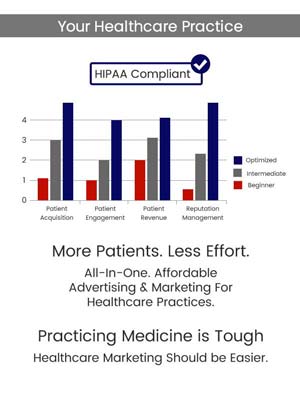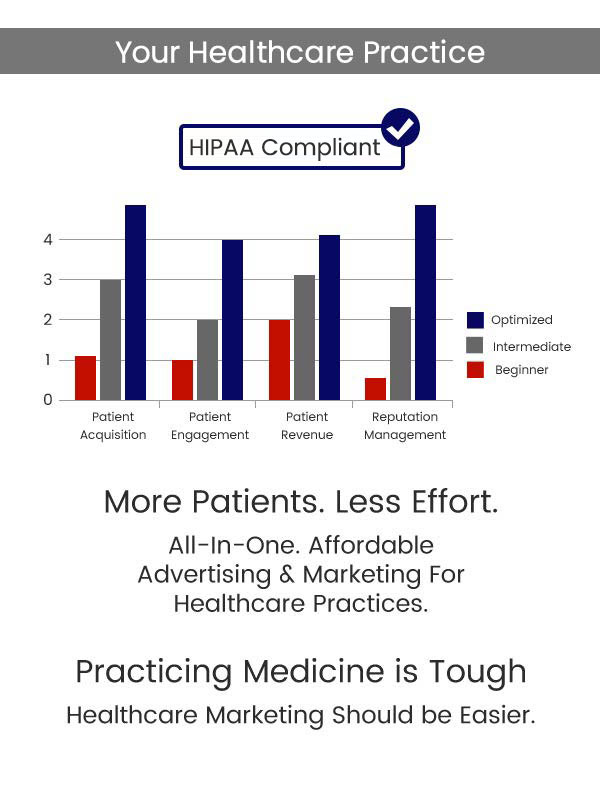 PatientGain.com can help your medical practice achieve this goal with our experts and years of experience. Below are the steps a medical practice can take to help them achieve the goal of being in the top 5 percent of performers in a local targeted area.
A medical website that is optimized for mobile
The vast majority of medical practices, if they review their website analytics, will learn that the majority of their website traffic will come from mobile devices. Depending on the target demographic of the medical practice, they may even see three-quarters of their website traffic arrive from mobile devices. Good website analytics, like Google Analytics, will even break down what type of mobile device and browser is used to view a website. Always remember that this data may not always be available, depending on the user's privacy settings. With that in mind, a website needs to be optimized for mobile use. Failing to do so will not only give a visitor a poor experience when viewing a website, but search engines will penalize an unoptimized site in mobile search results.
The first step in making sure a website is optimized for mobile is to ensure it can be easily viewed and used on a phone as it is on a desktop computer. Every feature available on the desktop version of a website needs to be available for the mobile version. Often, the best way to do this is to use a responsive website. This kind of website will automatically rearrange and adjust text, pictures, and other elements of the website to fit on the screen it is viewed on. While most screen sizes are roughly the same today, it will make sure it works best on the screen it is being viewed with. A mobile version of a website was popular in the past, but it can be challenging to keep that and a desktop version of a website up to date and in sync.
One of the most significant factors that impact a patient's experience on a mobile website and influence the organic rank is the site speed. How fast a website loads is critical in ranking and keeping the attention of a potential patient. If a website on someone's phone is slow to load or, even worse, freezes a phone's browser, they will immediately go and visit another website in search results. A mobile website must load quickly to perform well. There are a few frequent culprits that impact site speed that a web designer needs to look out for to maintain a quick loading speed.
First are pictures that are not optimized for the web. A high-resolution picture may be needed for print ads and direct mail marketing, but it is not required for a website. High-resolution photos are large and therefore take a much longer time to download, reducing overall site loading speed. Small pictures that still have a tremendous amount of detail will work. Another issue that some medical practices make a mistake with is using videos that directly upload from a site to a page. These huge files should be hosted on a video platform and then embedded into a site. Finally, technical SEO issues such as codes and programs that operate behind the scene can break down and cause a higher loading speed. These all need to be monitored regularly because problems can occur, unexpectedly, throughout the year.
A medical website that is optimized for conversion
A medical website not only needs to be optimized for mobile devices, but it needs to be optimized for conversion no matter what device it is being viewed on. What counts as a "conversion" for a medical practice may vary from business to business. Generally, a conversion is an action a medical practice would like to see a website visitor accomplish. For most, but not all, this means for a website visitor to make an appointment. There are some different ways a medical website can be optimized to boost conversions.
First, there should be a call to action throughout the website. A call to action is usually bold words or a picture telling a patient their next step in their journey. Messages like "Call Today," "Make An Appointment," or "Learn More About This Procedure" are examples of a compelling call to action message on a medical practice's website. These calls to action should be on the home page and service pages to lead patients to the next steps in their journey. They should help them either make a call to a clinic or to make an appointment with them.
To boost website conversation, a medical practice should also deploy an online appointment system synced with their patient management system. Giving patients the ability to make and manage their appointments can help give them ownership in their healthcare. This sense of ownership leads to more conversions. Online appointments also allow patients to make appointments outside of regular business hours or when the phone lines are busy. For example, if someone wakes up at 1 am not feeling well, they can make an appointment online in the middle of the night. This is much more effective than calling and leaving a message at a medical practice and hope the staff listens to it before all appointment slots for the day fill up. An online appointment system is available 24 hours a day to assist patients!
Strong local SEO tactics
While many medical practices may have heard of search engine optimization or SEO, many may not understand what Local SEO is and how it impacts their rankings. Search engines consider many factors when presenting organic results, including location. The local SEO for a medical practice needs to be considered to help boost its overall rankings in organic results. Local SEO is not hard to tackle, but it does require specific attention. First and foremost, the address of a medical practice should appear on every page of the website. Generally, most practices put this at the top of every page. Consider going the extra mile by putting a "Directions" page on the website as well. This Directions Page should have detailed directions to medical practice from multiple directions. It should list significant streets, landmarks, and other nearby towns and communities.
There are often "map results" in search results after paid ads and before organic results. Map results do not always appear in search engine results, but they often occur when looking for a business, like a medical practice. Generally, map results show three results, and many search engine users will not scroll past the map results to review organic results. As such, a medical practice must show up in these map results. For Google, which has a vast majority of search engine market share, this means claiming or creating a Google My Business Profile. It will have to be made when starting a new practice, but there might be one already made if it has been operating for a while. Regardless, there should only be one profile, and the practice should control it. To verify ownership, a postcard is often sent with a code to enter. Once verified, the profile needs to be in sync with the information on the website. If there are any differences, it can impact overall Local SEO and organic results. Make sure the following is the same on a Google My Business Profile and a medical practice's website:
Name
Website URL
Address (including any Suite numbers)
Hours of operations
Services offered
Phone number
Location map pin
To strengthen the Local SEO, consider embedding a Google map of the location onto a website's "Directions" page.
Using the short-tail and long-tail keywords for SEO
Many doctors and medical practice owners know that search engine optimization involves the use of keywords. However, many are unaware that two types of keywords are used for SEO work: Short-tail keywords and long-tail keywords. Short-tail keywords are three words or less and cover a broad topic. These keywords generally get a lot of website traffic, are very competitive, but have lower conversion rates. Long-tail keywords are four words or more and often cover a specific topic. Unlike their cousins, they have less web traffic, higher conversion rates and are not as competitive. A mix of both types of these keywords is vital when working to improve the SEO of a website.
Examples of short-tail keywords
Doctors Near Me
Sunday Urgent Care
Self Pay Clinic
Examples of long-tail keywords
Doctors open late on Saturday night
Dentists offering root canal discounts
Where is there a pediatric doctor near me?
If a medical practice can match the exact keywords and phrases in their content in search queries, they stand a better chance of being listed as an organic result. Long-tail keywords are becoming more critical when it comes to voice search. Voice search is often used with smart speakers or digital assistants. Users are more likely to ask questions of four words or more. Concentrating on potential patients' possible questions and incorporating those questions into the content of a medical practice can do wonders to boost search results.
Use effective content marketing
Working in tangent with search engine optimization is content marketing. While SEO is sprinkled throughout a website, content marketing is the cake and icing those keywords are sprinkled on. Content marketing can does wonders to boost organic results and help convert website visitors into patients. Effective content marketing is a continual process that website experts must monitor.
Search engines like a website that has engaging, authoritative, unique, and informative content. To accomplish these benchmarks, remember the phrase "Content is King." The more a medical practice has on a topic, the better it will look to a search engine. Generally, aim for 500 to 1,000 words for a specific page on a website. This is generally enough to draw in a website visitor without presenting them too much information to read. It will also have a website visitor stay on a site longer, which also helps overall search rankings. Do not copy and paste content from other pages, even if it is from another part of the website or a website owned by a medical practice. This will hurt your organic rankings.
Content is not just limited to texts. Here is a very effective from a primary care practice's marketing based on promotion app and an image used to attract new patients: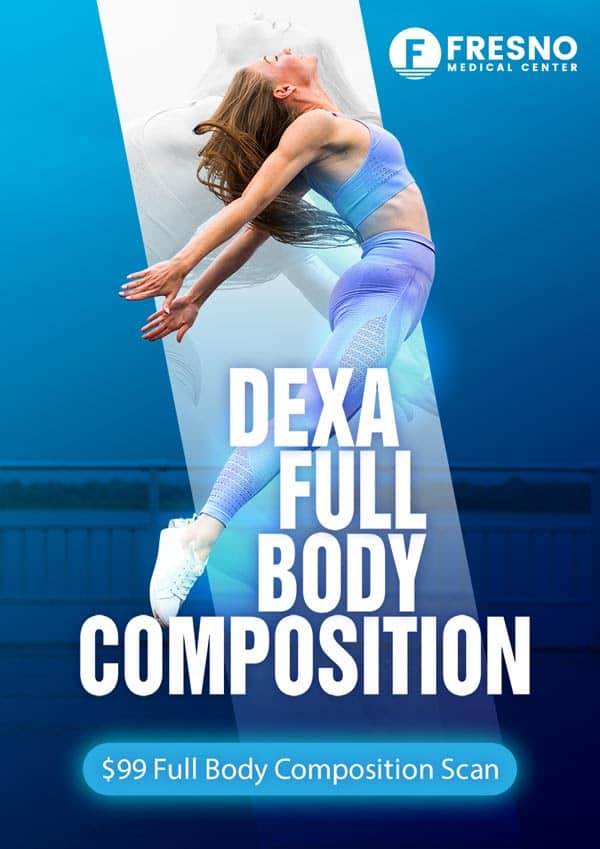 Finally, a website must constantly be updated to stay current, something search engines love to see. A medical practice should be adding, updating, or revising content continually. Updating a whole website's content all at once is not recommended, as it will likely impact search rankings. Instead, update little by little throughout the year. Search engines like to see that, and it will help boost overall rankings. If a website's content is perfect, consider adding a monthly blog so that new unique content is added to a website regularly. Create a list of all the pages on a medical website and write down the date of the last time someone read it from top to bottom. Try to check a page once or twice a year. You may find minor mistakes, grammar updates, and areas that need to be revised because new procedures or services are offered. This will help medical practitioners track changes, so they don't accidentally ignore a page for several years.
The experts at PatientGain.com are standing by and ready to help. Let our team show you what we have done for other practices. We can help your medical practice grow and achieve its goals. Call today and let us get started!