Medical Marketing Apps For Doctors & Medical Practices
PatientGain.com's Platform Has Over 20 Medical Marketing Applications For Doctors. Included in the GOLD Solution, Costs $799 to $1299/mon. Hundreds of Clinics in USA & Canada Use This System.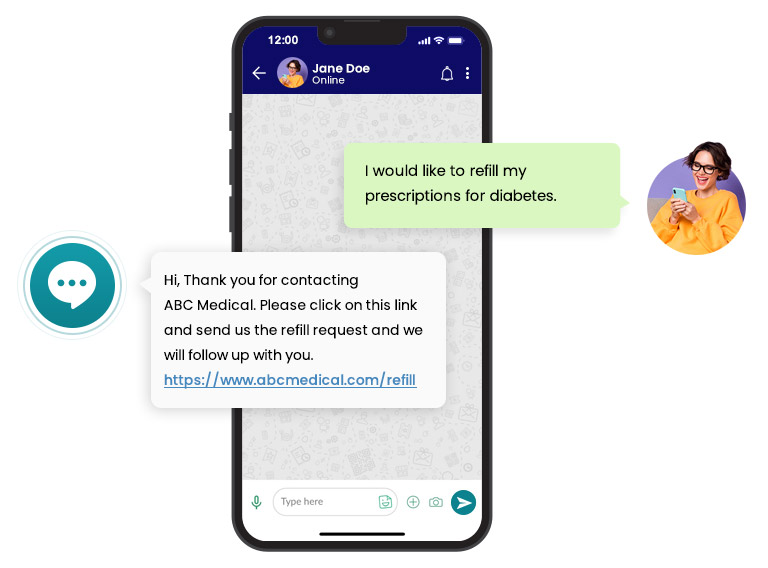 Generally in the medical industry there are 2 types of chatbots.
1. Medical Marketing ChatBots
Designed to convert a visiting patient (on your website) to a paying patient. These are called Medical Marketing ChatBots. They are not designed to diagnose any specific medical conditions. They have 2 important roles.
A) Existing patient – direct them to a specific information. Like how to reach the office after hours. Access to patient portal etc.
B) New potential patient – as a potential patient lands on your website, you have 15 seconds to engage them. So the medical marketing ChatBot should "walk" the potential patient through specific questions and steps so they can eventually become your patient.
2. Medical Symptom ChatBots
Health chatbots ask patients a series of questions – so the ChatBot can understand basic information, the condition of a patient – this is very much like the front desk staff in a clinic, who would ask 1) Do you have a fever? 2) Are you in pain? so to understand their symptoms and then the ChatBot sends the data to doctor, who can provide diagnoses and prescribe medicine in real time.
There Are 6 Key Areas Every Medical Practice Should Consider for a Successful Marketing Plan.
1. Outreach and Referral Program.
2. Employee Advocate Marketing.
3. Patient Referral Marketing.
4. Social Media Marketing.
5. Traditional Offline Advertising.
6. Digital Online Advertising.
PatientGain.com's Approach to Healthcare Marketing Success : 12 Key Features of GOLD Solution
Reasonable Monthly Fee With No Upfront Setup Costs or Implementation Costs
Pay-Per-Month Model For Healthcare Medical Marketing
No-To-Low Risk Medical Marketing Model
Same System is Used By The Top Clinics in USA & Canada
Awesome Service and Support – Phone, SMS-Texting, Email, Ticketing or Web-Based Meetings
Awesome Software & HIPAA Servers Located in USA
Assigned Account Manager Located in USA/Canada For Your Medical Clinic
Generous Discounts for Multi-Location Healthcare Companies
Website, SEO, Advertising Management, Social Media, Email Marketing, SMS-Texting, Apps, HIPAA Compliance ALL Included in a Single Solution.
Eliminate 5 to 8 Vendors and Centralize Control of Your Online Healthcare Marketing & Advertising Success
Save 40% to 60% in Monthly Spend by Using Our Proven Single Vendor Model
Save Approx 30 Hours a Month – No Need To Learn and Operate Multiple Apps