What Does a Medical Marketer Do?
A medical practice needs to promote its business to be successful and compete with other medical practices in a community. The owner and doctors at a medical practice are entirely too busy to give the proper amount of attention to marketing their healthcare business.
With that in mind, a medical marketer is often tapped to provide marketing support for a medical practice. They have a wide range of skills and marketing strategies to successfully promote a business and work with doctors, owners, and other stakeholders to develop an effective medical marketing plan.
What are some effective ways medical marketer will promote a medical practice?
In the modern world of digital marketing, content is the fuel that feeds the marketing machine. "Content is King" is not just a clever phrase but very much plays into some of the tools a medical marketer will use to promote a medical clinic. Managing that content is often the job of a medical marketer, and it is managed in several ways to help boost website visits. Most notably, search engine optimization and content marketing are two marketing strategies a medical marketer will use.
1. Search Engine Optimization or SEO
When someone types in a phrase or keywords into a search engine, that search engine will return what it believes are the most useful and relevant results to that user. The ultimate goal of a search engine is for someone to immediately find their answer, click once, and then be on their way. If a user has to come back multiple times to search results or use several different searches to find what they are looking for, a search engine will see this as not providing the answers that a user wants. SEO work helps tells a search engine what your website and the pages associated with it are about. If a search engine better understands what your website is about, the more likely it will be connected with the right person looking for the services your practice provides.
The key to effective SEO work is developing a list of keywords and phrases potential patients are much more likely to use when searching for your services. If potential patients use words and phrases looking for your services and those words and phrases do not appear anywhere on your website, you come off as less relevant or authoritative to a search engine. Therefore, it is challenging to be presented as a relevant organic result. Insert relevant keywords throughout your content, including some of the phrases you think patients would use when searching. This will help boost your relevancy and organic rank. With that said, do not pack every single possible keyword into every paragraph of your website. Search engines frown on this and will penalize your rankings for it.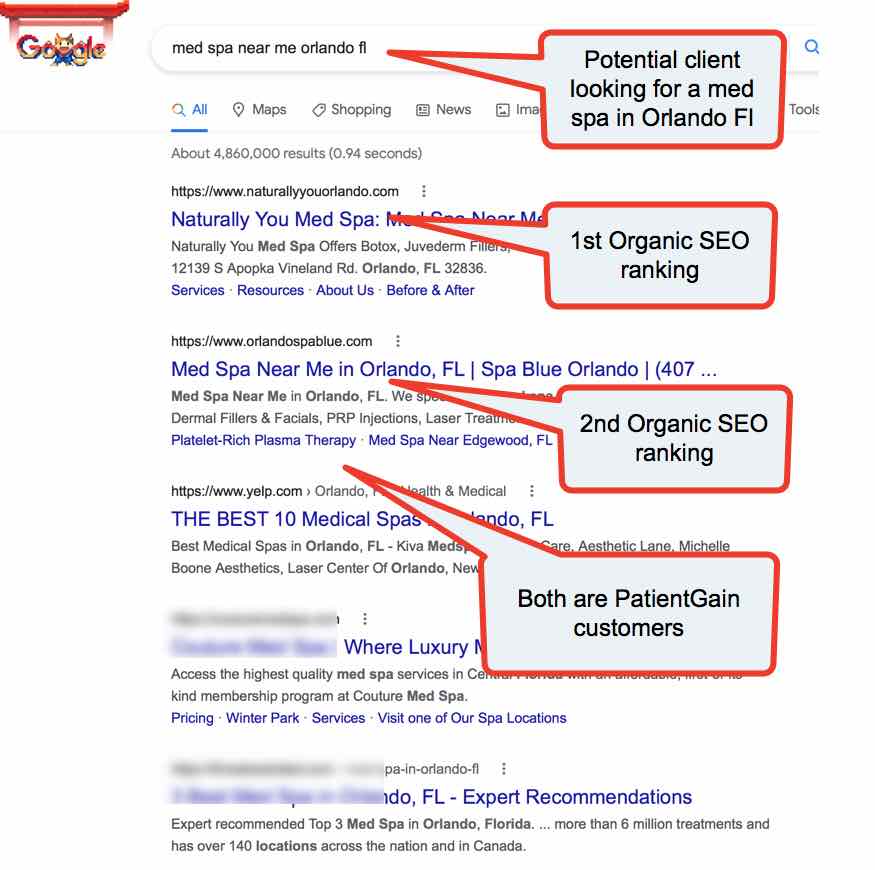 2. Content Marketing
Often working in tandem with search engine optimization, content marketing is the process of keeping your content unique, updated, informative, and authoritative. Your pages need to be of decent length and kept up to date as best as possible. The more words your site has on a topic, the more relevant and authoritative it will appear and the longer a website visitor will spend on that site. For example, if a page on a competitor's medical website covering a topic is 200 words and your site's page has 1,000 words, a visitor will spend more time on your site. This will make your medical practice's website appear to be more relevant and authoritative for a search engine.
Content marketing is a continuous process. Medical marketers will not pick one month out of the year and then update every page on a website. Instead, they will continuously update a medical practice's website. They will see what pages need to be refined, updated, expanded, or additional content pages to be added to a website. The process should continue throughout the year. A search engine sees a site that is continuously being updated as being increasingly relevant and authoritative. From time to time a medical marketer can not make any significant improvements or additions to the medical practice. In that case, they will often add monthly blogs to a site written or reviewed by the doctors who work there.
3. Is a medical marketer in charge of a medical practice's social media properties? What social media channels should they concentrate on?
The chances are that a medical practice does not have a dedicated social media manager working for them. Generally, a social media manager is needed when multiple social media channels at several locations all need to be monitored simultaneously. For example, if there are eight urgent care centers and each center has three social media channels. A social media manager would be needed to organize those 24 social media properties. Barring that, a medical marketer is generally in charge of social media channels at a medical practice. Social media has become an increasingly popular way to connect with current patients and connect with others in the community. A medical marketer does not make the mistake that most doctors do when they run their own social media channel by continually promoting the medical practice and services the services they offer. While it is essential to highlight services occasionally, you should also share health stories, local news, and blogs on health topics to remain relevant and useful to your target audience. There are numerous social media channels available to a medical practice, but below are most likely to be helpful.
Facebook The vast majority of medical practices have a Facebook Business Page. Text, pictures, videos, and events can be posted and shared across Facebook's platform. A Facebook Business Page also gives admins access to analytics, allowing them to see which posts are performing the best.
Instagram Although owned by Facebook, this platform behaves differently than a Facebook Business Page. A picture or a video must accompany all posts on Instagram. Instagram also makes good use of hashtags which will allow your posts to reach a larger audience.
Twitter While not as popular as the two above, many medical practices maintain a Twitter account. On Twitter, you can post text updates, pictures, videos, and polls. While it also uses hashtags, you have a limited number of characters available to post. Many use Twitter to engage in community discussions or to share stories.
Many medical marketers subscribe to a posting service that allows them to manage multiple social media channels at once. Instead of writing a social media post for every channel they are on, they can instead write and schedule a post from a single log-in. This allows them to schedule posts into the future, so it is released when they want it to be. These posting services can save a tremendous amount of time for a medical marketer.
Another critical tool with social media is their advertising platforms. While the potential reach of these paid ads is smaller than paying for ads on a search engine, you can refine your target audience to a greater degree. Like search engine advertising, you can select an area you want to advertise in and keywords to focus on. In addition to that, you can also set the age, interests, and gender you want to advertise to as well. These combined factors allow you to push your ads to a very receptive audience on social media channels, leading to increased conversions!
4. How can a medical marketer use traditional and offline marketing strategies to promote a medical practice?
Do not be convinced that all advertising must be online or digital. Traditional and offline marketing, if deployed correctly, can be a potent tool in the promotion of a medical practice. A medical marketer will use every tool at their disposal to increase the patient count of medical practice and help it grow. Two of the most popular offline marketing strategies a medical marketer will use are Direct Mail Marketing and Community Events.
Direct Mail Marketing- You may think that mailing something to people has fallen out of favor. While mail volume has decreased over the years, you can use this to your advantage! Less mail volume means you have less to compete with when your marketing material arrives. Direct mail marketing is a great tool to reach patients in another way, and you also may reach people who have not seen your online marketing efforts. Unlike other traditional marketing methods, there is a degree of targeting available to it. You can select what addresses you will mail to, ensure only those in the neighborhoods you want to target will get your message.
Ideally, you want to design a marketing piece that will stick out from all the other mail someone receives that day. You can accomplish that by making your mailer an unusual shape, using different colors, and even using thicker paper will get someone's attention. Every mailer designed should have the name of the medical practice, the website, phone number, address, and a call to action. Mailers should be sent out without time-sensitive information on them. While you can promote a specific date for a promotion, they should be received with enough time to make plans and account for any unforeseen mailing delays.
Another direct mail marketing tactic that many medical marketers use is sending small, useful items to households. The most popular things sent to houses include pens, magnets, and small calendars. This can be very expensive, so medical marketers tend to do this sparingly. However, all of these items should have the name of the medical practice, phone number, and website URL to continually remind those using it that services are available.
Community Events – Attending community events throughout the year is an excellent traditional marketing strategy that medical marketers are often in charge of managing. On a smaller scale, a community event may be as simple as an "Open House" at a medical practice or organizing a "Free Screening Day" at their location. These events often bring in current patients who may bring friends and family with them who are not current patients but could be after visiting! To expand these events' effectiveness, a marketer will advertise them using digital marketing techniques such as email marketing or promotional posts on social media.
On a larger scale, a medical practice can participate in community-wide events where many different vendors and organizations come together for a purpose. These events can be things like spring festivals, summer concert series, fall festivals, charity runs, or just a general community day. These events allow local businesses, such as your medical practice, to purchase tables and set up an informational stand or booth. It should be staffed by knowledgeable employees who can talk to people about the services offered at a medical practice. Generally, a medical marketer will also be there to manage the day and select the best staff members for the event. Many medical practices that participate in these events also offer a medical screening, such as a vision test or blood pressure screening. Results will be written on an informational card for the person to take home. The card, designed by the medical marketer, will have the results of their screening and all of the contact information they need to reach the medical practice to follow up.
Another opportunity to promote a medical practice during a community event is to become a sponsor. Becoming a paid sponsor will result in your medical practice being featured prominently in marketing materials before and during the event. Some medical practices may even offer their services for free in exchange for some promotion during the event. While many community events will have an ambulance on standby for a medical emergency, a medical tent for minor issues and injuries is often needed. Providing this service to a community event will help with brand awareness and build a good reputation with the community. The ability to provide this medical service depends on many factors, but it is something a medical practice should consider if the opportunity arises.
The expert team at PatientGain.com are the medical marketers you want running your medical practices marketing campaigns. We have years of experience in promoting medical practices to increase their patient count and grow their business. Call today and let us show you what we can do for you!