Physical Therapy Digital Marketing $699/mon
There are approximately 209,000 physical therapists and 38,000 physical therapy centers/clinics in US.  All of these centers provide essential service to millions of patients. However they all need a simple medical marketing solution to acquire and retain patients.
Having all the equipment you need at your physical therapy clinic is not going to be helpful if you have no clients to treat. To get that patient count through the door, you need to market your physical therapy practice. Effective medical marketing will help increase your patient count and grow your business. PatientGain's GOLD solution offers a complete solution.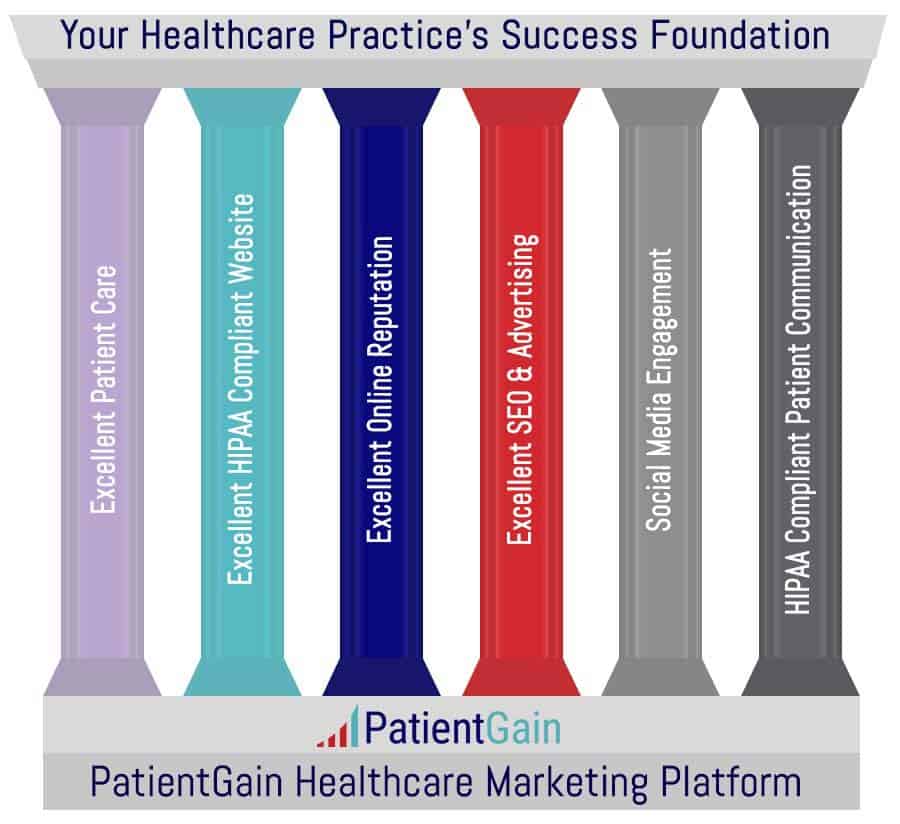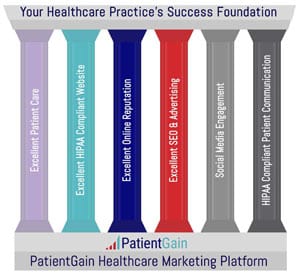 Below are some great examples you can use to help promote your business and educate the community about the services you provide.
Example no 1: Start a PT website with key qualities
Your business's success is tied to your website. Start with a high quality website.
The website design should reflect your practice, using an attractively design website.
The physical therapy website should be SEO optimized.
Add separate pages for each of the main services you offer.
Add bio of each provider.
Provide links within the website and outside links.
Invest in content writing service, so there is fresh content added to your website, every month
Consider promotions for self-pay patients
Add a Chat*Bot to the website
Add a direct texting from the website app
Monthly EMail marketing should be used atleast once a month, provide useful information about the benefits of using your services
Example no 2: Start a blog
Physical therapy treatments can be told as a story. Unlike coming in for a flu test or a vaccine, if someone needs physical therapy, they will be coming back for several sessions. The goal of physical therapy is to help someone regain their previous agility or strength after an injury or illness. It is a journey that, with their permission, can be documented. Placing updates on a blog showing a patient's progress will show those visiting your website real-life examples of how your services can benefit them. Plus, by adding new content to your site it will only help your overall rankings in searches. When writing about those going through physical therapy, be sure to include keywords you want to rank for in your blog post.
Another blog idea is to review the various equipment you have, what they are used for, and how they can help someone with their physical therapy. Educating your community about the equipment you have available and how it can help is very valuable. Finally, try to include some biographies of those working for you so people can be introduced to the friendly faces who are there to help them.
By continually adding content to your website, you will improve your overall SEO rankings. Adding blog posts is a popular technique to engage in when you want to use content marketing to promote your business. If you write a blog post about updates of the services you offer, do not forget to update your website to list those new services formally.
Example no 3: Create Videos of Physical Therapy Routines & Equipment
Video marketing is beneficial in the healthcare industry, and Physical Therapy is an excellent subject to film. The exercises, equipment, and routines are more interesting to watch than other medical procedure, like getting a physical. Watching someone go through the motions of physical therapy sessions can be more impactful than just reading about it. When posted online, videos may begin to get organic rankings when people search for injuries and physical therapy routines online. Some great ideas for videos at your physical therapy clinic include:
• Common exercises for everyday injuries
• Showcase equipment and how it is used
• Interviews with physical therapists and what they can do
• "Tip of the day" to prevent injuries
• Patient highlight and review
Example no 4: Engage With The Community
Be on the lookout for community events and rent out a table to participate. While other healthcare businesses offer free screenings, like vision or blood pressure, you can provide a free injury clinic. While many people have gone to the doctor, fewer have sought out physical therapy. Here is a chance for you to talk to people and show them how you can help them feel better. Make your staff available to give injury evaluations for free. Those seeking physical therapy can get a good idea about what can be done for their injuries, and with your staff on hand, they can figure out what they need to do from an insurance perspective. Some insurances require referrals from doctors, while others have a yearly limit. With this information, you can follow up with them later to make an appointment.
Example no 5: Develop A Referral Network With Doctors
A great source of patients to your clinic will be from other doctors who have helped their patients overcome an injury. For example, if someone has been on crutches for six months because of a broken foot, they are going to need physical therapy to regain strength and agility. If you develop a relationship with that doctor, then they will send their patients to you for their post-recovery physical rehabilitation. You shouldn't assume a steady supply of patients from any single doctor, so you should develop several connections, so there is a constant flow of people who need your help. Your referral process should be as easy as possible and should be available 24 hours a day. Make an easy, secure way for these doctors to send over their patient information so your staff can follow up with the patient as soon as possible.
Example no 6: Develop A Relationship With Other Wellness Businesses
A doctor's office full of patients with broken bones does not have to be your only source of patients. Plenty of injuries happen at the gym, local sports organizations, and school sports. Develop a relationship with these non-medical businesses so that your physical therapy clinic is the go-to place for their injury recovery. Strains, sprains, and other injuries need physical therapy, and these are sometimes covered by the business or organization where it occurs. Work to get your physical therapy clinic as the designated location to get treatment for these injuries. Not only will you be able to grow your patient count, but there may be some free advertising opportunities at these locations for people who are not injured.
Example no 7: Create and Claim Listings
When someone is looking for a physical therapist on their own without a recommendation or referral from a doctor, they are going to use a search engine to research their options. One of the most valuable spots to appear on a search engine is inside the "Map Pack." This area of search results generally displays the three most relevant, although not necessarily the closest, businesses that can assist someone when they are searching online. If someone is searching "Physical therapy near me," you will want to be on that map. The only way to get on that map is to create or claim your listing in a directory. The most popular places to create a listing are on Google, Bing, Yelp, Foursquare, and Facebook. Chances are you may already have a listing automatically generated. Claim these listings to ensure all of the information is accurate and up to date. The more listings with the same information you have, the higher your overall rankings will be. Also, these listings are where you will receive the majority of your reviews. These reviews, if they mention specific services you offer, will help influence search results and make you more relevant to users. Encourage positive reviews by asking your patients to leave them after they've completed their physical therapy with you. You will, of course, receive a few negative ones, but reply to them as best you can to try to rectify whatever they are not happy with.
Physical therapy clinics help many people, and their stories make for excellent marketing materials. Showcase your staff, equipment, services, and (if possible) your patients to show the community what you can do for them. These efforts will help promote your brand and increase your overall rankings online. The experts at PatientGain.com can help you with these medical marketing efforts!