Digital Marketing For Holistic and Naturopathic Practices. Cost $699 to $999/mon
Thousands of naturopathic doctors and providers offer therapies to help patients prevent disease and achieve the vibrant health. Naturopathic strategy is to encourage a patient's body's innate healing potential through the use of therapies such as medical nutrition, botanical medicine, energetic medicine, counseling and lifestyle modification.
There are approximately 6,000 licensed naturopathic doctors practicing in the U.S. Twenty-three U.S. states and territories currently license naturopathic doctors. Trained to treat the whole person, naturopathic doctors diagnose, prevent and treat acute and chronic illness.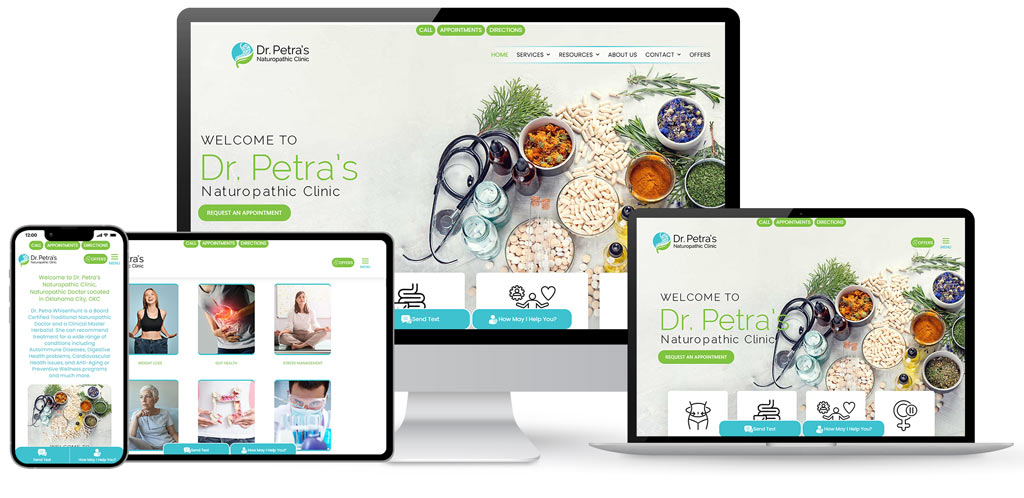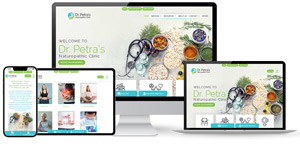 Naturopathic clinics are becoming more popular in the United States as people seek out alternative methods for medical treatment. Many people are seeking out natural substances to help their healing and are looking for guidance about what food, herbs, and water to use to help their body heal themselves. Many clinics out there claim to be managed by "doctors of naturopathic", mostly in states where this medical area is not currently regulated. To distinguish your clinic from others out there, you need to engage in medical marketing to promote your clinic. There are many out there that give naturopathic clinics a bad name, so if you can present yourself as a reliable, quality location for this area of medicine, you can rise above your competitors. Naturopathic medicine in the United States is becoming more widely accepted and used in the medical field. It is time for your clinic to stand out.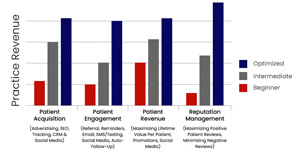 Example of SEO Marketing For Naturopathic Clinics
In this example below, you will see that there are 3 important areas for SEO rankings for naturopathic or holistic practice.
Majority of your online inquiries and patients will come from Google SEO and Google ads (PPC Ads). Our data shows 78% of your success is tied to Google. So in the example below, we will focus on the SEO marketing.
A potential patient is searching for a holistic doctor and clinic near their location. There are 2 important sections of SEO :
1. Local SEO
2. Organic SEO
Local SEO results – you can see the results – on the top of the search. There are 3 specific areas – They are all important. 1) Map listing, 2) Business listing and 3) Reviews rankings – You want to be in the top areas.
Organic SEO results – you can see the results – the first and second listing is of the same holistic practice.
Steps to market your naturopathic clinic and practice
1. Content Marketing
One of the most difficult challenges your clinic will encounter when marketing your naturopathic clinic is your community's general knowledge about what exactly you do, how it works, and what it can treat. This is where content marketing will be beneficial to your clinic. Unlike going to the pediatric doctor or the dentist, you are going to need to educate the public about your naturopathic clinic. Often, the best way to build your organic ranking is to talk about the symptoms people are suffering from and the treatments you are offering to help them. Many people will either search for the symptoms they are experiencing or the type of doctor they are looking for to receive treatment. Your content should mention these symptoms and name the kind of doctors your clinic can provide alternative treatments. Specific, educational, and authoritative content can help raise your organic rankings to put your website in front of the right eyes, looking for healthcare choices. Try to update, expand, and add content to your website, so search engines see your site as always up to date and are kept current incrementally and continually.
2. SEO Marketing
Related to content marketing, SEO is short for Search Engine Optimization. This process helps search engines better understand what content you have to offer and makes it more relevant to your top keywords and phrases. To implement effective SEO Marketing, be sure to use the keywords and phrases people are using to lookup healthcare questions. Since a naturopathic clinic is often seen as an alternative to more mainstream medicine, you should research what keywords are used to find those clinics and use them to direct people to your business. Do not make the mistake of overloading your content with as many keywords and phrases as possible. For SEO marketing to be effective, the content with these keywords needs to flow naturally add value to the content. A word salad of keywords and phrases will hurt your naturopathic clinic.
3. Deploy An Intelligent Chat Bot (HIPAA Compliant)
Chatbots are becoming more and more popular on healthcare websites, but are not yet widely adopted. Since it is likely the general public may not be thoroughly educated on what you do at your naturopathic clinic, an intelligent chatbot would be perfect for your website. Unlike the staff at your front desk, your chatbot will not go home at the end of the day or take days off. It is always there ready to answer questions and direct potential patients to the information they need. Chatbots are fully programable and can be directed to answer the most common questions people may have about your naturopathic clinic. Some of the most frequent questions potential patients ask include:
What are the directions to your naturopathic clinic?
What are the hours of your naturopathic clinic?
What services do you offer at your naturopathic clinic?
How can your naturopathic clinic be an alternative to other medical clinics?
What insurances do you take?
Can I make an appointment?
Any question an intelligent chatbot can not answer will be forwarded to your staff with contact information so your team can follow up with that patient later. Capturing this information and providing answers to potential patients leads to a high conversion rate to getting patients through your front door.
4. Reputation Management Apps
Unfortunately, naturopathic medicine has many uninformed detractors who may take the opportunity to leave negative reviews about your business without actually ever visiting your location. This can be due to their general biases against this area of medicine or previously bad experience with someone claiming to know naturopathic techniques. For these reasons, you need to manage your online reputation. To start, you need to claim or create your listings on Google, Yelp, Bing, and Foursquare. After updating all information on your listings to ensure accuracy, monitor these listings for reviews. If they are positive, thank them for visiting your clinic. If they are negative, address them publicly and try to contact the person to get a better understanding of their experience at your clinic. You may be able to change their mind and convert a 1-star review into something better.
Most of all, you need to get positive reviews. How? Most of the time, you need to do is ask. Make it as easy as possible to leave a review on Google, which is where the vast majority of your patients will find information about your clinic. The fewer amount of clicks it takes for them to get to Google to leave a review, the more likely you will get reviews from happy patients. The best way to combat negative reviews is to have an extensive reservoir of positive statements.
5. Online Advertising
Initially, it will be challenging to get organic rankings on your most essential keywords quickly. To ensure your website gets in front of the right eyes, look into online ads. Pay per click, also known as PPC ads, are a great way to capture potential patients searching online for a healthcare choice. Target the keywords they would use to find traditional medicine and direct them to your naturopathic clinic. PPC advertising is expensive, but it is a great way to drive traffic to your website when you do not quite have the organic ranking for keywords to be found online. When you begin to build rankings, you can shift your PPC budget to other keywords and services. As a bonus to effective content and SEO marketing, the more relevant your website is to keywords, the easier and more cost-effective they will be to advertise.
What is the best medical marketing company to help me promote my naturopathic clinic?
PatientGain.com works with hundreds of clients in a variety of medical fields all over the United States. You can rely on our wealth of medical marketing knowledge to create a marketing plan for your business. We are continually refining our strategies to follow the best practices being used and follow the changing trends in marketing for the healthcare industry. Instead of just hiring one person to take care of your medical marketing needs, hire an entire team at PatientGain.com. Call our experts today to set up an appointment so we can discuss your needs and show you what we can do for your naturopathic clinic