How to Market Integrative Medicine Practice
Medical marketing for your integrated medical practice can be confusing and difficult. There are 6 key strategies included in digital marketing GOLD service, costs $799/mon.
In the past, medical practices simply needed to  build relationships for referrals and get an advertising contract with  a local yellow pages company and they would get constant flow of new patients.  However things have changed. For example, over the past 10 years, there has been constant move to digital mediums.  Including social media, search engines and more recently mobile.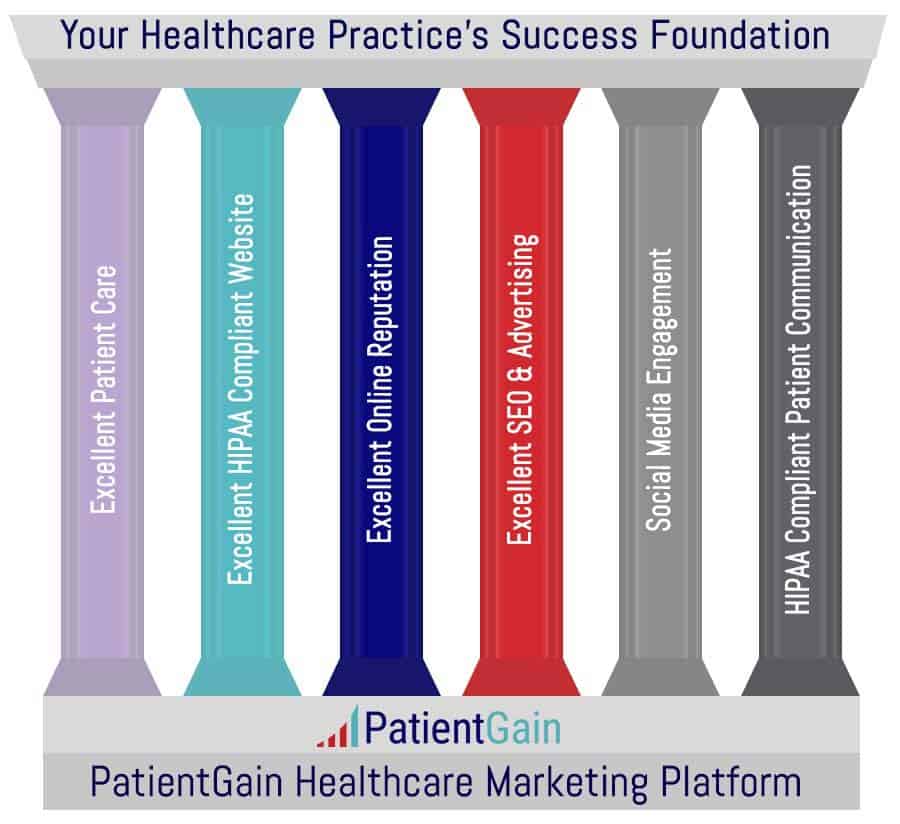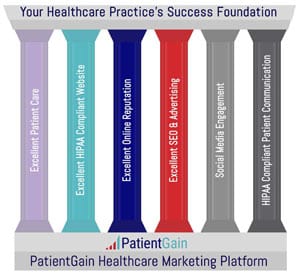 For example, if you are chiropractic practice, and your strategy is convert your practice to a medical practice and focus on patient care as a comprehensive approach so you can treat the whole patient, not just the disease, your strategy is to educate patients on how you are different and you want to promote three specific areas:
Promote each service area – meaning that patients look for specific keywords and phrases for certain "things" not knowing that there is a such a wonderful medical facility like yours.
Promote your brand – Name of your practice, its location, it's uniqueness, its patient reviews.
Promote your providers.
Your prospective patients start their journey to find your medical services in many ways. They may have immediate need for specific service, like a parent looking for a "pain clinic near me"  and over 78 percentage of the time they will go to Google and search. And majority of the time, this is done on a mobile cell phone device.  You may have a client looking for specific service like "Spinal Cord Stimulation". There are millions of ways patients search and look for your services, every day, however,  majority of the patients use online mediums like, Google, Facebook, Instagram, Yahoo, Bing etc to find a medical service provider. Our data shows that if you dominate Google SEO with some budget for Google ads, you will see an excellent ROI (Return On Investment) and you will be a fan of our service.
Like any other medical practice, an integrative medicine practice needs a well-crafted medical marketing plan to grow and succeed. These kinds of practices are becoming more common in many communities, and, as a result, competition is becoming much more intense for patients. A medical marketing plan is needed to connect to the right target audience to stand out in this increasingly crowded field. The experts at PatientGain.com are standing by and ready to help you grow your business!
What is an integrative medicine practice?
Integrative medicine is an approach to health that combines conventional medicine, seen as traditional western medicine, and various other therapies and complementary medicine that has not been traditionally a part of western medicine. For example, traditional medicine includes surgery, medications, and lifestyle changes, whereas complementary medicine includes yoga, meditation, and chiropractic therapy. This approach to medicine has been around since the 1950s, but it has been rapidly growing and becoming popular in the last two decades. 
In integrative medicine practices, a patient can receive care from a team of providers or an individual practitioner. A patient will receive traditional western medicine and complementary medicine. Traditional medicine will come from doctors who have received formal medical training and treat patients using evidence-based techniques. The complementary medicine may come from board-certified doctors or may be provided by licensed therapists.
Traditional medicine providers can include:
Physician Assistants
Nurse Practitioners
Medical Doctors
Doctors of Osteopathy
Complementary medicine providers can include:
Massage Therapist
Energy Healers
Acupuncturists
Chiropractic's
Naturopathic Therapists.
How can content marketing help an integrative medicine practice get more patients? 
When looking for treatments provided at an integrative medicine practice, many patients will begin their healthcare journey by searching online using search engines. Appearing in the top organic results can significantly increase your chance to get more patients into the front door of your clinic. Engaging in content marketing can help boost your organic rankings. The goal of every search engine is to provide its users with the most engaging, informative, and relevant list results in every search. While millions of results may be returned, practically all potential patients look at only the first page of results. A medical practice must make that first page.
A search engine likes to see a website that is kept up to date. The more up-to-date a site is, the more relevant it is to search engine users. To accomplish this, an integrative medicine practice must continually update, add, or refine the content on its website. These improvements must be done gradually over time and not all at once. If a site is completely updated all at once, it can confuse search engines into thinking it is a new site, causing organic rankings to fall. Instead, updates should be made throughout the year showing a search engine that a site is continuously being updated.
A great approach to content marketing is to keep a list of every page of the website and denote the last time the page was thoroughly read over. Try to read each page at least once a year to see if any updates, revisions, or additions are needed. You may find that protocols have been updated or that you missed a grammatical error in the last readthrough. Keeping a list will help organize a content marketing plan throughout the year. If, by chance, no significant improvements can be made, consider adding a monthly blog to the site. A blog will be full of rich, informative, and authoritative content that should be unique to the site. Monthly blog posts make for excellent content marketing content and are sharable across other marketing channels.
How can search engine optimization help an integrative medical practice get more patients?
Often working hand in hand with content marketing, search engine optimization (SEO) is another crucial part of a medical marketing plan. SEO helps a search engine better understand the context of a website to be presented as a relevant result to users conducting searches. SEO work involves inserting target keywords throughout the content of a website. These will be the exact keywords that potential patients will use when looking for integrative medicine practices. A medical practice should be careful not to put too many keywords into content or risk being penalized by search engines. "Keyword Stuffing," while effective in the early days of search engines, can easily be detected by today's search engines.
When inserting keywords into content, a practice should use both short-tail and long-tail keywords. Both types of keywords are very effective when used together throughout the content. Short-tail keywords are:
Three words or less
Cover broad topics
Generate higher website traffic
Have lower conversion rates
Long-tail keywords are:
Four words or more
Cover narrow or unique topics
Generate lower website traffic
Have higher conversion rates
Long-tail keywords are also significant for practices wanting to get an edge in voice search. People often use voice search when using their digital assistant (Siri, Cortana, etc.) or a smart speaker (Alexa, Google Home, etc.) When people use voice search, they often ask questions that are four words or more. If both long tail and short tail keywords are in content and are the exact keywords potential patients use online to conduct searches, a website has a great chance of slowly climbing organic rankings.
One thing to keep in mind when doing SEO work is that it does take time to see results. After a site completes its SEO improvements, there will not be a magical overnight boost in organic rankings. More than likely, a practice will start to see improvements in organic rankings due to this work in about four to six months. Keep in mind that competitors, if they are correctly marketing themselves, will also try to make SEO improvements on their sites to counteract your changes—monitor SEO for possible improvements or new keyword opportunities to get a jump on them.
How do online appointments help with getting more patients to a practice? 
Patients today are much more educated and likely to do their research. They want more of a say and more control in their healthcare decisions and treatments. By allowing patients to make their appointments it can entice those who wish for that control. Making online appointments available to patients through an integrative medicine practices website can be advantageous to a clinic and make operations much more efficient.
For a clinic, online appointments can help save time and open up opportunities to get more patients scheduled to be seen by providers. Without online appointments, the only way a patient can get seen by a provider is to call or message a practice and request one. When patients call or message outside of business hours, on holidays, or when phone lines and staff are busy, they will have to leave a message. A game message tag can as a practice tries to find an appointment slot that works best for them. Whenever an appointment is not secured, a patient might seek treatment elsewhere a competitor. Online appointments allow patients to make appointments at any time and take some pressure off the front desk staff to manage these requests.
What role does reputation management play in a medical marketing plan for an integrative medicine practice?
One of the first things a potential patient will investigate before making a healthcare decision is to examine the reviews and online reputation of a medical practice. If it has too many negative reviews or too few positive reviews, it can be a challenge for patients to select them for their care. Reputation management helps medical practices to manage negative reviews and get a collection of positive reviews to boost their online reputation.
The first step in reputation management is claiming a listing in directories where people leave the most reviews. The three places to claim or create a listing are Google, Facebook, and Yelp. Google and Yelp require some additional verification via phone or text to ensure that you are the actual owner of the business. Once claimed, a practice should then respond to all reviews as they come in. For positive reviews, a simple acknowledgment and thanks are all that is needed. Negative reviews need to be handled a little more carefully. First, try to contact the patient to see the problem can be resolved. A practice may solve the issue or misunderstanding and improve the rating. If not, it can still be mentioned in the reply noting that their original complaint has been addressed. When a practice can not identify who left the review, state that and ask them to call the practice to understand their experience better.
To receive positive reviews, a practice just needs to ask for them! It should be as easy as possible to leave a review with the fewest steps required. A practice should, if practical, make it so that all it takes is one click to leave a review. For every click it takes to leave a review, more and more patients will abandon the process, resulting in fewer reviews. Email and text message review requests are the two most popular ways to ask for them. Some practice will use both methods. Text messaging is the more expensive of the two but also has a higher conversion rate.
Why should an integrative medicine practice use patient testimonials on its website? 
Once a practice gets a positive review, does that mean it has to stay on that website where the review was left? Not at all! A practice can take their top reviews and put them on their website to read. These reviews can add a nice personal touch to a site and add to a practice's credibility. Also, reviews are often very valuable in terms of unique content. Unless a patient writes the same review at every medical practice, it will be unique. It is okay for a practice to edit any review for grammar or spelling corrections slightly, but they should not change significant aspects of it.
The page where reviews are posted on a site should be updated frequently to keep it fresh. To maintain HIPAA compliance, a practice should scrub reviews of any identifiable information on it. Even if a patient posts personal health information in their review, it should not be posted on a practice's website. For example, avoid using a patient's full name in a review that is reposted on a site. This will protect a site from any HIPAA-related issues.
How can an integrative medicine practice use a chatbot to help increase website conversions? 
The chatbot is becoming more widely used by healthcare practices to increase website conversions. A chatbot is a simple program embedded in a website that engages with users. It will assist website visitors in finding information, answering simple questions, or accomplishing simple tasks. For anything a chatbot can not help with, it will take the visitor's contact information and question and store it in a HIPAA compliant dashboard. From there, a staff member can follow up with them and assist.  What kind of questions and tasks a chatbot should be programmed with? Ask the staff to provide the most common things they assist with when patients contact the practice. Putting these things into the chatbot will hopefully cut down on the number of phone calls staff gets so they can help patients who have more complex issues.
One of the best features of a chatbot is that it is always available. It can assist or take messages 24 hours a day throughout the year. A chatbot can also be updated with new information or tasks as needed. For example, many chatbots were updated with new COVID-19 protocols in March 2020, when the pandemic started. This cut back on phone calls as people would use chatbots to get directed to the latest information on the website regarding the virus. Chatbots continue to be updated as new protocols as they are introduced throughout the year. It is a handy tool that every healthcare website should have!
The experts at PatiengGain.com are ready to help your integrative medicine practice grow with a customized medical marketing plan that meets your needs. Talk to our team today, and let us show you what we have done for other practices in this field of medicine. We look forward to working with you!