Digital Marketing For Primary Care Doctors & Practices (PCPs) $799/mon
An Effective Patient Acquisition & Engagement Strategy For Primary Care Clinics Requires Much More than a Website and a Social Media Page
For many PCP practices and physicians, their attempts to become more integrally connected with patients are often obstructed by a lack of effective online marketing & patient communication tools. In order to improve your practice's ability to communicate with patients, keep past patients engaged with your clinic, and prevent broken appointments, you need effective software tools. There are approximately 300,000 PCPs in USA alone. This includes doctors, NPs and PAs. However thousands of them suffer every month due to lack of patients. And the number one reason is lack of marketing.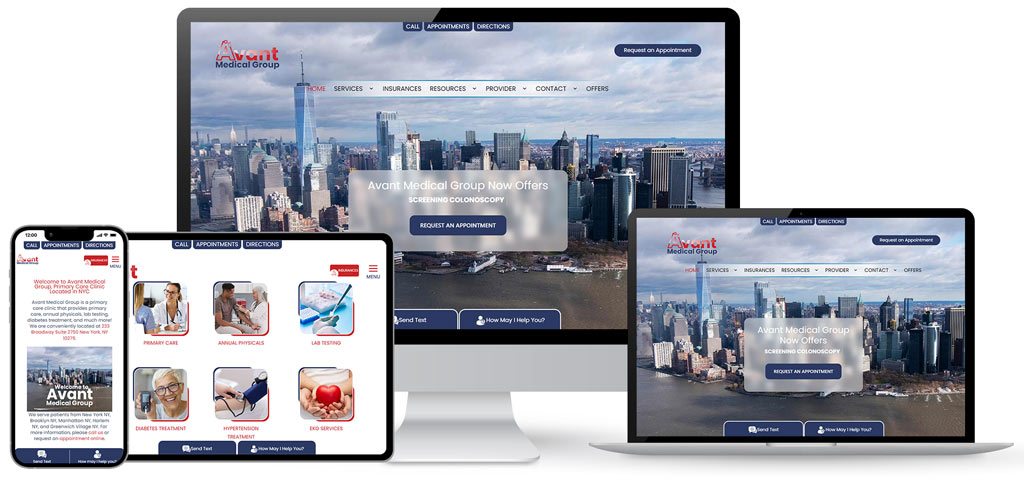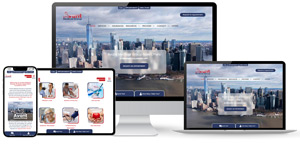 | Primary care providers in USA | Number |
| --- | --- |
| Physicians | 208,807 |
| Nurse practitioners | 55,625 |
| Physician assistants | 30,402 |
| Total | 294,834 |
Patient acquisition & retention has been automated by using PatientGain's solutions
Primary Care doctors and practices across the US have boosted their patient retention and created lasting patient relationships by simply adding PatientGain.com Apps to their existing Website and Facebook business page, or using the GOLD solution from PatientGain.
With PatientGain.com Patient Engagement software, you'll be able to put intelligence and software automation behind your website, allowing your practice to increase patient recalls, prevent broken appointments, effectively communicate health advisories, and improve your patients' wellness and compliance.
Example 1 of a high SEO and high conversion primary care website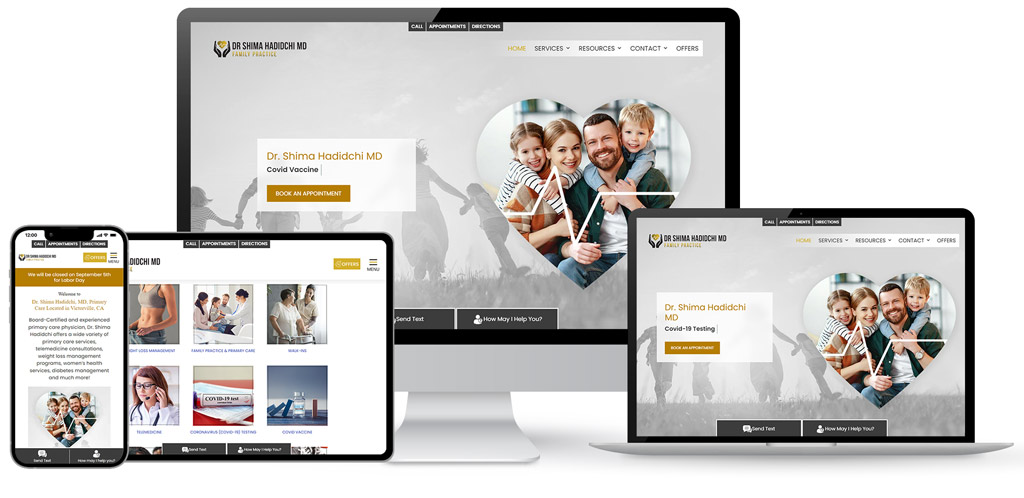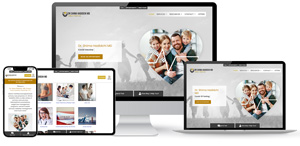 Example 2 of a high SEO and high conversion primary care mobile website.
Your mobile website must have these characteristics:
Must load very fast on mobile devices. It should also be mobile optimized
The structure of the website should be designed for conversion. only 4.3 percentage of primary care websites are designed for conversion
Content of the website should be unique and should never be plagiarized.
The website should be running on secure servers
There should be a HIPAA compliant CRM behind the website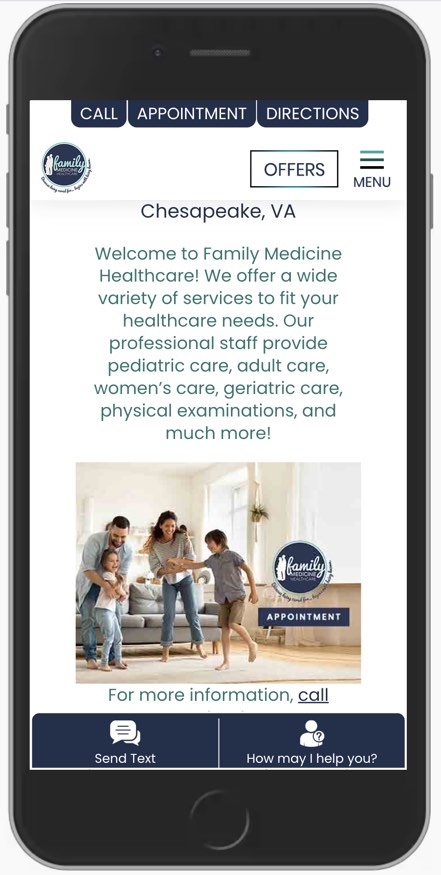 Example 3 of a PCP in Texas, who only accepts cash patients. PCP is a NP and offers membership pricing, but does not accept insurance.
From the data below, the first month launch, using PatientGain's GOLD service and $1200 per month advertising budget on Google ads. This is a brand new PCP practice, located outside Houston in a suburb, with healthy competition. In the report below, effective leads 14.

Exactly one year, 12 months later. From the data below, the ads budget $1200 per month on Google ads was not changed. In the report below, effective leads 151. The conversion rate of this practice is very high.

6 months later. From the data below, the ads budget $1200 per month on Google ads was not changed. In the report below, effective leads 356. The advertising budget has remained the same, however the SEO has grown significantly. Each location is different, so your results will vary.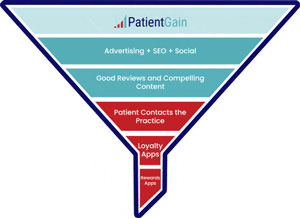 Marketing for Family Medical Practices
Despite the advances in technology and the changes in society over the decades, the "Family Doctor" or a Family Medical Practice still plays a significant role in the lives of families. A family doctor has many aspects as a primary care provider or a pediatric doctor. A family doctor generally takes care of an entire family, from infants to the elderly. Some have some specialties, but patients who require more specialized care, like kidney or heart specialists, a family medical doctor will refer patients to other doctors. Family doctors help maintain the health of their patients by having them go through regular screenings, tests, and other physical and mental health checks ups. This kind of preventative medicine can go a long way to help the overall health of a patient and their family.
Like other medical practices, a family medical practice needs to have a quality medical marketing plan to promote itself. The healthcare industry is highly competitive, and a family medicine practice needs to have a steady supply of patients to stay in business. Below are some medical marketing strategies that other family doctors have found to be highly effective.
How can search engine optimization, or SEO, help a family medical practice?
When someone needs a family medicine physician for themselves or their family, they will almost always begin with a search engine. While a search engine will return billions of results on millions or billions of pages, practically all users will only look at the first page of results. A family doctor must appear on that first page of results, preferably in the top 3 results. Many factors determine the organic ranking of websites that appear in organic results. One of the most powerful influencing factors is search engine optimization or SEO.
SEO involves inserting search keywords throughout a site's content, matching the exact keywords their target audience uses when looking for a family medical practice. This target audience is unlikely to know the medical practice by name. Still, they will search for things like "Family Doctor near me," "Family medicine," or specific services, like "diabetes management doctor victorville ca". These types of keywords need to be inserted throughout a website's content so that a search engine can start associating a family medical practice with those searches. With that said, a family medical practice should avoid "Keyword Stuffing" or trying to cram as many keywords as possible onto a content page. This practice will not improve the organic ranking and could hurt it.
A family medical practice also needs to use both short-tail and long-tail keywords in its SEO campaigns. These two types of SEO Keywords work together to improve the organic ranking effectively. Long-tail keywords are four words or more, focus on specific topics, have high conversion rates, but drive lower amounts of traffic. Short-tail keywords are three words or less, cover broad topics, have lower conversion rates, but drive higher amounts of traffic. Long-tail keywords are also important when it comes to voice search. When people use their smart speakers or personal digital assistants to do a voice search, they often ask using questions that are four words or more. If a family medical practice can match those questions word for word, they will have an advantage in those voice searches and other online searches.
How can online scheduling help a family medical practice?
In a family there is usually one person in charge of organizing the entire family's medical needs. They are responsible for any children getting immediate care, preventative care, regular checkups, and care for elderly relatives. Keeping one's schedule organized is even more of a challenge today than decades ago, and it can seem impossible. Some people have to schedule a time to remind themselves that they need to schedule appointments. Otherwise, they will forget to do it all together.
Scheduling an appointment with a family medical practice can be difficult. First, it can be challenging to find a time during their business hours to call and then hard to find a time that works best for a family. Providing patients with the ability to schedule appointments online can be an immense help. Instead of trying to beat the clock and call before the close of business for a practice while having the family schedule open to look at, someone can schedule appointments at their leisure. This means they can schedule appointments for their family at the end of the day, first thing in the morning, or the middle of the night. When properly synced to a medical practice's patient management system, an online scheduler will ensure no "double bookings," significantly hurting a practice's reputation. An online scheduler also needs to be HIPAA compliant. All data sent to practice must be protected and stored on secure servers. Like the ones provided by Facebook Business Pages, not all online schedulers are HIPAA compliant. PatientGain's online schedulers abide by the highest HIPAA standards.
Another essential feature to include with online schedulers is appointment reminders. Sent via email, text, or both, they help drive down missed appointment rates. This is beneficial for the patient, who gets the care they need, and the practice, who receives the income to stay in business. Appointment reminder messages work best if they are automated, as it can be very time-consuming to assign a staff member to call dozens of patients a day to remind them of their appointment the next day. Studies show that online scheduling requests can increase the profits of a business up to 27%.
How can a medical engagement chatbot help a family medical practice?
No matter how well-written the content is on a family medical practice's website, families will still have questions about treatments, services, etc. The front desk staff will ultimately handle those questions by operating the phones or answering emails. The quicker these questions are answered, the quicker a patient or a potential patient will make an appointment. However, that is not always possible. Staff shortages or patient volume may delay a practice's ability to respond to all questions. The longer it takes, the more likely a patient will seek care elsewhere. A solution to mitigating these delays is a medical engagement chatbot.
An engagement chatbot is a program embedded in a website that engages patients to see if they need any assistance. A chatbot is not a program that can create answers or has a human on the other end reading and responding to questions in real-time, although some people do become mistaken about that. It is a program with a series of preprogrammed questions and answers. A medical engagement chatbot will take that person's question and contact information to store on a HIPAA secure server for any question it cannot answer or is not programmed into it. From there, a staff member can follow up with the patient.
Chatbots work best if programmed with the most common questions and answers a family medical practice's target audience will ask. A family medical practice should have its front desk staff come up with a list of common questions, tasks, or requests. An appropriate number of questions and answers can then be programmed into a chatbot from that list. One of the most significant advantages of a chatbot is making it available 24 hours a day. It can assist people in the middle of the night or when the practice is too busy to take a phone call. It also can be updated as needed, such as when there are new COVID-19 protocols. Overall, it is an excellent addition to a website.
How can two-way texting help a family medical practice get more patients?
Texting is an incredibly popular method of communication that 81% of the population uses regularly. Many people would rather text their friends, families, and businesses than call them or message them via email. Text messaging is convenient because it can be done right from the phone to send quick messages to people or businesses. Another benefit to text messages is that they have a much higher open rate than email messages.
To use text messaging at a family medical practice, it must be HIPAA compliant. This means there can not be a "community cellphone" passed around staff members to monitor or respond to when text messages arrive. This cell phone can not be adequately secured to protect all data that comes into practice. Access needs to be limited, data usage tracked, and it needs to be audited. To accomplish this, texts need to be sent to a HIPAA compliant dashboard. From here, an assigned staff member can monitor and respond to texts as they come in. Staff members should remember not to send any personal information or text test results back to the person texting them, as there is no way to secure data on that end.
How can reputation management help a family medical practice?
The online reputation and reviews for a family medical practice are critical for their success. Over 70% use online reviews when finding a new doctor. Any new potential patient or family will review online reviews before making their healthcare decision. They must find a plethora of positive reviews about the providers and staff at the practice. A family medical practice can not let reviews cine come in on their own; they need to search them out to build an excellent repository of positive comments. All they need to do is ask patients to leave a review. Review requests can come in the form of emails or text messages. Text messages are more expensive than emails and have a higher open rate. Leaving a review also needs to be as easy as possible with as few clicks as possible. The more clicks there are in the process, the more likely a patient will abandon it.
While a family medical practice should get many positive reviews, they will occasionally get negative ones. It is essential to respond to both types of feedback. It will show potential patients that a practice takes feedback seriously and that their concerns will be addressed. For positive reviews, thank the patient for the kind words. Negative reviews need to be approached carefully. First, try to contact the patient and see if their issue can be resolved. Sometimes, they may even change their 1-star review to a 5-star review. If they do not, thank them in the response for taking the time to speak with the practice. If a family medical practice has no idea who a negative reviewer is or can not get in touch with them, ask them to call to provide an owner with more details. The best way to counteract a bad review is to get dozens of positive reviews. While not all patients will leave reviews, a consistent percentage will. It is essential to request a review from as many patients as possible.
Are there any traditional marketing methods that are still effective for a family medical practice?
While digital marketing has undoubtedly taken the lead in medical marketing, some traditional or offline medical marketing methods are still very effective if used correctly. Direct mail marketing has some advantages digital marketing has that other traditional marketing methods do not. Unlike advertising in newspapers, on radio, or TV, direct mail marketing allows medical practices to use a degree of targeting in their campaigns. They can determine which households, neighborhoods, communities, and even mailing routes their marketing material will go. When paired with a digital component, it can be very effective at reaching people who other digital campaigns may have missed.
When creating a direct mail marketing campaign, a family medical practice needs to create a piece that will get the attention of the person who checks the mail. While mail volume has fallen by over 50% in the last decade, it still will need to compete with other things that arrive. With that in mind, a practice should experiment with the color, size, texture, and message on anything mailed out. The goal is to pin the piece to a fridge or corkboard and not end up in the recycling bin.
Anything mailed to any household should have:
The name of the family medical practice
Phone number
Address, with any suite or office numbers if applicable
Website address or landing page URL
Call to action
Case study results from online SEO for a primary care physician
Review of a real customer. Location is east coast – mid-level competition. Doctor Jones has been in practice for the last 13 years. Her focus has been primary care, internal medicine and general wellness with focus on diabetic patients. However, since last 3 years, multiple clinics have opened within her 5 mile radius. In addition, two primary care clinics have also impacted her business. In the past all she had to do was to advertise in local yellow pages, few referral practices and business had grown due to her excellent focus on patient care. Due to competition, her average patient count had steadily decreased from 30 patients a day to 22.
In this case, Doctor Jones had to focus on new patient acquisition. She search online for "online advertising for doctors" and found PatientGain.com as the first organic listing on Google. She signed up for PatientGain.com's GOLD Service for $799/mon. The results have been as follows:
Nov – Go live with new website, along with 20 apps embedded in the new Medical Marketing website. 135 phone calls received in the first month. 116 unique phone calls.
Dec – 434 phone calls received in the 2nd month. 388 unique phone calls.
Jan – 621 phone calls received in the 3rd month. 534 unique phone calls.
Feb – 518 phone calls received in the 4th month. 419 unique phone calls.
Mar – 599 phone calls received in the 5th month. 450 unique phone calls.
Apr – 697 phone calls received in the 6th month. 541 unique phone calls.
May – 801 phone calls received in the 7th month. 643 unique phone calls.
By the end of 7th month, Doctor Jones had achieved her target of 30 patients per day. Mission accomplished.
Example of how new patient tracking works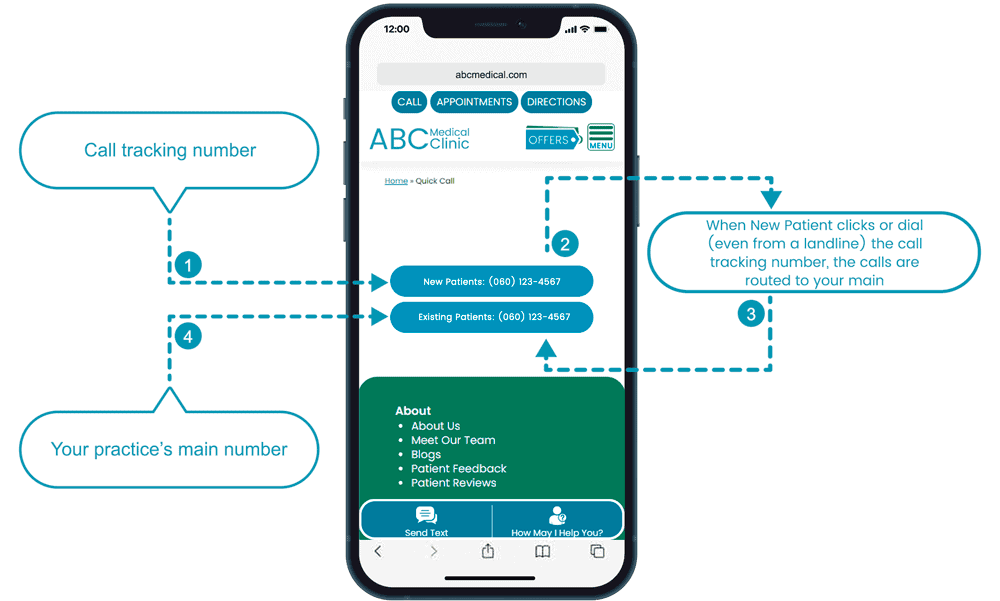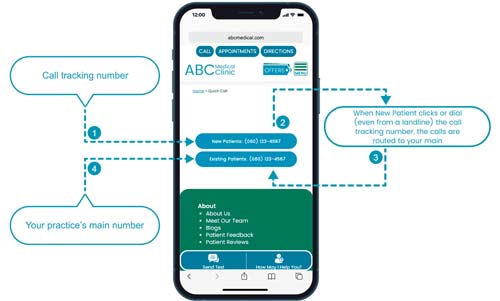 How much do doctors spend on advertising in USA?
Range is $600 per month to $15000 per month, depending on specialty and competition.
The actual advertising budget for each clinic and practice is different. Some clinics/doctors are very aggressive and spend $1000 per day (or more) and some spend $1000 a month on advertising. We also have few clinics/doctors who do not spend any money on online advertising, they doctors rely on referrals and very strong SEO rankings. This data refers to online advertising, not offline advertising spend.
Also you have to understand that every practice area is different. For example let's review specific specialties:
Primary care practices
Primary care doctors spend $600 to $1900 per month, with an average monthly budget of $1290 per month.
Naturopathic, wellness focused care practices
Primary care doctors spend $800 to $1900 per month, with an average monthly budget of $1230 per month.
Walk-in primary care practices
Walk-in Clinics – with primary care services and some "urgent care" services spend $1000 to $3400 per month, with an average monthly budget of $1900 per month.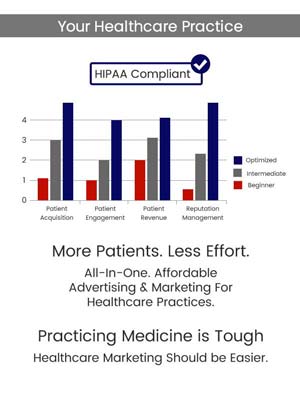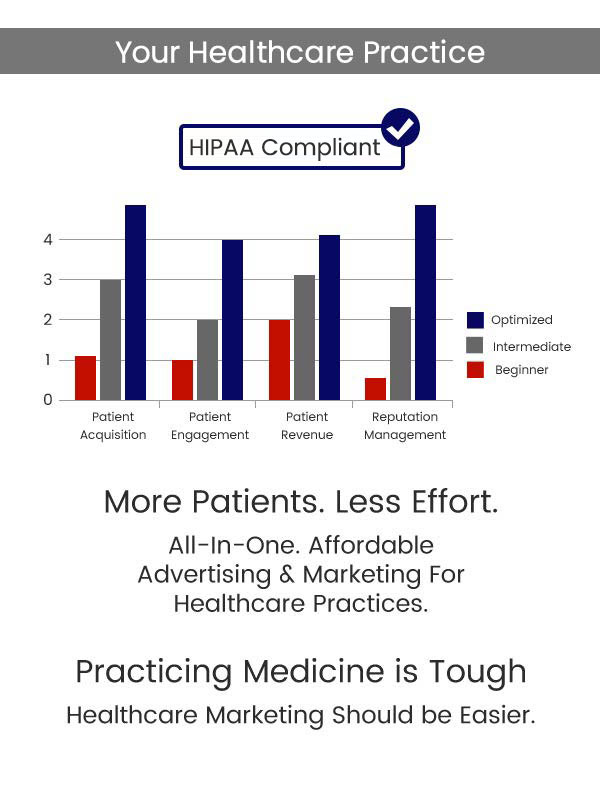 The experts at PatientGain.com are available to help you create a high-performance healthcare website for a family medical practice. Contact us today, and let us show you what we have done for other practices across the country!