Medical Website Domain Registration
How to Register a Domain Name for Medical Website Using Google Domains
We recommend Google Domains only.
Domains should always be in the name of the business owner/medical practice owner.
If you need assistance we are here to help you.
Here are the steps.
Step 1: Visit https://domains.google.com/
Step 2: Login to your Google or Gmail account (this is required) like drjonesmd@gmail.com
Step 3: Enter your desired domain name – see example below. and click on "Get it"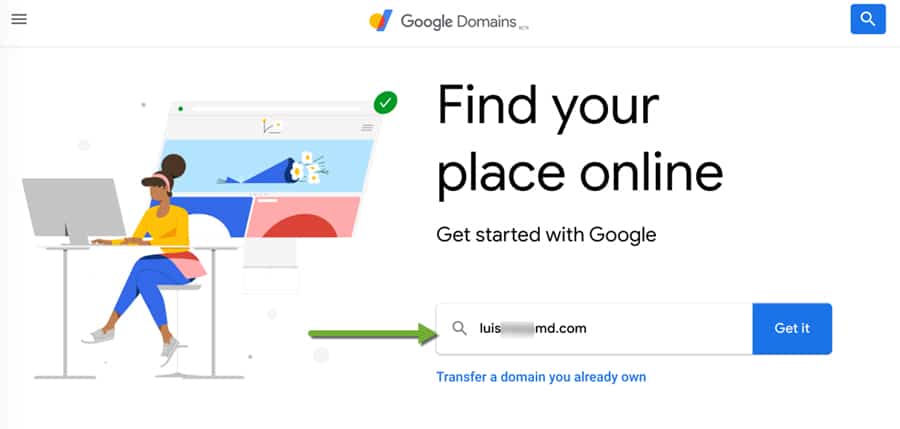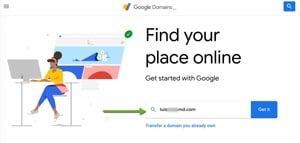 Step 4: Confirm that you have correct spelling of the domain – you cannot "redo" a domain name. Click on shopping cart image
Then at the bottom of your page click on Go to cart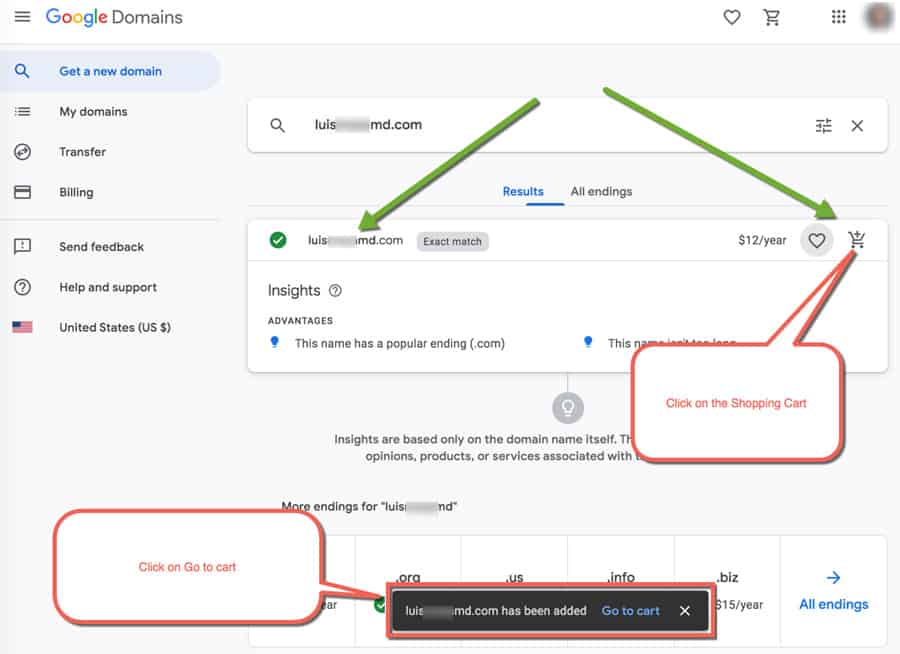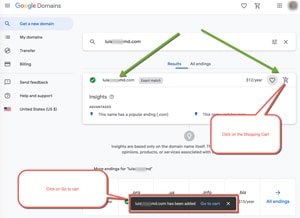 Step 5: Next page, privacy protection should be turned ON, auto-renew should be turned ON.
Google's fees are $12 per year.
Click on Check out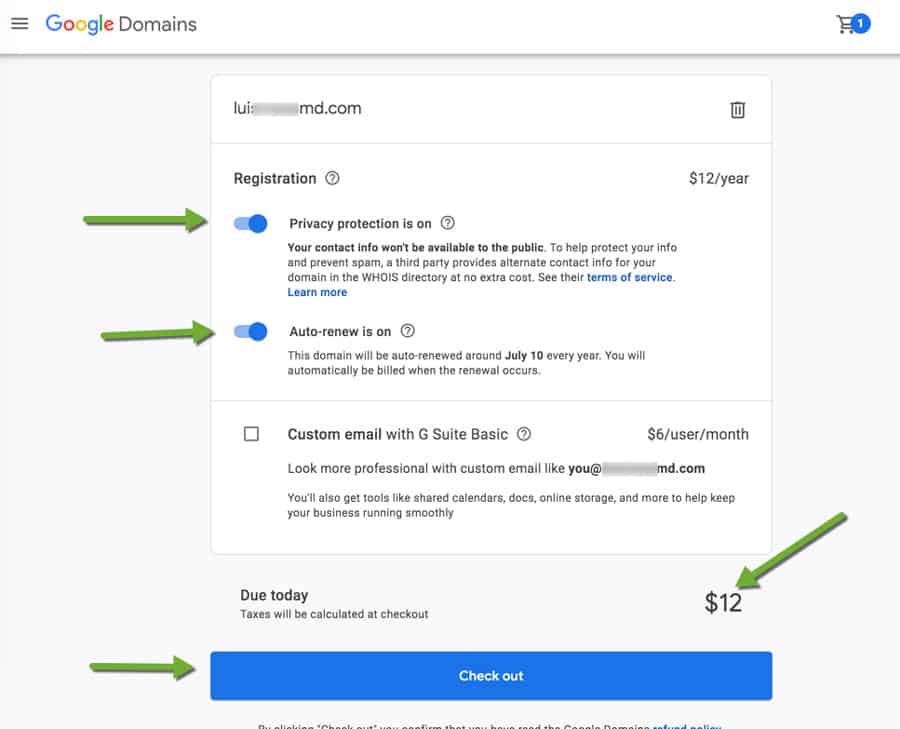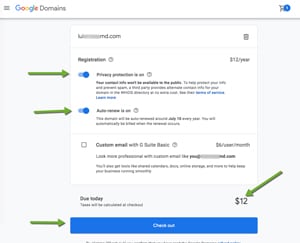 Step 6: Next step – Enter your information.
At the bottom of the form, confirm 2 items – 1) Your Email 2) Domain name.
Click on Save and continue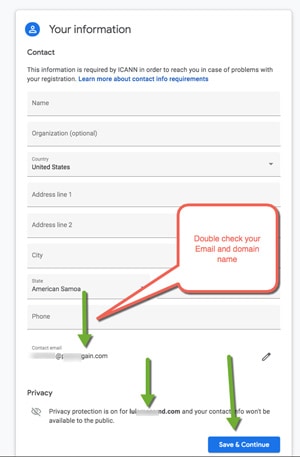 Step 7: Last step is to review all items and enter your credit card information.
If you receive a receipt in your Email, you have successfully registered your domain.
Step 8: You need an awesome medical website, with HIPAA compliance and high SEO rankings. Click here to see some examples of medical websites for doctors and learn about how medical SEO works.
Setup Initial Meeting With PatientGain
PatientGain highly recommends medical websites on WordPress. WordPress powers 35% of the internet in 2020 – Worldwide. Fast loading medical sites. GOLD service includes website.
What makes fast loading websites?
11 Steps to make your medical website fast.
Network: Extremely fast network, Example: Google Premium Network
Protocol: HTTP/2, QUIC, HTTP/3
Server: Very fast servers, Litespeed Enterprise 
PHP: Fast PHP processing, PHP LSAPI ProcessGroup 
CDN: Fast CDN, Example: Google Cloud CDN 
DNS: Fast DNS providers, Example: Google Cloud DNS
Scalability:  As you receive more traffic, the system should scale
Disk: SSD – A solid-state drive (SSD) is a newer, faster type of device that stores data on instantly-accessible memory chips
CPU: Google Cloud N2 instances (Example)
Template used for WordPress: This is also very important (Template should not make unnecessary round trips) – PatientGain has developed a Fast WordPress for healthcare websites. You can learn more about FatsWordpress for healthcare providers here.
Optimized Images: Use smaller images for mobile sites – WordPress offers this setting. Google also reads your mobile site first for SEO rankings. Google also measures how fast your mobile site loads.
Read more about HIPAA compliant WordPress websites for doctors.
Read more about examples of WordPress websites for doctors.
Medical Marketing Chatbots For Improved Patient Satisfaction and Conversion to Appointments
What is a Medical Chatbot? A medical chatbot is designed to have a conversation or a discussion with a real patient. Simply, from the view of a doctor or a medical practice manager, a chatbot is nothing more than software based on AI algorithms (Artificial Intelligence) that will perform automatic tasks within given parameters.
Generally in the medical industry there are 2 types of chatbots.
1. Medical Marketing ChatBots
Designed to convert a visiting patient (on your website) to a paying patient. These are called Medical Marketing ChatBots. They are not designed to diagnose any specific medical conditions. They have 2 important roles.
A) Existing patient – direct them to a specific information. Like how to reach the office after hours. Access to patient portal etc.
B) New potential patient – as a potential patient lands on your website, you have 15 seconds to engage them. So the medical marketing ChatBot should "walk" the potential patient through specific questions and steps so they can eventually become your patient.
2. Medical Symptom ChatBots
Health chatbots ask patients a series of questions – so the ChatBot can understand basic information, the condition of a patient – this is very much like the front desk staff in a clinic, who would ask 1) Do you have a fever? 2) Are you in pain? so to understand their symptoms and then the ChatBot sends the data to doctor, who can provide diagnoses and prescribe medicine in real time.
Medical Website Domain Registration
How to Register a Domain Name for Medical Website Using Google Domains