What is Average Dental Website Design Cost?
Answer: $4500 to $8000 one time fee is typical cost for design and setup with quality content and good start to build your SEO. This is from reputable, good companies who focus on dental and medical marketing. These companies are also HIPAA compliant.
There are 12 specific steps in your online dental success. From the design to going live, the cost is $4500 to $8000. However, PatientGain offers a GOLD Service for $799/mon, and it includes the following for no extra fees.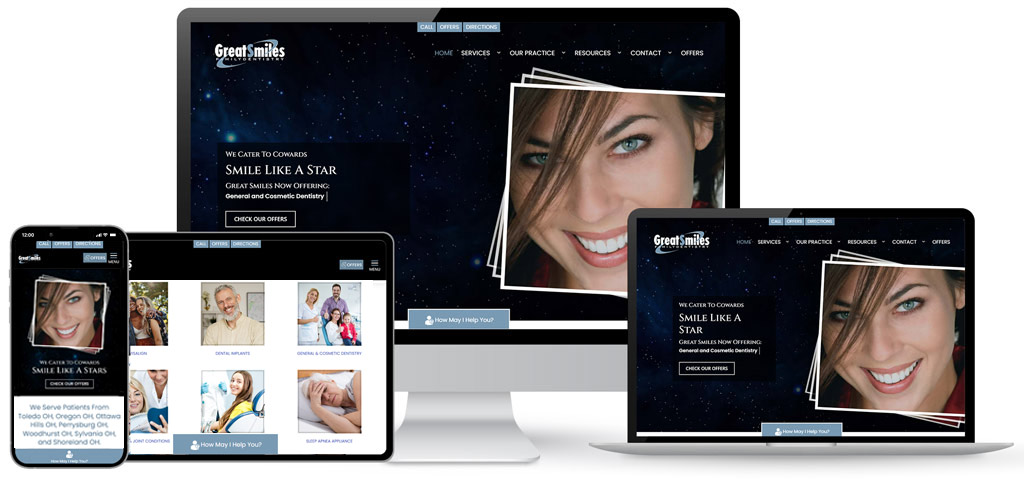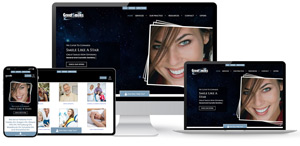 Dental website design company steps for your dental practice success
1. Initial design mockups and approval – PatientGain typically creates 5 different designs for your dental practice
2. Once design is approved, then typically the home page is created, with your logo and messaging, text for the main page, layout of rest of the main menus and services is approved by the dentist, dental practice manager
3. Once the home page is approved by the dentist, dental practice manager, then rest of the website pages are added
4. Additional pages are added, menus are created. Content is assigned to the content writers. Content is the foundation and back-bone of your dental website's SEO and overall online success
5. Content is received by your project manager, and the project manager reviews the quality of the content. It must be at least 96% unique and should never be copied from another website. It should be written specifically for your website only
6. Your project manager inserts and updates specific keywords in the content. This is very important step. Each keyword has a certain conversion rate. Meaning the "Invisalign dentist near me fresno ca" VS "dentist near me fresno ca" have different conversion rates. Your focus should be on the keywords with the highest conversion rates, first. Once you conquer this, then you should add additional keywords
7. Professional images should be added to the website. The mobile version of your website is read by the Google's search engine first. So images that are less than 30K should be added to the mobile version of the website. This allows the website to load faster on a mobile phone. 82 percentage of your patients view your website from a mobile device.
8. Once the draft of the website is ready, customer ( dentist and / or dental practice manager ) should review the site. Typically it should be placed on a hidden server so client can see it but no one else has access to it.
9. At this point, client will ask to make some changes. This is normal.
10. After all changes have been made, then next step is go-live preparation.
11. Pre-go-live : Training for the dentist and / or dental practice manager on how to login to the dashboard, so they can see live data from the website. This is typically done using a Zoom.us session. Login credentials are provided to the client and project manager assists in navigating the dashboards. How to contact support and project manager is also a very important step.
12. Go-live process has several steps.
A. Domain access or reservation of the new domain name
B. Changes to the A record of the domain should be made during the "off hours" of the dental practice. MX records may need to be changed for Email server's settings
C. Hosting setup is additional step. Typically involves making sure that the hosting server has capacity to handle a new website and traffic. Is there support involved for the client's access?
D. Code for Google Analytics, Facebook Pixels etc is also added
E. After the Go-live there should be final QA steps. These steps are designed to minimize any issues and to increase client's happiness.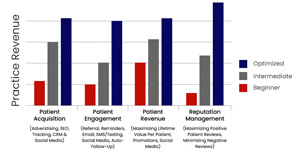 What if I have a dental website and want to redesign my dental website?
1) How much does it cost?
2) Key areas to consider when redesigning your dental website.
3) When should I redesign my website?
If you own dental practice, it is marketing malpractice for you not to have a website. Chances are you already have one, and it should be performing well. However, much like your dental practice's office needs to be remodeled so it does not look dated, the same must be done with your website. Redesigning a website is something that every business, small and large, must do from time to time to ensure they remain relevant and eye-catching to those who come across it. Even major international corporations will redesign their website from time to time. These large corporations will often have marketing campaigns around it to get the word out so people can expect to see something different the next time they visit.
While you are unlikely to send out a press release to the local news about your new dental website, redesigning it can significantly benefit your business. The experts at PatientGain.com are continually introducing new designs to our websites and refreshing our clients' sites to ensure their sites remain current. Below are some areas to consider when redesigning your website.
When should I redesign my website?
The most common guideline stated when redesigning your website is to do a full redesign every two to three years. This way, your website will continue to look modern and incorporate the current design trends. For example, there was a time where black and white pictures were all the rage. Eventually, color pictures became very popular; only to see black and white images make a return. Even the way websites are laid out changes over time. Looking to redo your website every two to three years ensures people do not look at your website and think: "Whoa, this site is old."
Keeping that roughly two to three year benchmark in mind, you should also be guided by your website's analytics. If you feel like your website is underperforming, then you may want to update it sooner. If your website exceeds your expectations and dominates organic rankings, you may not want to mess up a good thing. Let metrics influence when you decide to redesign your website. Another factor that can impact your decision to redesign is website security. If a security flaw is discovered in your current design, it needs to be immediately addressed. Depending on the nature of that security hole, you find out a complete redesign may be required.
Areas to consider when redesigning your dental website.
Color Selection
When you redesign your website, you do not want to radically change its colors to the point where it no longer matches your brand. For example, you do not wish to a website full of dark blues, bright reds, and off-white if none of those colors appear in your marketing materials and your dental practice is painted with different colors. Unless you are redesigning your entire brand, you need to stick with the same colors.
However, you can explore how those colors are used, and there may be some wiggle room in terms of the color's shade. Review your dental website and see where colors are being used and in what capacity. Are titles colored differently than content? Do the captions of pictures have a different color? What color background does the content from a website sit on? If done correctly, you can rearrange what colors are used for what parts of the website and still maintain the colors you use for your brand.
Some dental practices will redesign their website but use more vibrant color shades than they were previously using. In this case, all new marketing materials will adopt these colors. There will be a period where new material mixes with old marketing materials that share similar, but not the same colors. This approach is often better than selecting an entirely new color scheme.
Updating Pictures
When redesigning your website, you should consider a new set of pictures. If you keep using the same images year after year, eventually, it will be evident that the photographs are dated. The way images are presented on the website change over time as trends change. Some aspects of photos that have changed over time include:
• Black and white vs. color
• Borders (or the lack of borders) around pictures
• Rounded corners when images are presented
• Dynamic images that change as a mouse arrow hovers over them
• Static pictures vs. slideshows
• The angles of which photos are taken
• Whether people are looking at the camera or not
• If there are people in the image or if it is just a picture of an empty room
The elements mentioned above are just some of the many trends that have changed over the years. Some have changed permanently, while others have waffled back and forth. Keeping your website up to date ensures you keep it fresh and engaging.
Another aspect of pictures you should keep in mind is who is in your photos. If you are using your staff and doctors' images, make sure they are up to date when you redesign your website. You do not want to use anyone who no longer works there or look significantly different than they do now. If they have received a new haircut, that does not require a picture update. If they no longer have a full beard or currently have a head of white hair, it is time to refresh those pictures. Avoid using pictures that are decades old when introducing your staff to potential employees via your website.
Update Your Content Presentation
If you are practicing good content marketing, your content should be kept up to date. So when redesigning your website, you should not be worrying about when the last time you update a service page. Those pages should be looked at yearly to ensure they are current and updated in terms of dental information. However, there may be other parts of your website that do not get looked at regularly. Take this time during a website redesign to ensure these pages are still accurate. Some pages that often get passed over when medical practice owners only concentrate on service pages including:
• Directions Page – Has a road been renamed? Are their new landmarks? Are the businesses you refer to in your directions still there? Are there new bus stops, or have stops been renamed?
• Contact Page – Are there more new ways to contact the dental clinic? Has your phone number changed and this page was left not updated? Is there a different email address you'd prefer all inquiries go into?
• Frequently Asked Questions (FAQ) Page: Are there any questions that have the opposite answer now? Are there any questions that need more clarification? Does the order of questions make sense today?
The presentation of your content can also be redesigned. This aspect of website design has changed over time as well. The position of pictures, videos, and how content wraps around these elements has gone through different trends. Consider breaking up your content so it is in more bite-sized pieces. The more content you have, the more authoritative your website is for sure, but you also want it to be presented in an easy-to-follow format and will entice the reader to continue exploring your website. If you have underperforming pages but have outstanding, informative, and up to date content, how you are presenting this information is likely the issue.
The final aspect of your website you should consider is the font. Yes, as silly as it may seem, your front can go a long way in lending credibility to your website. If you use a font that is no longer popular or is so strange it distracts from your content, it is time to change it. For example, the font "Comic Sans" was widely popular and was the default font used for years. It was created over 20 years ago. It is also commonly used in school education materials because of how easy it is to read for children. However, many people have grown up seeing this font during their education; it looks a little childish on a website now. A doctor loses some credibility if their website uses the same font a patient would find in their child's textbook.
Consider The User Experience and Journey On Your Website
When you redesign your website, the user experience should be one of your top priorities. While you could change some colors and rearrange pictures, this is your opportunity to make some changes in how a potential patient explores your website. Examining this aspect of your website every two or three years is good because, at that time, your service priorities may have changed. A service that was very popular three years ago may no longer be your top income generator. Another service offered but did not generate a lot of attention may be now an income leader. How you have these service pages listed on your website, and the number of clicks it takes to get to them can significantly impact your website's conversion rate.
Take this opportunity to arrange your services so that the most popular ones take as few clicks as possible to reach so potential patients can get more information. Ideally, you want all of your services to take as few clicks as possible to get to, but that may not always be practical. You may have dozens of services, and listing all of them on your navigation bar may make it messy and unusable on a mobile device. It is better to pick your top services, make them only a click away, and assign the rest to the services to a landing page to be explored by a potential patient. How these services are arranged on your landing page, and the order of services you feature in your navigation bar should be examined as well. The more streamlined you can make the user experience on a desktop or a mobile device, the more likely you will convert visitors into actual patients.
Consider Adding New Features
Technology rapidly changes over time, and by the time you redesign your website, you may want to consider incorporating some new features. Below are two of the most popular features dental practices have been implementing in the last few years.
Dental Engagement Chatbot
A dental engagement chatbot is quickly becoming popular for the websites of medical practices. This program mimics human conversation and helps patients find the information they are looking for or accomplish simple tasks. This program is, however, limited by the questions and answers that are programmed into them. It is not a thinking robot that will look up information independently and speak to a patient in unique and original sentences. Everything it says is based on what is programmed into it. With that in mind, it can be advantageous if you enter frequent questions and answers for them.
One of the most significant advantages to a dental engagement chatbot is that it is always available to assist patients on your website. Even if it is 2 am, or all of your phone lines are busy, a chatbot is standing buy. A well-programmed chatbot will reduce the number of emails and phone calls to the front desk by helping patients learn what they needed to know or find the webpage they were looking for when they arrived. Any information they can not answer can be recorded, saved, and sent to an employee's email inbox. This avoids a daily routine of checking voicemails and jotting down notes, picking out emails amongst other official and promotional emails in your mailbox. A chatbot, hands down, will make your staff more efficient and takes some pressure off them.
Online Scheduling Via Website
A prevalent trend that shows no signs of abating is giving patients the ability to schedule their appointments from a dental practice's website. Giving a patient ownership in this part of the dental decision process is excellent for website conversion. It also cuts down on phone calls, playing phone tag with a patient, and checking of voice mailbox throughout the day by your staff. Online scheduling, like chatbots, has the advantage of always being available. If someone needs to schedule an appointment in the dead of night, they do not need to wait until the next business day to determine if an appointment slot is available. They can pop online, select their appointment slot, and be assured they will likely be seen the next day.
Many dental practices are incorporating online registration with their online scheduling. Instead of a patient having to fill out paperwork ten or twenty minutes before their appointment, it can be done online ahead of time. This information then can automatically and securely be uploaded into a dental practice's ERM system. This saves time, money and hopefully cuts down on any mistakes entered into a database. Finally, in today's world of pushing for more contactless interaction, this will be a great thing to market to your current and potential patients.
The experts at PatientGain.com are ready to help you with your website redesign. Our team has helped hundreds of clients bring their website up to date with the latest trends and have refreshed their look to make them more appealing to potential patients. Call today and let us show you what we can do to help you grow your dental practice!