Dental Website Design Effectiveness
What are some specific areas to consider when evaluating the effectiveness of a dental website? The same strategy and techniques apply to medical websites also.
To have a successful dental practice, there needs to be an effective dental website. A website will be something practically all current and potential patients will visit during their healthcare journey. Just because a dental practice has an expansive website does not necessarily mean it is an effective website. The experts at PatientGain.com can help a dental practice evaluate a website and help improve it. An effective website converts website visitors into regular patients and is the key to a successful dental marketing plan.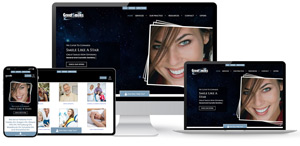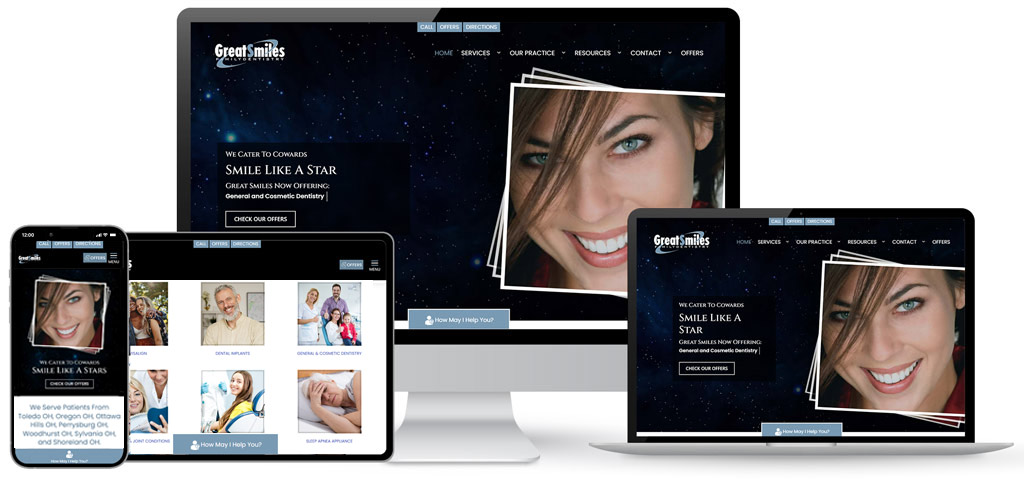 1) Is the website designed for your practice and your brand? Is it attractive?
Generally speaking, a website design is not a one size fits all proposition. Some web designs are more suited for some practices than others. The website design for a dental practice needs to fit its needs and be on-brand for it. For example, a pediatric website's design (which includes colors, font, pictures, and tone of content) will be vastly different from a dental practice specializing in joint replacement surgery. The website design for a dental spa, which often has e-commerce and appointment reservation aspects, will be different from an urgent care center's website design. There may be a general design that many dental practices can use, but having a design specifically created for a dental practice and its brand is preferred. It will only make the website more effective.
Although a dental practice's website design may fit the services it offers, its attractiveness can also play a critical role in its effectiveness. A website generally only has a few moments to snag a website visitor's attention before they move on to a different website or search results. As such, the initial impression a website gives must be attractive, or they will lose that potential patient. The first thing someone sees on a website should be something connected to the health reason they are visiting the site for, an engaging picture or graphic, and some text that spells out the kinds of things they can find on the site. Also visible should be some menu options that they can immediately begin to explore.
2) Does the website cause the patient (potential or new patient) to take any action, also called a "conversion"?
When a website visitor "converts," they take action a dental practice wants them to take. In most cases, this action is them making an appointment for a service or treatment. This action can be in the form of creating an online reservation, calling a practice for an appointment, or submitting information via a contact form for follow-up. The key to conversions is to select an action that can be tracked. Things like making a phone call, sending in contact information, or making an online appointment can be easily tracked through a website. Things like increasing brand awareness, educating a target audience about services available, or becoming the preferred online store for facial products are a bit harder to track. A trackable conversion is going to help a dental practice evaluate a site's effectiveness.
To get the desired conversions on a website, a dental practice needs to make it as easy as possible. A site needs to employ "Call To Actions" to encourage people to take these actions for conversions. These actions also need to be as easy as possible to accomplish. They should be no more than a click away from any page a visitor is viewing. For example, if the goal of a site is to get the potential patient to make an online appointment, a link to this system should be on every page. That will make conversions much more likely to happen.
3) Does the website provide helpful information to a potential or new patient, called "content"?
Content that is useful, informative, engaging, and unique is critical to your SEO rankings. The more content a dental website has with these traits, the higher a site is likely to rank in search results. The content on a dental website needs to be uniquely written for it. Copying and pasting content will not impact SEO rankings and may even hurt a site's overall rankings. The content also needs to have some meat to it and not just brief blurbs. A service page with 800 words dedicated to a topic will look far more relevant and authoritative than another page with 150 words.
Content on a site needs to be updated, refined, or added regularly and continually throughout the year. Known as Content Marketing, it only helps boost the ranking of websites as well. A search engine likes to see a site that is updated regularly. Effective content marketing accomplishes this by making updates throughout the year, which often includes blog posts and other content updates.
4) Does the website work on all devices like mobile phone, iPad, desktop computer?
A dental practice's website needs to work on whatever device it is viewed on. This includes desktop computers, smart phones, tablets, and any other device connected to the internet. It may surprise many doctors and dental practice owners, but most website traffic to a healthcare website is often mobile traffic. Analytic services, such as Google Analytics, will break down website traffic and show you where it comes from: Desktop, Mobile, or Tablet. Dental practices may even have access to the device type and browser people are using to view a website.
A site needs to work on all devices and all major browsers. If it does not, a dental practice risks not only missing potential patients, but it could hurt their overall search rankings. A site that is not mobile-friendly often gets penalized in search results, especially when someone is using a mobile browser to look for healthcare choices.
5) Does the website load within 4 seconds or less?
Load speed is not only something that old west gunslingers are concerned with to be successful. A dental practice needs a good load speed for its website. Ideally, a site needs to load in four seconds or less to be effective. For every additional second, it takes for a site to load, a dental practice is losing more and more potential patients. Search engines also like good load speed and will monitor it. A site with a slow load speed will see its overall search rankings negatively impacted. Search engines want to present their users with the best experience possible. A painfully slow loading speed for a website is not a good experience for the average search engine user.
There are usually a few culprits that impact site speed. First are pictures that are not optimized for the website. An ultra-high resolution photo might be needed to advertise on billboards, but for a website, that can hurt the load speed. Another piece of media that can gum up a site's load speed is videos. Dental practices make the mistake of hosting videos on their site, forcing them to upload every time a site loads. This can bring the loading speed of a page to a halt. Instead, these videos should be hosted on third-party websites and embedded into a site. Finally, another aspect that can hurt load speed is various third-party codes and apps embedded on a site. If any of these codes or apps receive an update, they can suddenly break down or interfere with other parts of a site.
Site speed must constantly be monitored by a dental practice or a website provider. Website speed may be fine one month and then take a dramatic turn for the worse the following month. It is best to catch these changes as soon as possible rather than find out a site has been running slow for months.
6) Is the information collected from the website stored securely in a HIPAA compliant database?
A dental practice must abide by HIPAA regulations and being HIPAA compliant. Any information that a dental practice collects from a website needs to be stored in a HIPAA-compliant database. Failure to do so will result in fines and expensive remediation. If a website does not collect information, then a dental practice has less to worry about. However, this would prevent a dental practice from receiving inquiries, newsletter sign-ups, and online appointment requests from current and potential patients. Even if a dental website does not request anything considered to be private health information, any data needs to be secured. A patient might send private and intimate health information to a dental practice even if they did not ask for it. Regardless of the data was unsolicited, it needs to be protected.
For a database to be HIPAA compliant, it needs to have some of the following traits:
Total Data Encryption
HIPAA-Trained Support Personnel
Unique User IDs
Dedicated Infrastructure
Authorization
Data Disposal
Audit Logs
Database Backups
Automatic Updates
7) Does the website have intelligence?
A website benefits when it has intelligence built into it. An intelligent website will engage with a website user to encourage actions and conversions. An intelligent website will also help make it easier for a visitor to communicate with a dental practice. Two of the more common intelligent designs implemented into websites of dental practices are chatbots and website texting.
Dental engagement chatbots are a great way to engage a website user. These programs are designed to answer the most common questions a person might have about a dental website. A chatbot helps them find the information they are looking for or accomplish a task. These questions or tasks are programed by a dental practice into a chatbot and are often based on what their front desk staff commonly have to assist patients with. For any question it can not answer, they usually take the person's contact information and give it to a staff member to follow up later. Chatbots are great because they do not take a day off and are always available.
Text messaging to websites is another helpful tool to engage with users. By giving patients the ability to text message a website, they can easily engage with staff and answer their questions. Most people have cell phones today with a text plan, so it is very natural for them to text. Text messages sent to a dental practice can not be sent to a cell phone sitting on a desk at reception as it would not be HIPAA compliant. Instead, these texts need to be sent to a website dashboard to limit and track access to these messages.
8) How is the technical structure of the website designed for high SEO rankings?
The technical structure of a website plays a very significant role in SEO rankings. Technical SEO is an area of website design that many dental practices neglect to their detriment. Technical SEO deals with internal linking, meta tags, headers, h1 tags, h2 tags, alt text tags, and footers. These very technical terms are very much beyond the knowledge of most doctors and dental practice owners with a casual understanding of website design. A professional website designer or website design company will know what technical aspects to look for and monitor. Many of the things listed above are things a regular website visitor will not notice or even see. These behind-the-scenes technical aspects are often unseen.
Another technical aspect of a website structure is how it is organized. URL structure and even the name of website pages can play a role in good SEO rankings and make it easier for patients to get the information they need. These technical aspects need to be monitored and kept running smoothly to maintain good SEO ranks.
9) Is the overall design of the completed website gone through A/B testing?
A/B testing can play a vital role in fine-tuning website design. A/B testing generally means testing two versions of a website with a design change. 50% of website visitors will see one version, and 50% will see the other version. After a certain amount of time, data is analyzed to see which design works better with the intended goal. For example, a dental website design may want to test where the best location of the "Make An Appointment" button would be on a website. One version of the website has it in the top right corner, and the other version has it in the top left corner. After a certain amount of time, data is analyzed to see which button converted more visitors. The data will either show one design is better than the other or there was no measurable change. From there, a dental practice can make a design change.
The key to effective A/B testing is only changing one thing at a time. If multiple things are changed on a page, there will be no way to figure out which design change is driving higher conversion rates. A good website design company will work with a client to determine some A/B testing goals throughout the year to help refine a website design.
The experts at PatientGain.com is ready to help a dental practice achieve their website goals. Our staff is prepared to help improve the effectiveness of a website to help convert patients. Call our experts today and let us show you what we can do for your website!