Key Benefits Of Dental SEO Marketing
Common Question Asked By Dentists and Dental Practice Managers: What Are Things a Dental SEO Marketing Plan Has That Benefit My Dental Practice and Will Help Grow My Business?
If you have a dental practice, then you certainly have a medical website that promotes the services you have at your dentistry. However, you will have to do more than putting your business's name, a picture of your dentists, and listing out the dental services you offer on your site. To properly market your dental practice, you will need to apply dental SEO practices to your site. Doing so will help promote your business and increase your patient count. The experts at PatientGain.com have helped many dentists improve their websites by implementing an effective dental SEO plan, and we are ready to help you!
What are things a Dental SEO plan has that benefit my dental practice and will help grow my business?
Dental SEO, also known as search engine optimization, helps your website appear more often to the right audience looking for a dentist. Our experts will make a variety of improvements to your website to ensure search engines understand your dental practice's nature so it can provide it as a relevant result to people searching in your area.
Some aspects of Dental SEO include:
• Listing your dentistry in local listings such as Google, Yelp, Bing, Foursquare, and other local directories
• Rewriting the content of your website to include words and places that are relevant to your local area and neighborhoods
• Create new, unique, and rich content that is targeted to the needs of your community.
• Examine your website for any technical issues such as loading speed, H1 tags, alt tags, and picture optimization
All of these efforts will impact your overall organic rankings over time, pushing your rankings higher in your target keywords and phrases. Ignoring your website's SEO can make your climb to the top spots difficult, if not impossible. Your competitors, if they are taking their medical marketing efforts seriously, are already implementing these steps. You should not ignore them and begin a dental SEO plan today!
Example of dental SEO marketing: A patient is looking for "invisalign pricing in Toledo OH". You can see that if your website appears in the top area of Google search, you are likely to get the click (for free) and the patient might consider your services.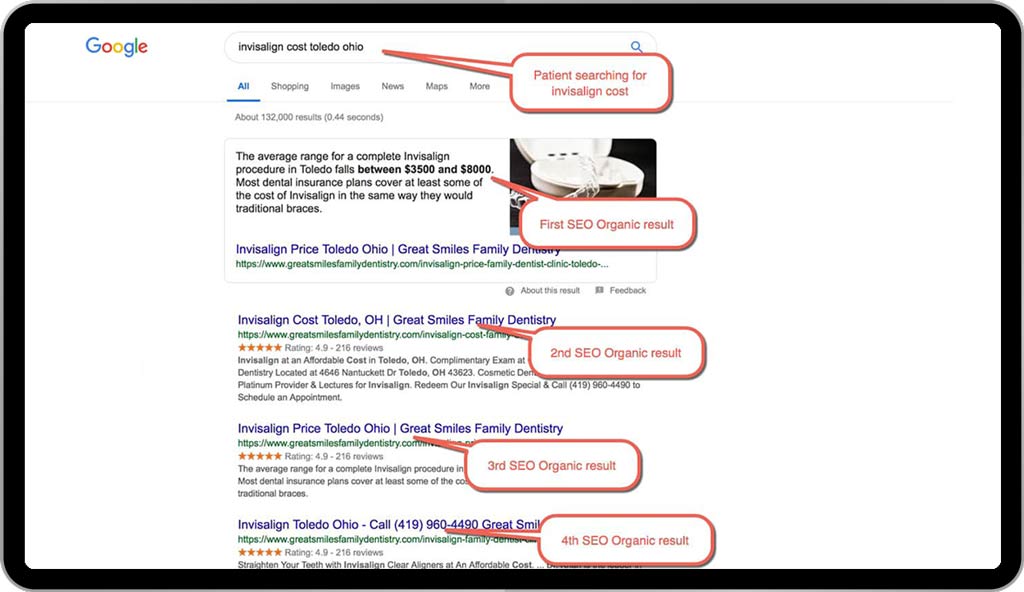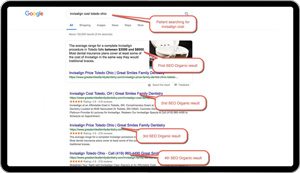 Couldn't I buy a top spot with search engine advertising for my dental practice?
Yes, you could spend money and place an ad in search results promoting your dental practice. However, that is not cost-effective for the long term to only rely on that. It is recommended to use online ads if you have opened your dental practice to send traffic to your website as you build your organic rankings. Still, unless you have an unlimited marketing budget, it will be unsustainable. Building high organic rankings are more cost-effective because organic rankings are free! The time and money you put into dental SEO will pay for itself down the road. As a bonus, the more effective your dental SEO is, the more cost-effective your paid advertising will be. You will often see lower costs the more relevant your website is to the keywords your bidding on, and dental SEO will help in that area!
What are the main benefits of Dental SEO for a dental practice?
1. Higher Organic Rankings In Search Engines
If you apply an effective Dental SEO strategy to your website, you should expect higher organic rankings in your target keywords and phrases. As a result, you will see more increased traffic and, therefore, more potential patients. Good SEO work will result in your dentistry appearing at the top of results, on maps, and even in knowledge panels that appear along the side of search results. The increase in visibility and increased traffic will also lead your website to be seen as a more relevant and authoritative result in the eyes of search engines
You should gear your Dental SEO plan to boost your rankings in Google Search results in most cases. Other search engines are certainly important, but Google will likely remain the dominant search engine people use for years to come. The changes you make that improve your Google results will probably also boost your results in other search engines, like Bing. Most search engines operate using the same signals and factors, and only minor changes, if any, are needed for search engines outside of Google.
2. Your Website Will Appear In Front Of The Right Potential Patients
You want patients to come to your dental practice, but you do not want the wrong people to visit your website. For example, if you do not offer root canals and you are one of the top results for root canals, it can hurt your rankings. Search engines will see people visit your website and then come back looking for another search result. This lowers how relevant you are and can impact other keywords that you are targeting.
By using Dental SEO, search engines better understand your dental practice, the services your offer, and the target audience you are looking for. Using the right keywords in your content, your website will appear for people looking for the same services in your community. Chances are people looking for a dentist are not going to travel hours to see one. Your dental SEO will be concentrated on improving your rankings in your immediate area.
3. Increase Your Dental Website's Engagement and User Experience
Unless you are in a rural part of the United States, you are unlikely to be the only dentist in driving distance. You may have dozens if not hundreds of potential competitors in your area, depending on where your business is located. As to not to get lost in the massive selection people have to pick from, you need to have your website stand out. As part of your dental SEO plan, you will be creating and updating your content to be informative, engaging, relevant, and fresh. If this content captures your audience, chances are they will share it with friends, family, and on their own social media profiles.
The longer people spend on your dental website, the better it is for your dental SEO. One of the best ways to engage people on your website is to use videos. Informational videos about your dental practice, the services you offer, and what patients can expect during an appointment are beneficial. They provide the patient some information, highlight your practice, and the videos themselves, if hosted elsewhere, can often begin to gain their organic ranking over time if they prove to be popular and go viral.
4. Dental SEO Has Great ROI (Return on investment)
There are many ways to promote your dental practice, using both digital marketing and traditional marketing. However, numerous studies have shown that the time and effort put into effective search engine optimization strategies have incredible ROI or return on investment. Organic rankings are free, and once you get to the top spot, it can be maintained with only some minor maintenance and monitoring. This long-term benefit makes the initial investment in Dental SEO valuable and offers a high ROI.
Keep in mind, however, that this does take time to develop and show results. With paid search engine marketing, you select your keywords, bid amount, and budget. In a day or two, you should expect to see your ad appearing in search results. With dental SEO, it will take several months, in most cases, before you begin to see some meaningful results. You can certainly lean on paid advertising; just do not get discouraged because you have not seen anything immediate yet.
What are some Dental SEO strategies PatientGain.com uses to help boost the organic rankings of dentists?
The experts at PatientGain.com will use many strategies to help improve the overall SEO of your dental practice. We have years of experience in applying these strategies to medical websites, knowing what works, what does not work, and what to look for to check that our changes are having the desired impact. Below are some strategies we can apply to your website to help grow your business.
Website audit: A website audit is a comprehensive examination of your website's content and structural components that are affecting your dental SEO. It should, for the most part, give you an overview of the state of your website. Our audit will highlight the strengths and weaknesses of your website from an SEO visibility perspective. It will show what areas need to be improved and why. It will serve as a rough guide or road map moving forward on what is required to improve your website's overall Dental SEO.
Keyword research: As a dental practice, you probably already have a few keywords in mind that you think are priority keywords. However, you should not limit yourself to just a few single keywords. We will research to determine what additional keywords should be the target of your SEO efforts. This research will include analyzing keywords our other dental clients have found success with and see if those words apply to your business. While every dental practice is different, many offer the same services. We will check and make sure that the services you offer are also appropriately covered and researched to ensure no keywords are missed.
Analyze Competitors: The SEO strategies your competitors use is as important as the ones you decide on. To counter their efforts from impacting your organic score, you need to know what they are doing. With that said, we will look at the content your competitors have on their website. We will pick out what keywords they are focusing on and how they are ranking organically. You are missing some keywords from your website; we can then fix by adding them. Often, we discover keywords that you are targeting, and your competitors are not. In this case, we can help you maximize this advantage before they find out about this oversite.
On-page SEO: On-page SEO is updating, refining, or adding things to your website that directly impact your overall search rankings. You can do several different things on your dental website that will help your overall organic rankings. Some of these things include:
• Headings (H1, H2, H3)
• URL Structure
• Alt Text For Images
• Page Tags
• Website Page Loading Speed
• Content Length
• Mobile Friendliness
• Scheme Markup
• Internal Linking
• Social Tags
• Overall Page Experience
Technical SEO: Improving the technical SEO of your dental practice's website is less about what people read and the words on there but the website's elements. These things include optimizing pictures and videos to boost loading speed. Other improvements include reducing animation elements and improving navigation bar usage, so a website is easier to use. Technical SEO is more of a subset of on-page SEO but focuses on the structure of a website.
Off-page SEO: Off-SEO are things that affect your organic ranking that does not directly involve your website. The significant factor in off-page SEO is the links from other websites to your website. When it comes to links, quality trumps quantity. If you have too many low-quality links to your website from junk websites, you are more likely to hurt your overall rankings, not help them. Concentrate on getting links from high quality, authoritative websites to improve your domain authority. Links can come from:
• Local organizations
• Local directories
• Other businesses
• Online newspaper articles
• Blogs
• Academic sources
• Websites that end in .org, .gov, or .edu
Mobile SEO: Optimizing your website for mobile search is a critical part of your overall dental SEO. The vast majority of your website visitors will be viewing your website on a mobile device, meaning the start of their search will be from a mobile device. While your website may look great on a desktop computer, can potential patients expect the same experience on a tablet or smartphone? You want to make sure your website is easy to use and useful on a mobile screen. Do not make the mistake of having a water-down version of your website or a version that is unusable on a mobile device. A website that is not mobile-friendly will significantly impact your overall organic rankings.
Local SEO: As a dental practice, you want to rank high for specific keywords. However, your priority is going to be ranking high for keywords in your local area. You do not need to be the #1 result for "Dentists near me" worldwide. You just want to be #1 for those who would reasonably drive to your location. Local SEO concentrates and making changes to your website so it is more visible in local results. A big part of this appears on the "map results" that often displays in search results. If the user enters keywords and phrases that indicate they are looking for a nearby business, a search engine will often display a map with three local choices. Your goal needs to be one of those three choices. Many people do not look beyond the map results, so you want to be listed amongst the three listed. Updates to your website include making sure you mention locations, neighborhoods, and areas throughout your website. Creating a landing page targeting a specific community is also helpful.
Call PatientGain.com today and speak with our experts about the benefits of our team working on your dental SEO. We have helped many dental practices grow their business and increase their patient count. You can rely on our team to improve your organic rankings using our proven dental SEO strategies.
5 Important Dental SEO Lessons Learned
1) It Takes Money and It's Hard
2) It Takes Time & Patience, But It's Important
3) It Is Difficult – Google Changes Algorithms Regularly
4) It Is A Multi-Step Complex Process Rather Than One Time "Task"
5) A Professional Team Will Produce Better Results Than D.I.Y (and Much Quicker)