According to the AAID, over 3 million people in the United States have dental implants. Each year additional 500,000 patients get new implants. There are potential patients who are looking for your services, right now. Finding a quality dental implant marketing expert can free up an owner's time to allow them to put more focus into areas only they can manage.
Periodontists are only experts in their field, they also light up patients life, self confidence and help with oral health.

Periodontists are residency trained specialists in implant dentistry and often provide the highest quality implant surgery treatment in the dental profession. A dental implant (also known as an endosseous implant or fixture) is a prosthesis that interfaces with the bone of the jaw or skull to support a dental prosthesis such as a crown, bridge, denture, or facial prosthesis or to act as an orthodontic anchor. The basis for modern dental implants is a biologic process called osseointegration, in which materials such as titanium or zirconia form an intimate bond to bone. The implant fixture is first placed so that it is likely to osseointegrate, then a dental prosthetic is added. A variable amount of healing time is required for osseointegration before either the dental prosthetic (a tooth, bridge or denture) is attached to the implant or an abutment is placed which will hold a dental prosthetic/crown.
For a dental practice to grow and acquire new patients and replace ones they naturally lose through attrition, they need to have an effective dental implant marketing plan. Many make the mistake of doing this themselves. With all of the other demands of running a successful business, an owner may not give the marketing area of their dental practice the attention it needs. Employing a dental marketing expert (also known as a dental SEO expert) can help relieve this pressure by entrusting various dental marketing strategies and campaigns to someone who can dedicate the time to its success. A dental marketing expert is included with PatientGain's GOLD or PLATINUM monthly service.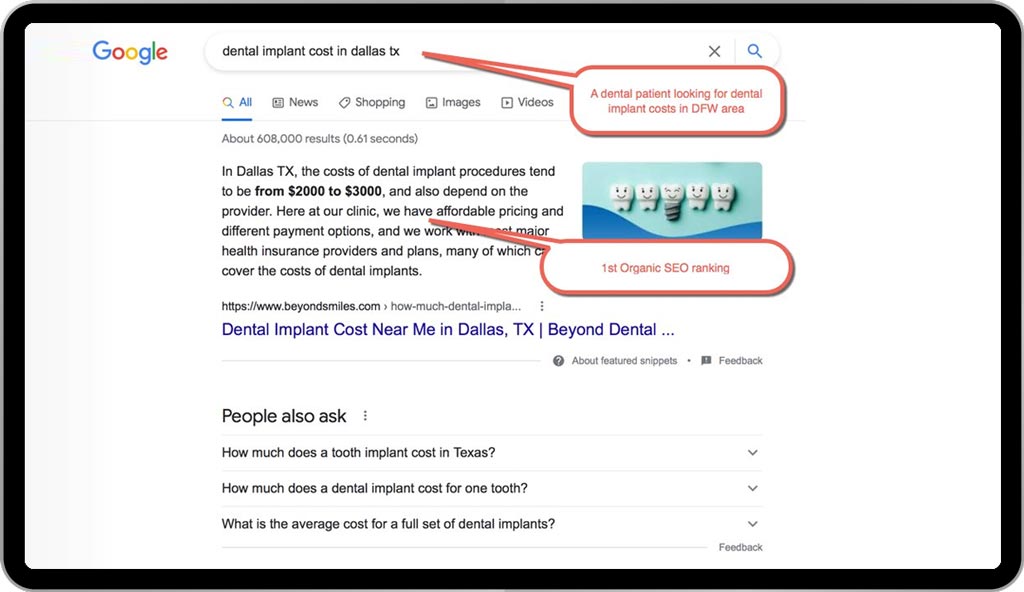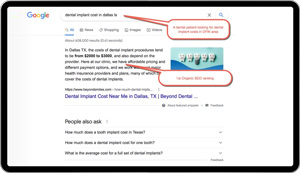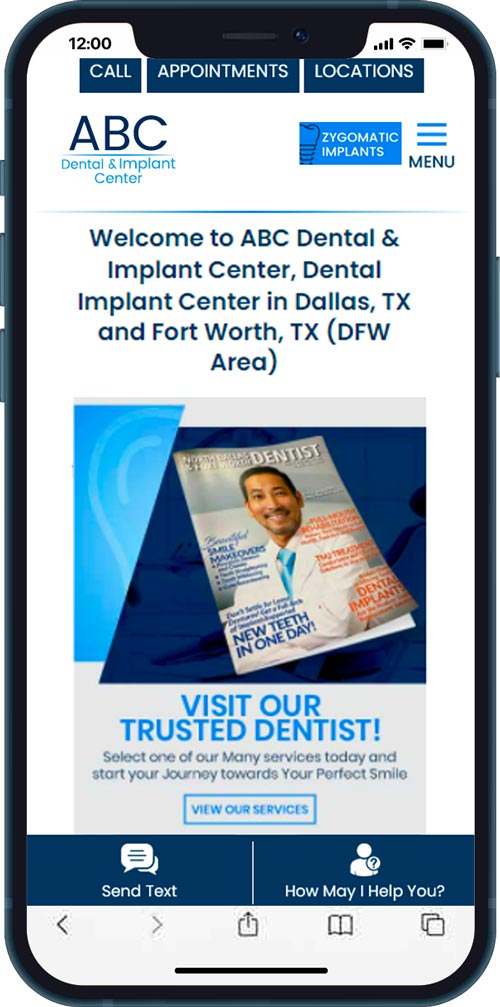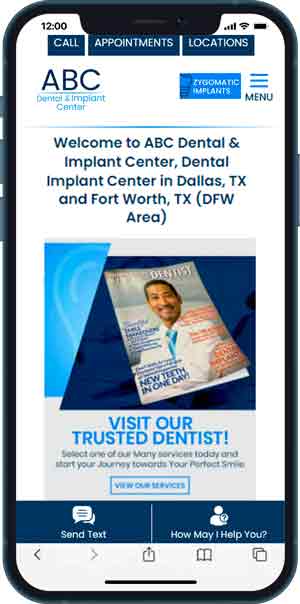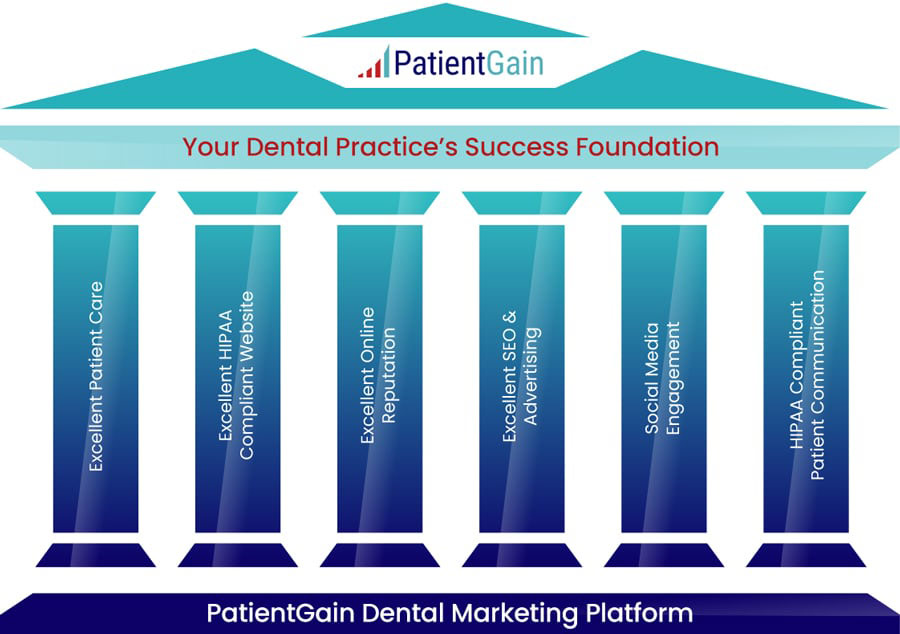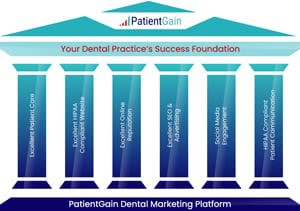 Finding a quality dental marketing expert can free up an owner's time to allow them to put more focus into areas only they can manage. Plus, the skills and experience a dental marketing expert brings will make a marketing budget more effective and improve the return on investment. All in all, it will make it easier to get more patients and grow a dental practice.
How do I know if a dental implant marketing company is right for my dental practice?
In many cases, a dental implant marketing expert can only help bring more business to a dental practice and expand its reach. More than likely, a dental implant practice does not employ any experts in marketing, only those who have experience in oral health care. A dental marketing expert brings those specific skills needed for a successful advertising campaign. The only time where a dental marketing expert may not be suitable for a practice is if they are operating at capacity and simply can not take any additional patients and have an extensive waiting list. Even then, an expert may find ways to save money and make current efforts more effective.
Dental implant marketing company will focus on specific strategies and tasks for your implant practice:
Example 1: Improve the conversions from the website. In the example below, in September 952 patients visited the website. These patients originated from 1) Google SEO 40% 2) Google ads 13% 3) Facebook ads 8% 4) Other mediums that could not be tracked. Out of 952 patients who visited the website, 165 took a conversion action. Conversion action is when a new patient 1) Calls the new patient number 2) Requests an appointment 3) Sends a text 4) Sends a Contact inquiry 5) Or sends a Chat*Bot inquiry for your implant services. The data in the dashboard below, is only tracking new patient inquiries. Existing patient inquiries have been subtracted from this data. Average is 4.2 %. However, if your medical website's conversion rate is more than 5%, you are doing good. 7% to 10% very good. Over 10% is exceptional, read more.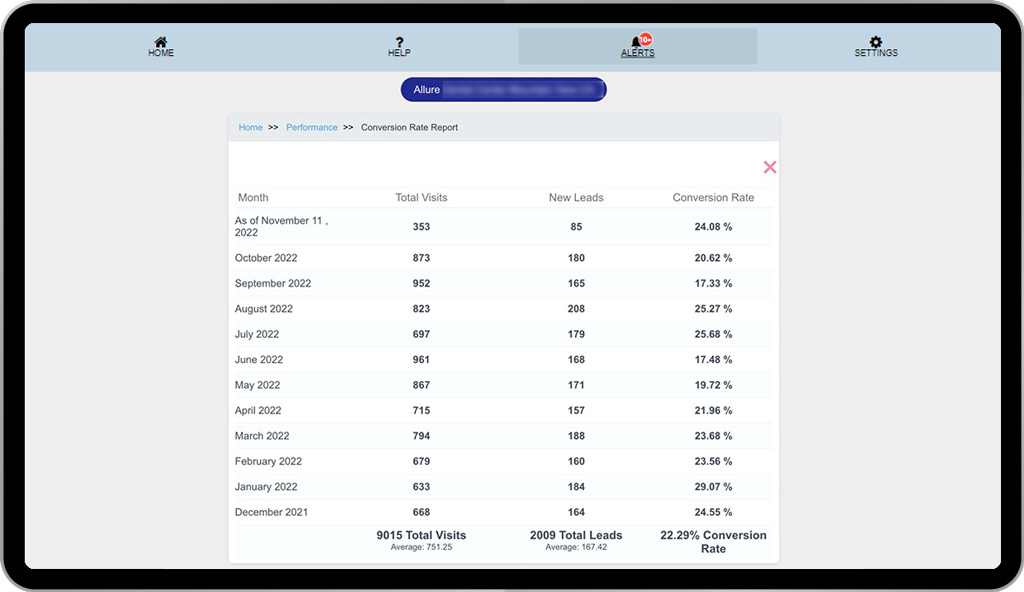 Example 2: Technology platform should be proven and HIPAA compliant. There are hundreds of platforms. Use one that is proven to work for hundreds of other providers who are similar to your practice. The platform should be HIPAA compliant, have a very good support organization behind it 3) Allows you to grow from 1 location to 10 locations and 100 locations, if needed.

What are some activities or duties a dental implant marketing expert will do for a dental implant practice?
The duties and activities of a dental marketing expert will vary between dental practices depending on their needs. There may be some areas of marketing the owner wishes to retain control of, or there may be a limited budget, so only some activities will be available or needed. With that in mind, there are a variety of different things a dental marketing expert can do for a dental practice, such as:
Conduct an audit of a dental practice's current implant marketing plan and strategies
Find marketing opportunities (both digital and traditional) for a dental practice
Create a plan that focuses on task level marketing campaigns and go forward with the tasks to accomplish them
Monitor progress of dental marketing campaigns
Why is it essential for a dental implant marketing expert to audit a practice's current dental implant marketing plan and its strategies?
Assessing a current dental marketing plan is an excellent way for an expert to understand what current efforts look like, how successful they are, and what has been tried in the past. Evaluating these current and past efforts will give them a firm place to start when developing or refining a dental marketing plan. A good audit will prevent them from trying things that simply did not work in the past. For example, suppose a direct mail marketing campaign has been tried a few times and has not produced good results. In that case, a dental marketing expert will be sure to avoid that or examine the campaign more closely to determine what factors lead to poor performance.
A dental marketing expert will want to look at various metrics when evaluating a current dental marketing plan. They will want to dive deep into stats provided by Google Analytics, Google AdWords, Facebook Insights, Instagram Insights, Twitter Analytics, and any other dashboards related to marketing that would be available. Some marketing efforts, like direct mail marketing or newspaper ads, may not have digital dashboards with data on them. In those cases, an expert will look at daily patient counts to see any noticeable spikes in patients that can be tied to a traditional marketing campaign.
How is it helpful for a dental implant marketing expert to find new marketing opportunities for a dental implant practice? Why should they look for digital and traditional opportunities?
Unless a dental implant practice has employed a dental marketing expert in the past, there is a good chance that there are some missed marketing opportunities available to try. After a thorough audit, an expert will have a good idea of what has previously been successful and use this knowledge to build on a plan to market a dental practice. A dental marketing expert will often have a rough draft of the plan and then fill in parts and adjust other areas to customize it for a dental practice. They will want to know what marketing assets (website, postcards, etc.) are available and what local competitors have successfully done. They will also want to know which marketing plans an owner found to be incredibly successful so they can examine them closely to see what lessons can be applied elsewhere and how the campaign can be optimized further. Finally, they will want to know how eager the staff would be in helping with various marketing plans, such as reposting social media posts on their accounts.
A dental implant marketing expert should look at both traditional and digital marketing opportunities. Anyone who eliminates one (usually traditional marketing) is not working with all of their available tools. Many times opportunities exist because the dental practice did not know they were there. For example, a dental practice may not realize how effective Instagram ads were or know that a local publication reached its target audience. A dental implant marketing expert brings that knowledge and can open up more opportunities for a dental practice!
How does a dental implant marketing expert create a plan and tasks to successfully execute a dental marketing plan for their client?
Simply identifying the best dental marketing strategies for a dental practice is not enough. (Although there are some "consultants" out there that charge hefty fees just to leave you a list of things you can try on your own.) Dental marketing experts will then put together a marketing plan and the tasks needed to accomplish it. A dental marketing expert will work with other staff members, if available, to help see these plans through and implement them. It is at this point that a dental marketing budget begins to be spent. Careful planning and the campaigns choices made will help ensure this money is spent effectively and efficiently. If tasks are assigned to other staff members at a dental practice, such as posting daily on social media feeds, a dental marketing expert will monitor these tasks to ensure they are accomplished.
Why do dental implant marketing plans need to be monitored?
A dental implant marketing expert will need to present a report to the owner to let them know how their money was spent and how successful it was for the practice. Generally, a dental marketing expert will want to monitor this throughout a campaign, not at the very end. If there is a problem or an area is not performing well, they can make adjustments during the campaign to improve its efficiency. This will ensure that money is spent well and that any issues are not allowed to linger. Dental implant marketing experts will use reports from their dashboards or create reports to share with owners to detail the success of campaigns.
Does a dental implant practice need a dental marketing expert?
Again, a dental implant marketing expert is generally considered to be a good investment for a practice. However, some practices can still see some success by doing everything in-house. Typically, these practices are small with a limited marketing budget or operate in areas with little or no competition. Below are some factors to consider when deciding between doing dental marketing in-house or hiring a dental marketing expert to handle it.
Time
A dental practice can hire more dentists, expand to a bigger facility, and order more dental tools. What a dental practice can not do is create more hours in the day to accomplish things. A big question to ask is, does someone at a dental practice have the proper amount of time to spend on marketing tasks? Marketing can be immensely time-consuming, especially when a practice is first starting. Managing a website, online reputation, reviews, social media, local listings, paid search, and other marketing tasks can quickly take up most of the day. Over time, however, once marketing tasks are established, it should take less time to maintain them. A dental marketing expert is needed if there is someone at a practice who can handle all of that efficiently and effectively.
Budget
The marketing budget of a dental practice can sometimes be a stumbling block to acquire the services of a dental marketing expert. These experts need to make a living and get paid as well. With some marketing efforts, the return on investment may not be immediate, which may not be an investment a dental practice can immediately afford.
One way to see if a dental marketing expert is a good investment is to determine the patient lifetime value of current patients. Also known as PLV, it grows if a patient is satisfied and spends years getting services at a dental practice. Once a patient becomes a regular, the amount of marketing money spent on that person will drop tremendously. The amount of money invested in acquiring a new patient may be well worth it when considering the years of value a happy patient will bring to a dental practice. This is an important number to consider when campaigns do not immediately yield returns on investment.
Another thing to consider with budgeting for a dental marketing expert is the long-term impacts of their marketing campaigns and strategies. Some marketing campaigns will have immediate effects, but others will continue to provide returns long after the engagement has stopped. Returns could even continue even after the contact with a dental marketing expert ends. These long-term returns should be taken into account when making a decision. Patient reviews, SEO improvements, content marketing, and link building often have long-lasting impacts. Things like paid search, direct mail marketing, print advertising are effective but generally do not provide stable returns.
Knowledge
A dental practice may have a large budget and have plenty of time to tackle marketing projects. However, the following key part of this equation is knowledge. Does anyone at a dental practice know how digital marketing and traditional marketing work? Do they know how to apply them to a dental practice? Do they understand what successful marketing campaigns look like, and can they troubleshoot issues on the fly? While there are many resources where someone could teach themselves, a dental marketing expert comes with advanced knowledge and experience. With that said, having a staff member learn more about digital and traditional marketing will make it easier for them to assist a hired expert in accomplishing tasks, making them much more effective.
What should a dental implant practice look for when hiring a dental marketing expert?
If a dental practice has decided on hiring a dental marketing expert, they need to evaluate any candidates. Almost anyone out there can portray themselves as an expert, so it is best to look at a few things before making a final decision. Do not waste money by hiring someone who is not a good fit for the business.
Does the dental implant marketing expert have successful marketing campaigns they can show?
Although a newer expert or dental implant marketing agency can be effective — and often less expensive — an expert with a strong history of successful campaigns will give you a reason to be confident. Ask a dental implant marketing expert about past work and what growth metrics they have achieved for other clients with similar budgets. A dental implant practice should be able to review past work and speak to current or past clients.
How much experience does the expert have in the field of dental marketing in the area?
While many things overlap between dental marketing and healthcare marketing in general, some things are unique to dental marketing. Having an expert that has experience in this specific area of health care is valuable. Also, an expert from the area and community where a dental practice is located can help them quickly narrow in on a target audience and find local advertising opportunities.
Can the dental implant marketing expert put together a budget-friendly plan?
A quality dental marketing expert should be able to create a plan that fits within a budget. With that said, a dental practice needs to be realistic with its budget as well. A good marketing expert should present a plan within a budget and then an alternative plan if a practice is open to spending more.
How does a dental implant market expert report results?
More than likely, a dental practice owner will want to see the progress of marketing campaigns and a final report. Before hiring one, ask for a sample report from the expert. Tell them what exactly you would like to see in reports to make the job easier for them. An expert should be able to customize the report for the owner.
Has the dental implant marketing expert received good reviews?
As with a dental practice, the owner, before hiring someone, should check out the reviews of a dental marketing expert. This expert should have a website that displays past reviews, testimonials, and other examples of their work. The reviews should also be available from third-party sites. At the very least, an owner should be able to contact other clients for references.
Does the dental implant marketing expert make it easy to communicate with them?
What is the point of having a marketing expert if you can never get in touch with them or hear from them? Establish the preferred method of communication and get an idea of how long it should take for them to respond to you. Timely and reliable communication is vital to building a good relationship between a marketing expert and a dental practice.
The experts at PatientGain.com should be a top consideration to be your dental practice's marketing experts. Our staff has years of experience in assisting other dental practices to market their business. Contact us today, and let us show you what we have done for others across the country.