California Dental Marketing Companies
What makes a dental marketing company helpful to your dental practice?
A dental practice may feel it can handle marketing with in-house employees. Granted, those employees will undoubtedly be very familiar with the dental practice. Another advantage is that owner will have immediate access to them if they need to discuss something. However, keeping marketing entirely in-house will only get you so far unless you are prepared to invest in a dedicated employee who only handles marketing for a dental practice.
Even then, there are still advantages to going with an outside dental marketing company to promote your medical practice. There are many reasons why a dental practice would go with a dental marketing company. Some of the most common reasons we see at PatientGain.com include:
A practice not being able to keep up with local competitors in marketing, resulting in the loss of business to them.
Current promotional ideas and campaigns have become stagnant and are no longer effective in bringing in new patients. Therefore, a new set of eyes and ideas are needed.
The dental practice is brand new, and no one working there has experience in marketing in this healthcare area.
A dental practice is growing too quickly for current in-house employees to keep up with, and help is needed in the form of additional resources and expertise. Hiring a dental marketing company is more effective than hiring other marketing personnel for the practice.
7 Key questions for dental practice managers and dentists
1. What is a mistake many dental practices make the first time they hire a dental marketing company?
Dental practices often find it challenging working with a dental marketing company for the first time. It is not that a dental marketing company will not listen to them, but a dental practice may find it challenging to describe exactly what they want and what goals they want to achieve. Without this guidance, these owners may feel disappointed in the results and feel like they wasted their money. The dental marketing company often becomes frustrated because they do not get the feedback they need to make adjustments to please their client. A dental practice should think hard about what they want and the results they like to see when working with a dental marketing company so that everyone is on the same page.
Some goals many dental practices want to achieve are:
• Increased lead generation
• Overall increased sales
• Search engine optimization (SEO)
• Content improvement and marketing
• Reputation management
• Social media advertising and management.
Some of your goals may be short-term, and others may be long-term. Some dental marketing companies will specialize in only some areas, only on short-term goals or only on long-term goals. PatientGain.com can help you with your goals listed above and other goals that you may have for your business. We will work together to develop goals that make sense and work for your business.
Hiring PatientGain.com for your dental marketing needs helps you avoid one of the most frustrating tasks in marketing, finding another marketing company. Outsourcing a dental practice's marketing efforts is now a prevalent choice many dentists and doctors throughout the healthcare industry are making. There is so much that goes into marketing today; it is difficult, if not impossible, to handle it entirely in-house properly. There are also many benefits to having a dental marketing company like PatientGain.com working for you.
Example of a dental practice, who has been our customer for 5+ years. The business has grown significantly. Our customer satisfaction is second to none. Our secret is customer focus, excellent products and great staff.
In addition, every month we do account reviews with you:
Monthly Account Reviews
1) Meet with your account manager at least once a month and Discuss Plan for the Next Month ***
2) Review SEO Rankings
3) Review Advertising Performance – Top keywords, budget, exhaustion
4) Review Social Media – Posting, Apps, Ads on Social Media
5) Review Email Marketing
6) Review Call Data
7) Review Reputation Management
8) Review SMS/Texting Data
9) Review Content
10) Review Promotions & Deals Apps
11) Review Training and Misc Items
12) Discuss Plan for the Next Month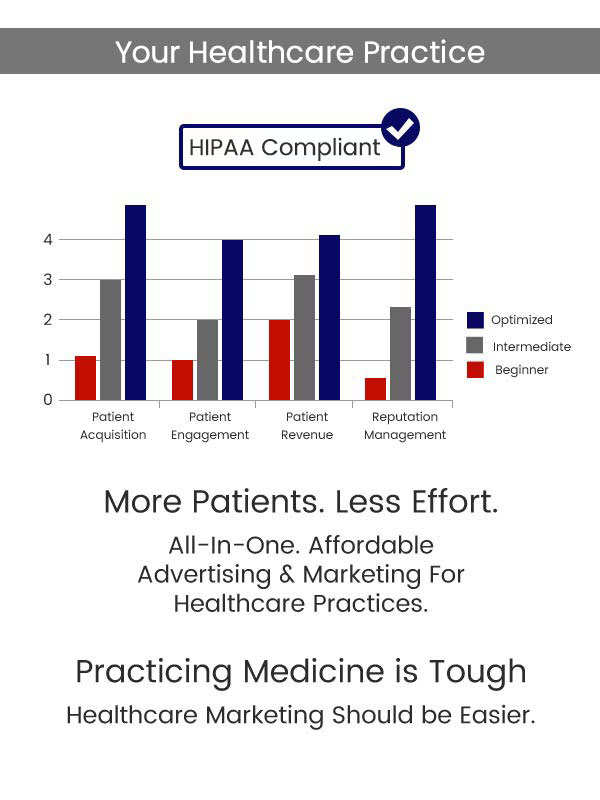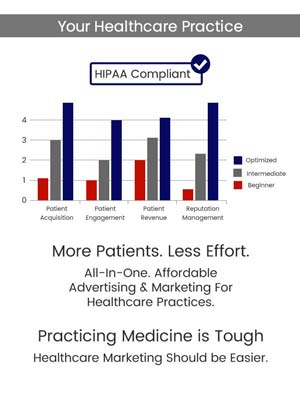 2. What are some advantages to hiring a dental marketing company to promote a dental practice?
The hiring of a dental marketing company is a big decision for a dental practice. This decision will significantly impact a dental practice's budget and the future of its success. While it may seem like a risky decision, there are quite a few advantages to hiring one. Below are the noted benefits of hiring a skilled dental marketing company.
A dental marketing company has a variety of experienced talent available to be used to promote a dental practice.
The experience of the team working for a dental marketing company is one of its most significant advantages. It brings many skills to the table that a dental practice can use or direct to grow its business. Some of the types of expertise include:
• Content writing (to improve SEO rankings and hence acquire more patients)
• Search Engine Optimization (Dental SEO is very competitive – you will need professional help)
• Pay per click advertising (Search advertsing on Google is complex)
• Local Search Engine Optimization (You want to be in the top area of Google local search for every major servic eyou provide – for example "invisalign dentist in toledo ohio)
• Social media (Posting on social media has limited reach. Boosting a post is very effective, however targeted advertsing can help you)
• Patient Engagement Apps – PatientGain has developed over 20 apps
Working with a company with an extensive reservoir of talent gives you a tremendous competitive advantage over other dental practices in a community. An experienced marketing company will have experienced just about every problem you will encounter and have developed effective solutions for them. It is difficult for in-house marketing employees to keep up to date with the latest marketing trends, technology, and tools. However, a marketing company is continually researching, testing, and reading about new ways to promote a business. While competitors are struggling to deploy last year's latest trends, your selected dental marketing company will be preparing for the next one.
3. A digital marketing company is a cost-effective choice for dental practices and will save it money.
As much as a dental practice worries about making money, it also worries about keeping costs down. The overhead for running a dental practice is significant, and a good portion of that budget is for staff, software, and systems used to keep the business going. Hiring an in-house marketing person is going to add further strain to a dental practice's budget. Hiring an outside vendor to handle marketing can often save a dental practice quite a bit of money. They no longer have to spend money on salary, insurance, systems, or tools need for effective promotion. This is incredibly advantageous to smaller dental practices that may only have one location.
4. A dental marketing company may be able to offer new ideas and perspectives when promoting a dental practice.
"Another set of eyes never hurts" is a phrase that can apply to many things, but it certainly applies to marketing. Just because things have always been done a certain way does not mean there is no better way to do them. A dental marketing company works with many clients and has years, if not decades, of collective experience. Dental practices that handle marketing in-house often suffer from stagnation and keep trying old ideas that are less and less effective. A fresh set of eyes can help inject some new energy, perspective, and ideas into your marketing strategies and campaigns. Teaming up members of a dental marketing team with those at a dental practice familiar with a target audience can result in some genuinely effective medical marketing.
5. A dental marketing company can work as much or as little as a dental practice needs it for promotional purposes.
An advantage a dental marketing company has over in-house marketing is its scalability for a dental practice. It can start to use a marketing company sparingly or as needed, and then add more services as time goes along. The budget for a marketing company can be raised and lower as needed. This provides a dental practice far more flexibility than an in-house marketing team, which has various fixed costs associated with them. Instead, a dental practice can focus on hiring employees who are entirely dedicated to the business's dental health treatments needs instead of splitting their time between marketing and providing care for patients. A dental marketing company gives a business more flexibility with its budget, allowing it to take on challenges with more ease.
6. A dental practice does not need to spend time training staff on marketing their practice.
Hiring staff is not a task an owner enjoys doing during their day. Making a hiring decision takes time, and there is a chance that someone may not work out, restarting the process yet again. A dental marketing company takes that challenge away and handles it. While an owner will still need to hire dentists and staff, a marketing company addresses its marketing staff's personal needs. If someone is not working out, they are swapped out with someone else who is a better fit. This saves a dental practice time and money it would otherwise spend hiring a new marketing person. Finally, a dental marketing company has the expertise and experience to identify top talent and recognize those who may say the right words but do not have much skill when marketing a dental practice.
7. How can a dental practice prepare itself when deciding to hire a dental marketing company?
Before a dental practice considers hiring a dental marketing company, it first needs to set clear goals and objectives for this new company. Without them, it may be hard for a marketing company to zero in and produce the results you are looking to achieve. When examining who to select to handle the marketing of your dental practice, consider the following questions:
• Does the marketing company have experience in dental marketing and have other dental clients?
• How many different types of services does the dental marketing company offer?
• Does the dental marketing company provide many services that other marketing companies or do not charge much more for?
• Is the marketing company willing to show you what it has done for other dental practice clients?
• What is the process of making requests for marketing changes, and how quickly can an owner get in touch with the contact person assigned to their account?
The expert team at PatientGain.com is ready to show you the answers to those questions above and provide you with top-notch dental marketing services. Call today and let us talk one on one on how we can meet your dental practice's goals and grow your business!